Core Temp is a free tool that allows you to measure system's core temperature and monitor it via Core Temp Monitor smartphone app. Let us take a look at it.
Whenever we use our Windows system, you might have observed that after a long time of use, due to a rise in the temperature of elementary components, the system produces considerable heat. There are microchips that are mainly made of Silicon (Si) and Germanium (Ge) elements. Both these elements have an operating temperature range of up to 150 degrees Celsius. So if the temperature of your system goes beyond this range, failure of the components may occur, which could affect your system abruptly.
Monitor CPU Temperature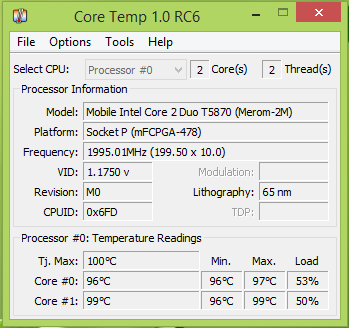 Core Temp is specially designed to measure and display system temperature. This tool is based upon the working of Digital Thermal Sensor (DTS) which is an in-built component embedded in the system. The DTS is capable of providing a highly sensitive and accurate temperature reading in comparison to thermal sensors. Core Temp can work on all leading processors like Intel, AMD, and VIA.
We tested it on our Windows Pro 64-bit with Intel Core 2 Duo processor, and the tool worked flawlessly.
The temperature readings are very accurate as the data is collected directly from a Digital Thermal Sensor (or DTS) which is located in each processing core, near the hottest part. The software contains many additional settings by configuring which you can get desired data. You can also allow the program at Windows startup.
In addition to the temperature reading of the core, it provides you the data for frequency, processor load and RAM utilization. You can display the temperature readings in the notification area of the taskbar.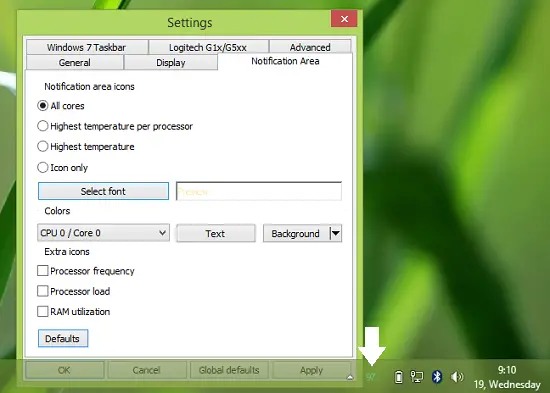 If you have an Android or Windows Phone, you can get the Core Temp Monitor app, and by using it, you can monitor system temperature. All you need to do is to install the app and made the necessary configuration the app needed, and you're good to go.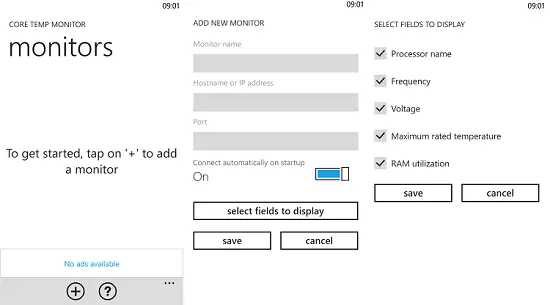 Core Temp free download
You can get the Core Temp software free from here.
TIP: More free CPU Temperature Monitor and Checker software here.