Pictures are a great way to beautify our projects; it adds style, attractiveness, and uniqueness to our work. In Microsoft Word, a picture can be converted to a SmartArt graphic.  A SmartArt graphic visualizes your information and ideas; it draws attention to important details and makes the information easier to understand. You can convert a picture to a SmartArt by using a feature in Office called Picture Layout.
The Picture Layout feature allows users to convert a picture to a SmartArt to arrange caption and resize the picture easily. In addition, the Page Layout feature offers a variety of SmartArt graphics such as Circular Picture Callout, Accented Picture, Picture Caption List, Captioned Picture, and more.
How to convert a Picture to a SmartArt graphic in Word
Launch Microsoft Word
Insert Picture
Click on the Picture
Click the Picture Format tab
Click Picture Layout
Choose a SmartArt graphic
Picture is converted to a SmartArt graphic
To convert a picture to a SmartArt graphic in Word; follow the steps below
Launch Microsoft Word.
On the Insert tab, click Pictures in the Illustration group.
From the list, click This Device.
An Insert Picture dialog box will appear.
Choose the picture file you want, then click Insert.
The picture is inserted into the document.
Once the picture is inserted, click on the picture.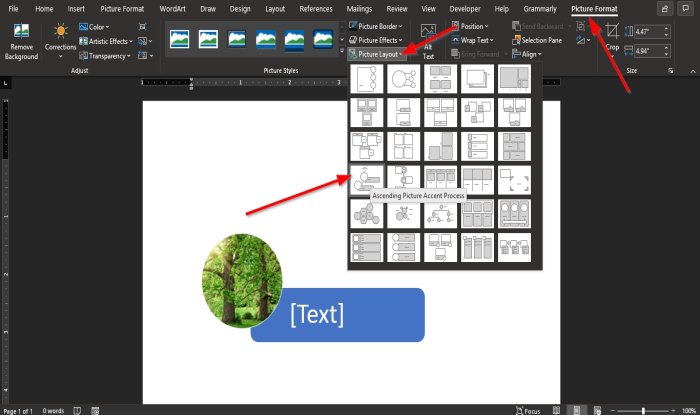 Then go to the Picture Format tab and select Picture Layout in the Picture Styles group.
In the drop-down list, select a SmartArt graphic.
The Picture will be converted to the SmartArt graphic you have selected.
A Type your text here box will appear, type the text into the box. The text will appear in the SmartArt graphic.
You can also change the text font and color.
We hope this tutorial helps you understand how to convert a picture to a SmartArt graphic in Word.
If you have questions about the tutorial, let us know in the comments.
Read next: How to insert Text into a Shape in Word.