Windows allows you to open the Control Panel with three different views. You can make it open in the default view, which is Category-wise. Many find this very useful as one can find the settings by looking for what you want to do. You can change the Control Panel icons or classic view settings using the UI or the Registry.
How to change Control Panel View in Windows 11/10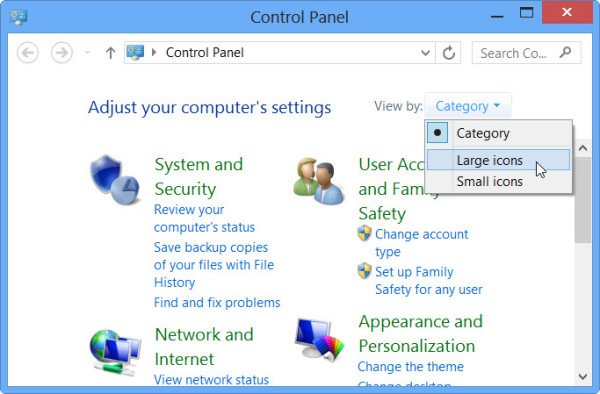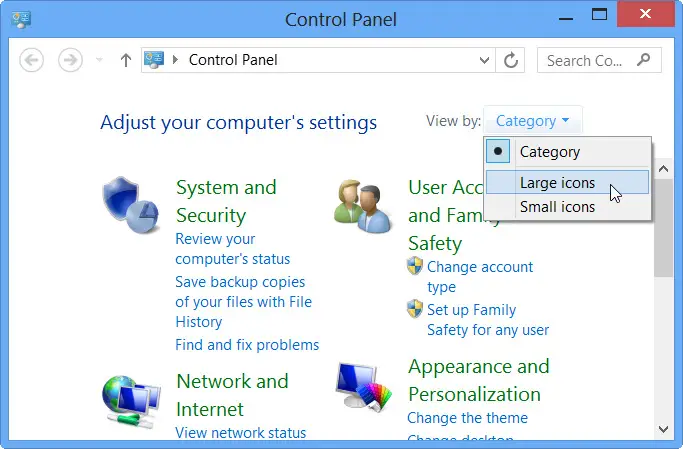 You can make the Control Panel applets appear in All Items List view. The list can further be displayed using Large icons or Small icons. All this can be easily changed using the View by settings' drop-down menu and selecting the one you want.
To change Control Panel View in Windows 11/10:
Open Control Panel by searching for it
On the top-right corner, you will see View by
Select Category, Large icons or Small icons
However, if you find that this view setting does not always stick, and changes every time you open the control panel or restart the computer, you might want to look at tweaking the Windows registry. Do remember to create a system restore point first, however.
Change Control Panel View using Registry in Windows
You can also make Control Panel open in Category or All Items – Large or Small Icons View, using the Registry. You will have to open the Registry. In this example, let us say you want to set to display All Items View.
1. Press Windows Key + R combination on keyboard and type Regedt32.exe in Run dialog box. Press OK.
2. Navigate here:
HKEY_CURRENT_USER\Software\Microsoft\Windows\CurrentVersion\Explorer\ControlPanel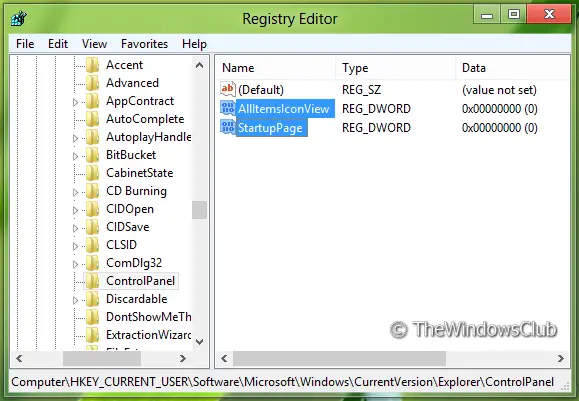 3. In the right pane, you'll see two DWORDs named AllItemsIconView and StartupPage. Both have 1 as the default value.
4. Let us take the first DWORD viz. AllItemsIconView. This will allow us to get large icons whenever we open Control Panel rather than displaying small icons. So double-click on this DWORD and change the value to 0.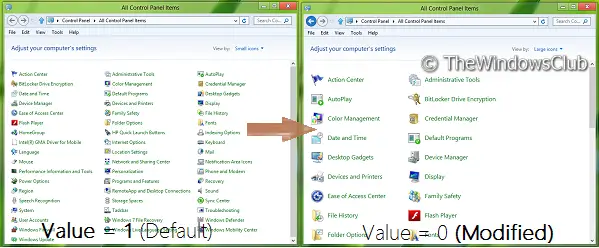 5. Now modify the second DWORD i.e. StartupPage. This DWORD manages the startup options means it is responsible to open Control Panel with small icons rather than categorizing them. So to get a categorized way, double-click on it and set its value to 0.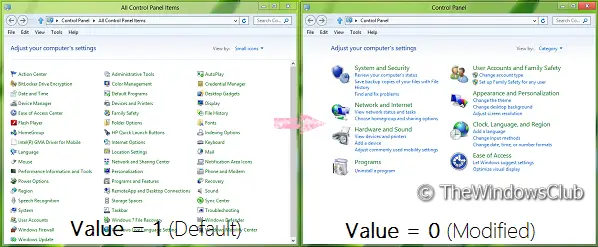 6. When you set both the value for 0, then they become the default for OS. Now close the Registry Editor and press Windows Key + Q. Type control panel in the search box and click on the result to get Control Panel open in the way we just want.
Make sure that the Control Panel is closed when making these modifications to the Windows Registry.
Read: Hide, Show, Add, Remove Control Panel Applets in Windows.