ContaCam is a free video surveillance and live camera software for Windows PC. Using this tool you can easily monitor places where you cannot be present physically. ContaCam is very user-friendly and is very easy to set up. It hosts amazing features and privacy settings that can be very helpful while monitoring a place.
ContaCam free video surveillance software
To start with, you need to download and set up ContaCam, once it is running just go to Capture menu and then select the camera for which you want to start surveillance. In the new window, you will see a live stream from the camera, you can take a snapshot here or manually record audio and video to a file.
Now the settings are mostly customizable and only a few of them are tricky. You can open up 'Camera Basic Settings' for configuring a few basic and easy settings. Under this, you can choose how you want to use your camera. There are four options, 'Movement Detection Surveillance', 'Snapshots with History', 'Snapshots without History' and 'Manual Record'.
Movement detection surveillance is the best out of these and you can also opt it with 24 hours recording as well. Under Basic settings, you can give your camera a name and also customize the web interface corresponding to it.
You can also choose the file format in which the recordings are saved, there are two of them available, MP4 and AVI. File save duration can also be adjusted and minimum disk space percentage can also be chosen. You can even set a camera folder size limit, if the free disk space becomes low or the camera folder size is reached, the older recordings will be automatically deleted.
Then comes the Email settings. ContaCam comes with an inbuilt feature of email alerts when a motion occurs or there is a malfunction in the camera. You need to enter your email settings in order to receive email alerts.
So that was all about the basic settings, now let's move on to its advanced settings. You can really control everything about the video source including the camera),. You can set framerate, adjust brightness, hue, saturation, contrast, sharpness and etc. You can choose video quality and also set up an audio source to record the voices. ContaCam comes with a scheduler so that you can automate the recording and surveillance process.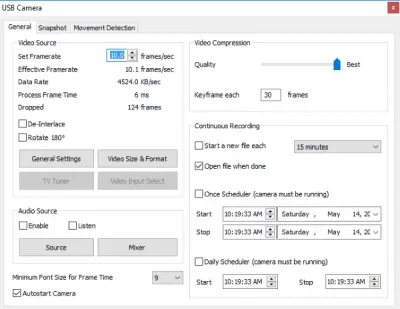 Under the Snapshots tab, you can edit all the settings that deal with Snapshots. You can choose time interval between snapshots and also set the quality as well. You can enable snapshot scheduling and there is an option to automatically upload the snapshots using FTP.
Last but not the least, comes the movement detection ability of the software. You can enable movement detection from the last icon in the camera window. And under the Movement Detection tab of advanced settings you can edit a few settings about it, you can set the detection parameters and choose detection sensitivity and then you can set detection limits, and again you can schedule detection as well.
Next, you have to set the On Detection commands – this is the action the software should perform once motion is detected. It can start recording a short as well as a long video, send emails with those videos attached, upload them to an FTP server or execute a CMD command.
The camera stream can also be accessed from a browser by typing in the address provided by ContaCam. The Web interface is neatly laid out and can be easily accessed from a local area network as well as from the internet.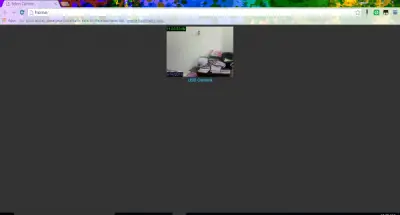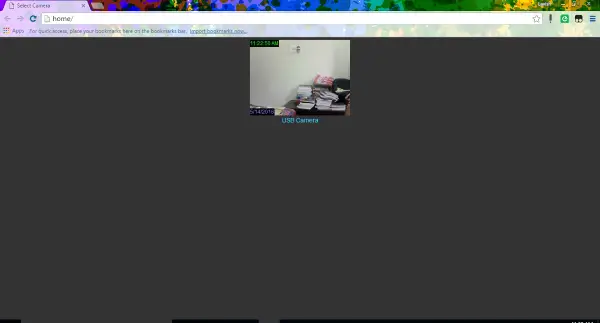 Overall, ContaCam is a great tool with an amazing set of features. It makes up one of the best surveillance software. Moreover, each and every piece of content can be access from the internet so you can surveillance a place from almost anywhere in this world. And on top of it, it is free of cost.
ContaCam for Windows download
Click here to download ContaCam.
Related reads: