Now making a surveillance system for your home or at your work is no longer difficult. With Xeoma Web Surveillance Software, you can create a surveillance system for your home or office in just a few minutes and clicks. Xeoma is basically a free, cross-platform web surveillance software, that lets a user easily create a webcam network that can be managed from this software. The whole webcam network acts as a surveillance system.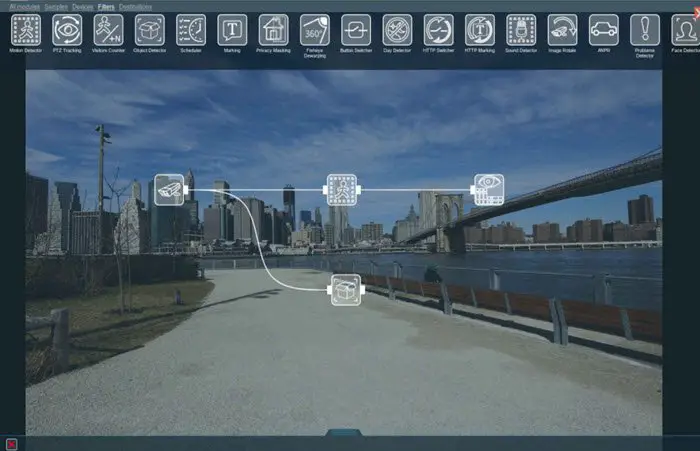 Free Web Surveillance Software for Windows systems
Nowadays, you can get many inexpensive wired or wireless webcams in the market. The free version of Xeoma can view only one camera at a time, but you can switch between multiple cameras without any problems. In the free version, you are only allowed to have four modules, modules are basically the features Xeoma can perform with your Surveillance system. Some of the modules are:
Universal Camera
Microphone
Screen Capture
Motion detected
Scheduler
Preview
Sending Email
Day detector
Save to file.

The features of this software are really very good. I really feel that you can create a good surveillance system with this software. It is offered in 2 variants – free and commercial. The limitations of the free variant have been discussed above. In the commercial variant, a user is allowed to view 8 cameras or 8 different sources at a single time.
Xeoma Web Surveillance Software
The software comes as a single EXE file, which means that it is a portable application. If you don't like Portable apps then you can even install them on your system. Installation options are also available. Xeoma is very easy to use. After using Xeoma, I feel that the interface of Xeoma is touch-friendly and is optimized for touch screens.
One very useful feature of Xeoma is remote access. You can make your Xeoma act as a server for your whole surveillance system or you can use it to connect to any other Xeoma server, so that you can manage your surveillance system from anywhere around this globe.
To make your Xeoma server you can simply go to the menu and click on 'Remote Access' and then on 'Repeater Settings'. And if you want to connect to a Xeoma server then instead of 'Repeater Settings' you can choose 'Connect to a Remote Server option'.
I hope you like it. Click here to download Xeoma and start monitoring. They offer various editions, including a FREE edition.
Related reads: