A Registry Hive is a name given to the major section of the Windows Registry which contains registry keys, subkeys, and values. Registry hives are present in the Windows Registry Editor. You can use the Registry Editor to create new and modify the existing registry keys, subkeys, and values. It provides Windows users with many advantages like they can increase their PC's security, improve their PC performance, change the access to Read-only, etc.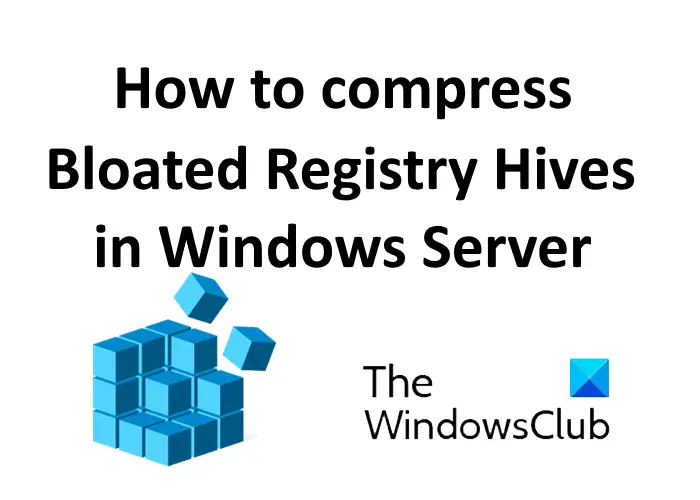 You will find the following Registry hives on your Windows system:
HKEY_CLASSES_ROOT
HKEY_CURRENT_USER
HKEY_LOCAL_MACHINE
HKEY_USERS
HKEY_CURRENT_CONFIG
What are Bloated Registry Hives?
Sometimes the size of registry hives becomes abnormally large. These abnormally large registry hives are called bloated registry hives. Registry hives in the bloated state can cause many performance issues and errors in the system's log. There are various causes for the bloated registry hive issues.
Troubleshooting the actual issue is a time taking process. In such a condition, compressing the registry hives can be a better solution. Registry hives compression brings the bloated registry hives back to the normal state so that they can function properly. Let's see the process of compressing the bloated registry hives.
How to compress Bloated Registry Hives in Windows Server
Follow the below-listed process to compress the bloated registry hives on your PC.
1] Boot your computer from a WinPE disk. This post shows how to create a Windows PE Rescue Disk.
2] Now, open the Registry Editor by typing "regedit" in the Run window while booted in Windows PE. Load the bloated registry hive under:
HKLM (HKEY_LOCAL_MACHINE)
Load Hive option is available in the File menu.
When you load the registry hive, you have to name it. You can give any name to the hive, e.g. Bloated. This name is represented in the address, HKLM\Bloated.
3] When the bloated hive is loaded completely, you have to export it as a "Registry Hive" file with a unique name, like:
%windir%\system32\config\compressedhive
Here, windir indicates the Windows directory, like the Windows folder in the C drive. You can use the DIR command to verify the old and new registry hive sizes.
4] Now, unload the bloated registry hive from the Registry Editor by selecting the Bloated key that you have created while loading the hive.
The Unload Hive option is available in the File menu. Some Windows users may get an error, say, "Access Denied" while unloading the bloated hive. To resolve the error, close the registry editor and then relaunch it, and try again.
5] In the last step, you have to boot with the compressed hive. Before doing this, rename the registry hives. For example:
c:\windows\system32\config\ren software software.old
c:\windows\system32\config\ren compressedhive software
I hope this will help you solve the issue of bloated registry hives.
You may also like to read: