Windows Reliability Monitor in Windows is a built-in tool that can be used for checking system errors, warnings, informational events and other critical events that can help you fix problems in Windows. It generates reports for events and then sends them to Microsoft for analysis. Typically, such reports do not contain personal data but just disclose what programs may be running on a computer. If all these reports show a similar pattern, it helps Microsoft use this information to simplify its approach of narrowing down to the cause of the problem. If you wish you can delete these program reports. This post shows how to clear Problem Reports generated by Reliability Monitor in Windows 10/8/7.
Delete Problem Reports in Windows 10
Open Control Panel by simply typing 'Control' in Windows Search bar and select 'System and Security' section. Windows 10 uses the Security and Maintenance screen to keep you informed of issues that pertain to your computer's health. The screen divides issues into Security and Maintenance sections.
Expand Maintenance section to make 'View Reliability History' link visible. The Reliability Monitor helps to pinpoint problems with hardware and software.
Click the link to View reliability history.
Next, choose 'View all problem reports' option to review all the problem reports.
Now, to clear all problem reports, hit the 'Clear all problem reports' button.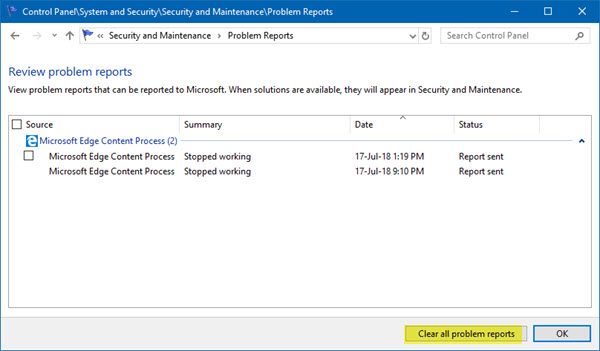 That's it!
This post shows how you can disable Data Collection for Reliability Monitor in Windows. If this tool is not working properly, you may Reset the Reliability Monitor and see if it helps.