When it comes down to changing the brightness settings on Windows 10, the task is not difficult at all, but we believe it could be much easier than it is now. Some might recommend using the buttons on the monitor itself, but in most situations, it is just not ideal to go down that route.
Change Brightness & Contrast of your PC screen
In a situation like this, we need a standalone tool that when installed, can make changing our monitor settings with relative ease on the fly. The program in question right now is no other but MyMonic. From our experience with this software so far, it works quite well, even better than expected.
Now, since the file size is small and the user interface is very limited, we suspect almost any computer should have the means to run the tool without any issues.
Download and install MyMonic
The first thing you will want to do is to visit the official website and download MyMonic. The file size is quite small; therefore, the installation will not take long whatsoever. Just download, extract, and install. The process should take no more than two minutes depending on the speed of your computer.
How to change the monitor settings
After installing the tool, the next step is to change the settings of your monitor. Now, we should point out that MyMonic will sit on the taskbar after installation, so be sure to click on the icon to showcase all the features.
Right away users will see the options to change the monitor brightness, contrast, and even video brightness. Simply drag a button with the numbers to either up or down until you are satisfied with the changes.
If you are not pleased with the changes and would rather reset everything to the default setting, just hit the button that says Reset settings.
Open the Menu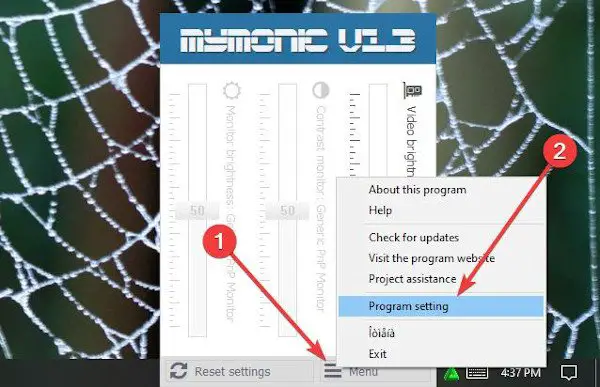 Should you require more things to play around with, well, go on ahead and click on the Menu icon. This section is home to the settings area for MyMonic, but there is not much you can do. Users only have the ability to change the language, and whether or not the program should automatically start after Windows 10 boot.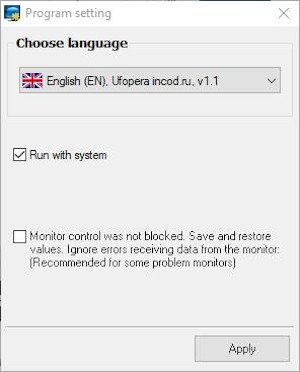 By default, it will start with the operating system, so we suggest turning this off if you're not going to use MyMonic every day.
You can download it from the official website.
TIP: There are several other free brightness control software that you may want to take a look at.