If you find the size of thumbnails in the Windows 7 taskbar too small for your liking, you can make them bigger. You can adjust the size to your liking by following the simple steps highlighted in this article and change the Taskbar Thumbnail size. Of course, there are third-party tools available for doing the same job, but doing so manually, is always a great learning experience.
TIP: Windows 10 users may have a look at this post which shows how to increase taskbar thumbnail preview size.
Change Taskbar Thumbnail size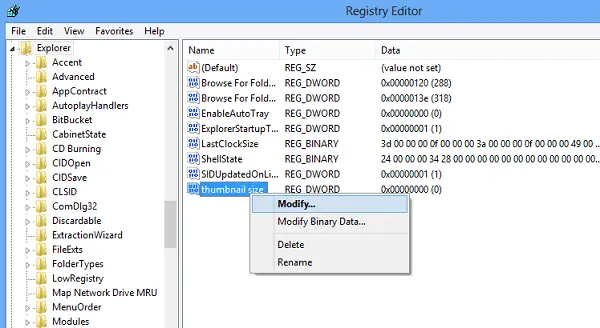 Here's how you can change the size of thumbnails in Windows. Please note that doing so requires you to make a change in the registry editor so, be sure you have created a backup before proceeding further.
Open the registry editor. For this, press Win+R in combination to bring up the 'Run' dialog box. In it, type regedit and hit the enter key. Next, navigate to the following key
HKEY_CURRENT_USER\Software\Microsoft\Windows\CurrentVersion\Explorer
Now in RHS pane, create a new DWORD value called thumbnailsize.
Right-click on it and choose Modify.
Select Decimal option. Enter the desired value data in Pixels to change its size. The default value is 96 pxls. It can be changed to a value between 32 and 256.
To enable the default value again, simply delete the thumbnail size value name and restart your computer!
By default, the thumbnail previews in Windows 7 or Vista explorer.exe appear as Miniature Photographs. You can, if you wish, tweak the registry to make them appear like a video film cutting along with the 'sprocket-holed' perforated borders.
You may want to check out or freeware Taskbar Thumbnail Tweaker and Resizer and Windows 7 Taskbar Thumbnail Customizer.