Windows 11 and Windows 10 PCs have four Power Mode levels namely, Battery Saver (while on battery power), Better battery (or Recommended), Better Performance, and Best performance. In this post, we will show you how to customize the Windows Performance Power Slider for the Power Mode Level you want for performance and battery life in Windows 11/10.
Power Mode Level in Windows 11/10
The Windows performance power slider enables you to quickly and intelligently trade the performance of your system for longer battery life. As you switch between the four slider modes to trade performance for battery life (or vice versa), Windows power settings are engaged behind the scenes. You are able to customize the default slider mode for both AC and DC, and can also configure the power settings that are engaged for each slider mode.
The Windows power slider is available for AMD and Intel platforms running Windows 11/10. It is not available on devices with ARM64 processors. The slider will appear on a device only when they apply the Balanced Power Plan, or any plan that is derived from Balanced, is selected.
Description of the Power Mode levels available in Windows 11/10
You can choose one of the four power slider modes:
Battery Saver – Helps conserve power and prolong battery life when the system is not connected to a power source. When battery saver is on, some Windows features are disabled, throttled, or behave differently. Screen brightness is also reduced. Battery Saver is only available on DC.
Better Battery – Delivers longer battery life than the default settings on previous versions of Windows. Available on both AC and DC. In some cases, users will see this mode labeled Recommended, rather than Better Battery, in their slider UI.
Better Performance – Default slider mode that slightly favors performance over battery life and is appropriate for users who want to trade-off power for better performance of their apps. Available on both AC and DC.
Best Performance – Favors performance over power and is targeted at users who want to trade off power for performance and responsiveness. Available on both AC and DC.
Note: Game mode operates independently of the Windows performance power slider, and can be engaged in any slider mode.
How to change Power Mode in Windows 11/10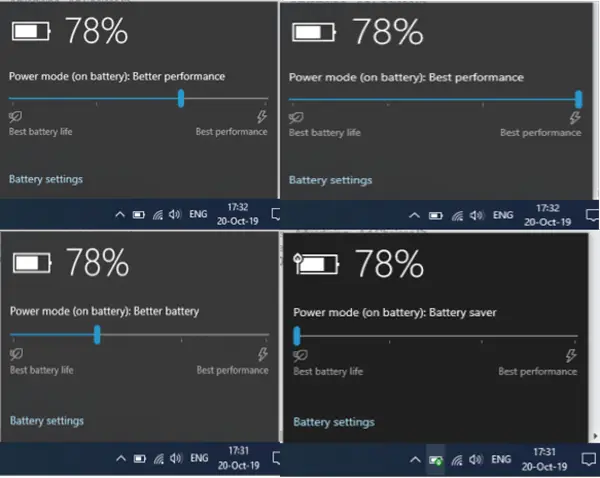 Click the Power icon on the taskbar.
Move the Power Mode slider to the Battery Saver, Better Battery, Better Performance, or Best Performance level as you want.
The power level mode will be changed.
The power mode level you select will be applied separately for when you are plugged in and when on battery power.
This post will help you if you cannot change Power Mode in Windows.
Read next:
That's it, folks. Have a nice day!