Apart from the native language (which is English) of Cortana, it supports a lot of other languages like Japanese, Italian, Portuguese, French, German, Spanish, etc. If you want, you can change Cortana's language easily using the built-in feature present in Windows 10. Similarly, if you want Cortana to speak in some other voice (say in a British accent), then it can also be done easily without using some third-party app or tool.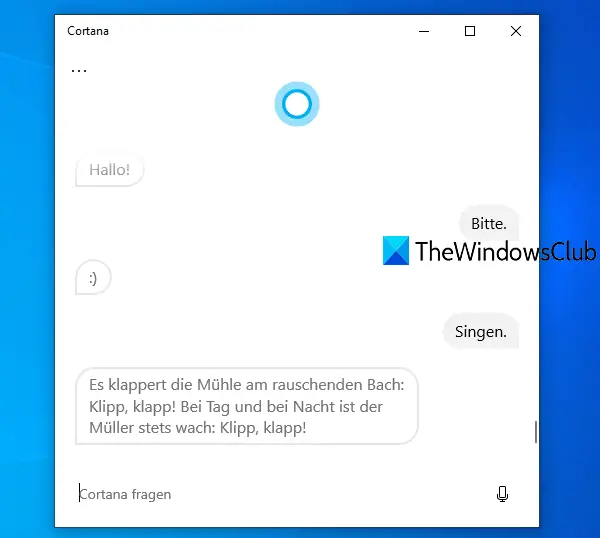 Do note that changing the voice and language of Cortana also changes the default display language of Windows 10 PC. Also, it changes the current keyboard layout set on your Windows 10 PC to the new keyboard layout based on the language set by you. So, if the new keyboard layout causes any trouble, then, in that case, you need to change Windows 10 keyboard layout.
Change Cortana's Voice and Language in Windows 10
At first, you need to open the Settings app of Windows 10 using Win+I hotkey. After that, click on Time & language category. Now select the Region page available on the left sidebar. On the right-hand part of that page, select a country or region from the drop-down menu.
Click on the Language page available on the left sidebar. Scroll down and press the Add a language button.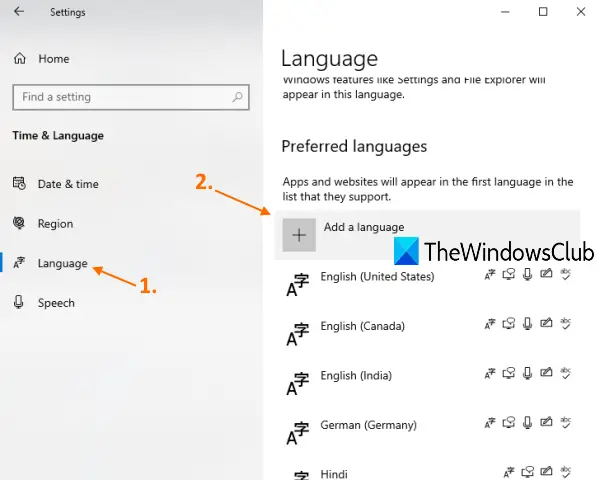 A window pops-up. There, search for the language that is related to the country or region set by you earlier. When the language is visible, select it and press the Next button. In the Optional language features section, select all the options and hit the Install button.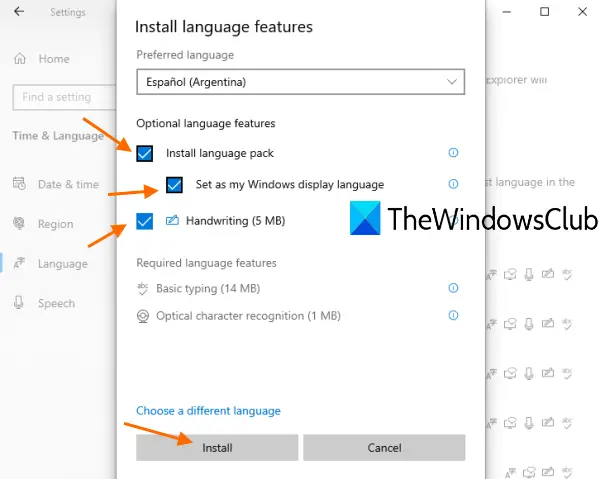 This will download and install the language page, handwriting, and other features of that language and also set your Windows display language to that specific language as default. Let the installation complete.
Once the installation process is completed, it will prompt you to sign out to your Windows 10 device. Press the Yes, sign out now button.
Once you are signed out. Sign in again and the new language will be applied successfully. You have changed the language of Cortana. The work is not completed yet.
Again, open the Settings app, access the Time & language category, and click on the Speech page. On the right-hand side, under the Speech language section, use the drop-down menu and select the same speech language that you installed earlier.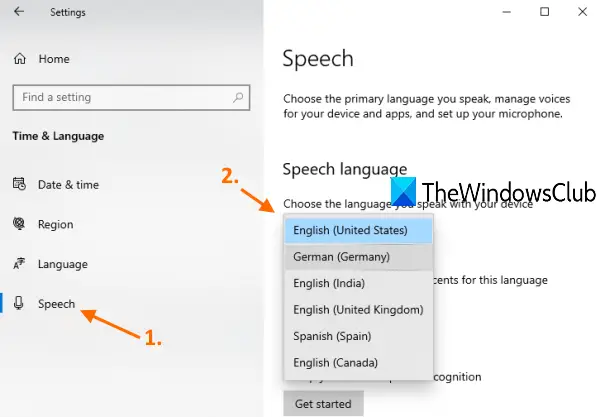 This will change the speech or voice of Cortana to that particular language.
Now open the Cortana app and sign in with your Microsoft account (if not already). Press the Speak to Cortana icon and start giving commands to Cortana. You will find that Cortana is speaking in the same accent as well as displaying the same language that is set by you using the above steps.
Hope it helps.