A new computer with a pre-loaded operating system comes with a default name which consists of your PC build and model etc. While, we don't often need to check our computer name, it appears when we connect our PC to some other machine. Users often change their computer's name to something nice or interesting. In this post we will learn about how to change your computer name in Windows 10.
Change computer name in Windows 10
Via Settings
While it has always been very simple to rename your computer via Control Panel, Windows 10 lets you change your PC's name right from the PC Settings.
Press Win+I to open your Windows 10 Settings and go to System Settings.
Click on 'About' and you will see a tab saying. "Rename PC"
Click on the tab and there you are. You can now change your PC's name to whatever you want and click on 'Next'. You need to Restart your PC to get the changes saved.
Well, this was an simple and fast method to change your PC's name but if you want to follow the old method, you can also do it via system settings in control panel.
Via Control Panel
Press Win+R and type Sysdm.cpl to open the System Settings via Control Panel. This will open a dialog box displaying your System Properties like Computer Name, Hardware devices installed on your PC, Advanced settings like PC performance and recovery, System Protection, System Restore settings and Remote assistance.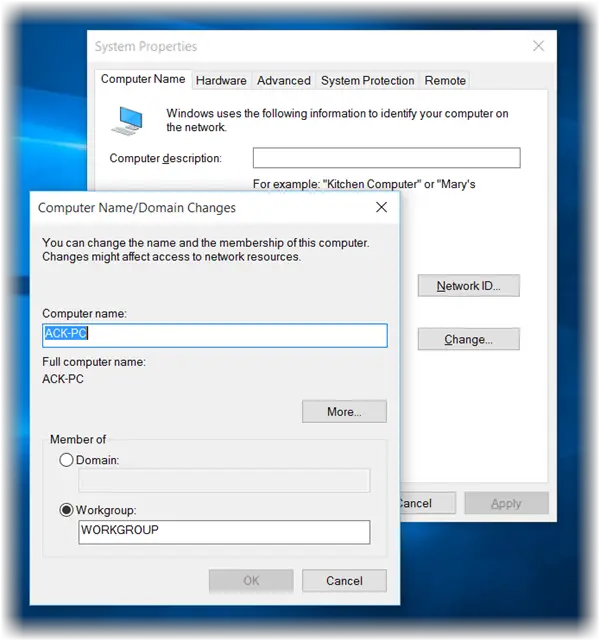 You can also see a button stating, 'To rename this computer, click Change.' Click on Change, fill in the name you want and click on OK. While changing the Computer Name, the pop-up also allows you to change the Workgroup of your PC. Make the desired changes and click on OK.
You can use this Control Panel method to change the computer name in Windows 8/7.
Changes will take effect only after you restart your computer.