If you receive the error message – Can't open this item, It might have been moved, renamed, or deleted, here are the suggestions you may follow to fix the issue. This particular problem occurs due to many reasons. However, the main reason could be some changes in the value of a particular Registry key.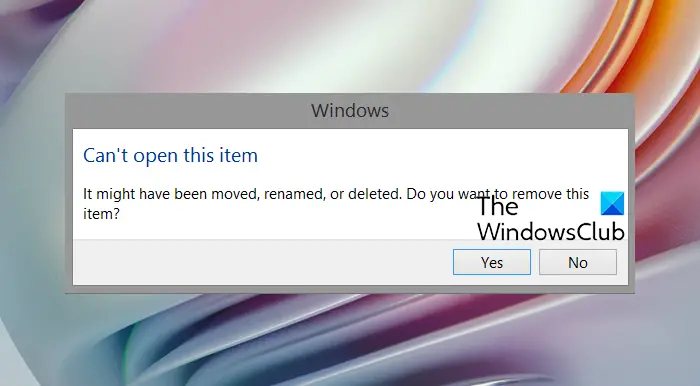 This particular problem mainly occurs when you click on a pinned icon in Taskbar. When you click on a pinned icon after uninstalling the software, you might get this issue, which is normal. If you had uninstalled the software, then you may click on Yes to remove the item.
But, if the software is installed and you still see this error message, click on No and then follow this tutorial to fix it. This can also happen if you have recently uninstalled any program or deleted some Registry key left by that software, maybe using some Registry Cleaner. Moreover, if some file extension settings – especially the one relating to shortcuts have become corrupted, you could receive this message.
Can't open this item, It might have been moved, renamed, or deleted
This tutorial involves steps related to Registry editor, so it is recommended that you create Registry file backup and a system restore point before proceeding.
1] Delete UserChoice folder from Registry Editor
Press Win+R, type regedit and hit the Enter button to open The Registry Editor. Following that, navigate to the following path-
Computer\HKEY_CURRENT_USER\Software\Microsoft\Windows\CurrentVersion\Explorer\FileExts
You can also enter the path in the Registry search bar if you are using the latest build of Windows 11/10. In the FileExts folder, you can find another folder called .lnk (That is a small L in the .lnk). In the .lnk folder, you will find three different folders including UserChoice. You need to delete this UserChoice folder, by right-clicking on it and selecting Delete. Having done this, restart your PC and check whether you can open any file or not.
2] Create new User Account
In many cases, the UserChoice folder is not visible in the .lnk folder. In that case, the only solution is to create a new User Account. Make sure that you create a Local Account and not a Microsoft account.
Open Windows Settings panel by pressing the Win+I keys. Following that, go to Accounts > Family & other people. On the right-hand side, you should an option called Add someone else to this PC. On the next window, you need to select I don't have this person's sign-in information and Add a user without Microsoft account.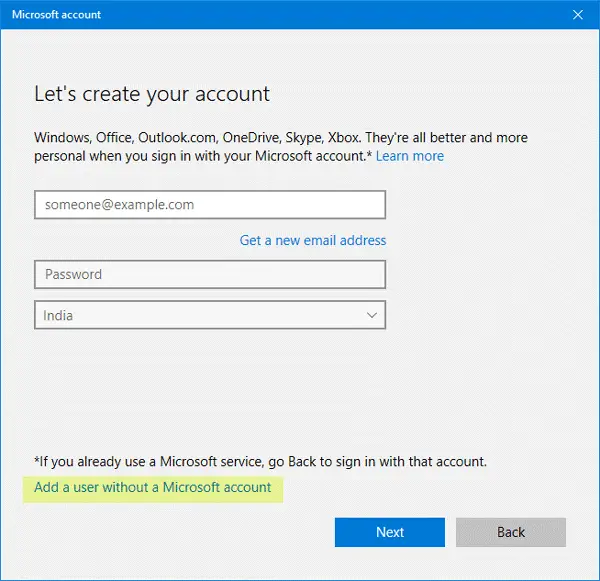 Following that, you can enter a username, password, etc. By clicking the Next button, you will be able to create the Local User Account successfully. After that, you need to log out from the current account and sign in to your new account.
3] Use System File Checker
This useful tool for Windows users helps you solve many system file-related issues within minutes. To use the System File Checker, you need to open the Command Prompt with administrator privilege, and run this command-
sfc /scannow
It should take some time. Do not close the window and let it be finished. After completing, restart your PC and check if you can perform all the tasks or not.
Hope something helps!