In this article, we will talk about the solutions to fix the installation problem with Valorant game. Some users face the issue that they can't install Valorant on their Windows 11/10 computers. There could be many reasons for this problem. For example, there might be permission issues with the game, your antivirus tool might be blocking the Valorant program from getting installed on your computer, etc. Below, we have covered some solutions that you can try to get rid of this problem.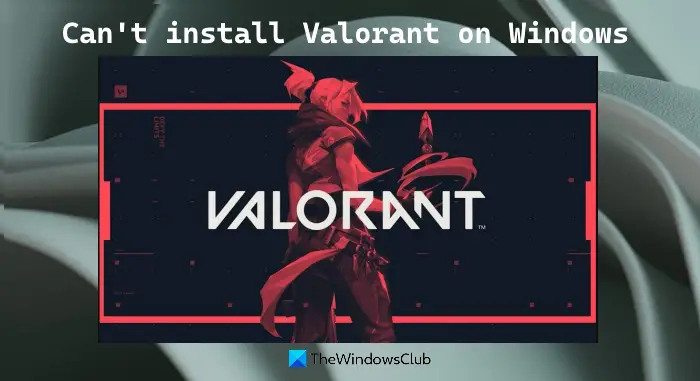 Can't install Valorant on Windows PC
The following solutions might help you solve this problem:
Run Valorant setup as an administrator
Move the installation file from Downloads to another location
Disable your Antivirus software temporarily
Run Valorant using Compatibility mode.
Let's see how to perform these troubleshooting methods.
1] Run Valorant as an administrator
As mentioned above, you might be unable to install Valorant on your Windows 11/10 computer due to permission issues. So, try to run Valorant setup as an administrator and see if it begins the installation process or not.
To run Valorant as an administrator, simply right-click on its installation file and select the Run as administrator option. Click Yes in the UAC prompt and complete the installation process.
2] Move the installation file from Downloads to another location
Most users keep the default location for saving the downloaded file(s), which is the Downloads folder. If you have downloaded the Valorant game in that folder and running its installation file from that folder is giving you the installation error, then you should move the game's installation file to another location.
Some users have reported that they were able to install Valorant after moving its installation file to the Desktop or to the Program Files folder in the C directory. So, try this solution, and see if it works.
3] Disable your Antivirus temporarily
Sometimes, Antivirus programs generate false-positive flags for genuine files. Such types of flags can be ignored. It might be possible that your Antivirus is blocking Valorant from getting installed on your system. So, temporarily disable Microsoft Defender Antivirus or any other third-party antivirus software that you are using and then try to install the Valorant game.
You can also disable Windows Firewall and then begin the installation process for Valorant. This might fix the issue.
Don't forget to turn on your antivirus program again once the game is installed successfully.
4] Run Valorant using Compatibility mode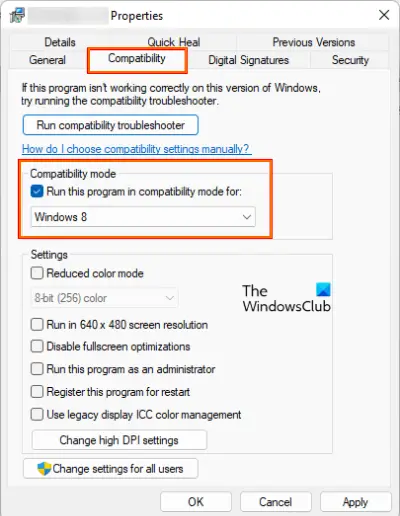 You can also try to run the Valorant installer by using the Compatibility setting. The steps for the same are listed below:
Right-click on the Valorant installation file
Select Properties option.
Click on the Compatibility tab
Under the Compatibility mode section, click on the checkbox available for Run this program in Compatibility mode for option
Select the previous version of Windows from the drop-down menu
Click on the Apply button
Press the OK button.
Now, close the Valorant properties box and run the installer file. This might work.
You can also try running the Program Compatibility Troubleshooter on your Windows 11/10 computer to fix this problem.
How do you fix Valorant failed to launch?
If Valorant failed to launch on your Windows 11/10 computer, the first thing that you should do is restart your computer. Sometimes, the issues are fixed only by restarting the computer. If this does not work, there might be some other causes of the issue, like an outdated graphics driver, some bug in the Valorant launcher, etc. So, update your graphics driver and run Valorant as an administrator. If nothing works, you can try a clean install of the Valorant game.
What to do if Valorant is not installing?
Several things are mentioned in this article to troubleshoot this issue on Windows PC. For example, you can run the setup file with administrator privileges first. Then, you can move the installation file from the Downloads folder to another location and try reinstalling it. Next, you can disable the antivirus program temporarily and check if it is blocking the file or not.
Hope it is helpful.
Read next: