If you are not able to type into text input fields in Chrome or Firefox, then this article will help you to fix the problem. This problem may happen in any browser, but most people have encountered this issue in either Google Chrome or Mozilla Firefox. Sometimes it can be just a glitch that you can fix by restarting the browser – or, you can get this problem if your keyboard is not working correctly. However, if the problem remains even after checking these things, the following suggestions are for you.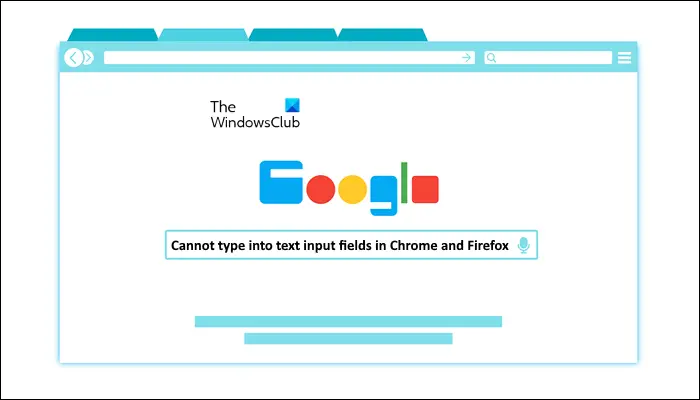 Why can't I type in Firefox?
The issue might occur due to several causes, like an unresponsive Java script, corrupted system image files, problematic extensions, corrupted DLL files, etc. Sometimes, the issue occurs due to a minor glitch which can be fixed simply by restarting Firefox.
Cannot type into text fields in Chrome & Firefox
If you cannot type into text input fields in Chrome or Firefox – like address bar, search bar, etc., then try these suggestions.
Restart your browser
Disable Hardware Acceleration
Check for problematic extension(s)
Re-register concerned DLL files
Run System File Checker
Contact the website administrator
There is also a temporary fix that worked for some users. Press the Windows key once or twice. See if it helps. To permanently fix this issue, follow the suggestions provided in this post.
1] Restart your browser
The first thing that you should try is to restart your web browser. Sometimes, problems occur due to a minor glitch. In such cases, restarting the software fixes the problem. Follow the steps provided below;
Close Firefox or Chrome (the browser you are using).
Open the Task Manager.
Select the Processes tab.
Scroll down and locate all the instances of Chrome or Firefox.
Right-click on each instance of Chrome or Firefox and select End Task.
Open Firefox or Chrome again.
2] Disable Hardware Acceleration

Your browser sometimes uses this functionality to perform a specific job or execute a command. However, this hardware acceleration may create some problems like this one. If so, you can disable hardware acceleration and check if it resolves your issue or not. This article will let you know how to disable hardware acceleration in Chrome and Firefox.
3] Check for problematic extension(s)
The problem might also occur due to a problematic extension installed on Chrome and Firefox. Disable all the extensions and relaunch the browser. Now, check if the issue persists. If this fixes the problem, one of the extensions is the culprit. To find it, enable one of the extensions and restart your browser. Check if the problem persists. Repeat this process until the problem starts occurring again. In this way, you can find the culprit.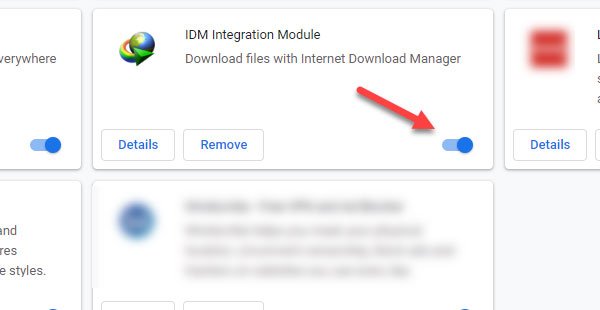 According to the reports, the IDM extension was found responsible for this issue. IDM of Internet Download Manager is one of the most popular download managers out there. If you have installed the desktop software, you might have also downloaded the browser extension called IDM Integration Module. Although it helps you integrate your browser downloads with the desktop software, it may also create problems.
If you have recently installed that extension and following that, your browser has started showing issues like these, you should disable this browser extension/add-on. In Chrome, you can go to More tools > Extensions. In Firefox, you can click the Open menu button and select Add-ons. Then, switch to the Extensions section. Here you should find the IDM Integration Module extension/add-on. You need to use the toggle button to disable it.
4] Re-register concerned DLL files
You need to re-register three DLL files:
mshtmled.dll
mshtml.dll
jscript.dll.
This post will show you how to re-register DLL files.
5] Run System File Checker
System File Checker is a command line tool you can use on Windows 10/8/7. It lets you scan for corrupted system files and restore them automatically. Run System File Checker and see if that helps you.
6] Contact the website administrator
If the issue occurs only on some specific website in Firefox or Chrome, a Java script might be responsible for that. In this case, contact the website administrator and inform him about the issue.
Why is my keyboard not working in Chrome?
If your keyboard is not working in Chrome, first check if your keyboard is working fine or not. Connect another keyboard and check again. Sometimes, an outdated version of Chrome causes problems. Whereas sometimes, the corrupted Chrome cache is the culprit.
All the best!
Related read: Can't type in Windows Apps, Search Box, Dialogue Boxes etc.