Different display parameters such as background wallpaper, screen colors and screen resolution can be changed via Display Control Panel applet. The ways you can get to the display settings on a Windows 10/8/7 computer may vary depending on the version of the Windows you are using. Possibly, on rare occasions, you may encounter problems while trying to change your display settings. This occurs when you have a certain policy set to prevent you from doing so.
You may see the following on your screen:
Your system administrator has disabled launching of Display Settings Control Panel
To solve the problem, you need administrative privileges.
Cannot open Display Settings in Windows Control Panel
Open Run box, type gpedit.msc and hit Enter to open the Group Policy Object Editor. Navigate to User Configuration > Administrative Template > Control Panel > Display.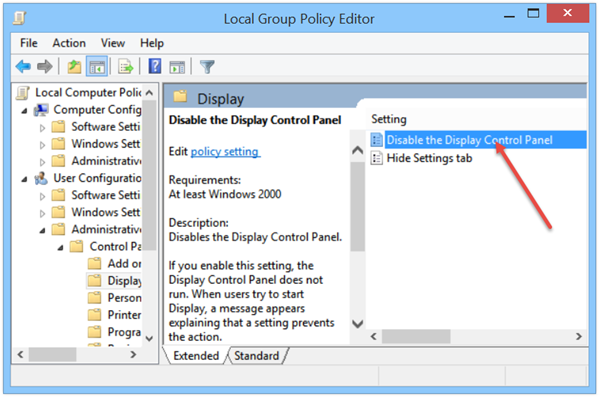 Next, in the right-side pane, double-click Disable the Display Control Panel and change the setting to Not configured.
If you enable this setting, the Display Control Panel does not run. When users try to start Display, a message appears explaining that a setting prevents the action.
Reboot.
However, if your version of Windows Windows10, Windows 8, Windows 7 or Windows Vista does not include the Group Policy Editor, you may instead use the Registry Editor.
Open regedit and navigate to the following key:
HKEY_CURRENT_USER\Software\Microsoft\Windows\CurrentVersion\Policies\System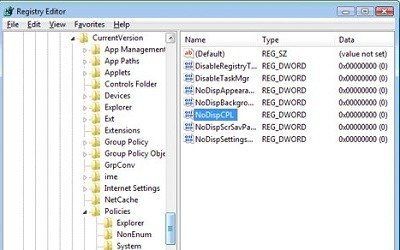 In the right-side pane, delete NoDispCPL value, if it is present.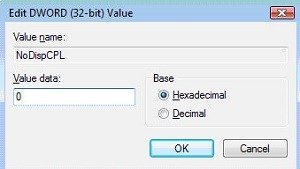 Reboot.
NOTE: In the later versions of Windows 10 and in Windows 11 the System/Display applet has been removed from the Control Panel.
Hope this helps you resolve the problem.
See this post if your Control Panel will not open.