Windows 11/10 PC supports Xbox Game Controller. You can connect it with your PC, and play games that support it. You can also stream Xbox Games on PC, and use the game controller to play games if your Xbox One console and PC are very far away.
That said, many a time the controller doesn't seem to work properly, and if this is the case with you, you may need to calibrate Xbox One Controller in Windows 11/10. This is exactly what we will talk about in this guide.
This post tells you how you can reset or calibrate Xbox One Controller in Windows. It will run a wizard which will let you test all your buttons for the different axis. Once done you can try the inbuilt testing tool to see if it works properly.
Calibrate Xbox One Controller on PC
You will know if your Xbox One game controller needs calibration when you have trouble playing the game on your PC. Sometimes the trigger will not fire timely or there is something wrong with the axis of the controller. They all will result in random movement during gameplay.
You have two options in this process. Either you can reset to bring the controller back to default settings, or you can try to calibrate. We suggest you do the later first.
Connect the Xbox Controller with your PC using the USB cable.
To make sure it is detected by your computer open Device Manager. ( WIN + X + M). If you don't see it, right-click on your PC, and scan for hardware changes.
Open Control Panel > Control Panel\All Control Panel Items\Devices and Printers.
Right click on the Controller Icon, and select game controller properties.
You have two tabs here:

First lets you test all the buttons, and triggers of the controller, and see if they are responding back.
Second, lets you reset it to default settings or calibrate. Select later.

This will launch a wizard that will calibrate the axes of your controller.
During the process, it will ask you to press different buttons, sometimes leave the axes as-is, and so on.
You will get to see a lot of X-axis rotation, Z-Axis, Dpad instructions, and will take a bit of time to complete it.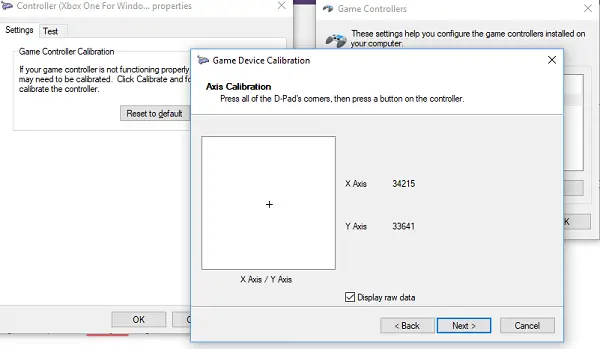 Once complete, you can now try the first tab which we skipped above to see if your controller is properly calibrated. 
If this still doesn't work, you can choose to reset the Xbox controller. We had that option under Game controller settings.
This should resolve the calibration issue with your Xbox One controller on Windows 11/10 PC. In case you still have issues, you can connect to an Xbox, and try changing these settings on Xbox One as well. Xbox One does allow you to map different buttons, and swap them if you are used to that kind of setting.
TIP: You can use the Windows HDR Calibration app.
What is the best way to fix controller drift?
The drift is slipping which is caused by dust, and oil stick on the controller. It usually happens when the controller is not in use for a long time, and you leave it in the open. To fix it, you need clean the controller, sticks, and everything around it. make sure to use slightly damp clothe, and slowly clean them off.
Is controller drift avoidable?
The only way to avoid this is to keep it inside a box or cover it with a cloth. It will ensure that dist or oil doesn't settle on it. Also, make sure to keep your hand's clean while using it. One of the major issues is eating while using the controller. If you happen to do it, wipe it with a soft cloth.