A badly configured Desktop screen can put extra strain on your eyes, especially when you are used to working at your computer for prolonged periods of time. Monitorian is a free Microsoft Store app that lets you calibrate the brightness of multiple monitors with ease and consequently keeps you safe from this risk. It is also available as an installer and a portable executable.
Calibrate brightness of Dual Monitors
If you have attached external monitors connected to your Windows PC, the open-source app lets you change screen brightness more easily from the system tray icon.
The tool is available as either Installer or Executables. When you decide to choose the latter option for installation, the settings file will be created at the following location:
[system drive]\Users\[user name]\AppData\Local\Monitorian\
Also, when you Start or sign in, a registry value will be added to the following entry
HKEY_CURRENT_USER\Software\Microsoft\Windows\CurrentVersion\Run
When the icon of the app is visible in the system tray, you can configure the app to automatically run at Windows Startup.
Selecting 'Show adjusted brightness' from the options menu displays the adjusted level of brightness on the slider control of the screen.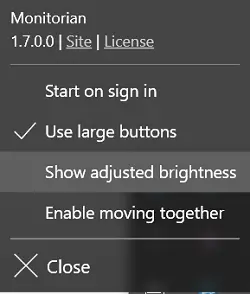 If you would like to rename any monitor in the app, simply press and hold its name until it turns out to be editable.
Also, to know the capabilities of monitors, click the app title in the menu window three times and then select the appeared button. Upon confirming the action, a log file will be created on the Desktop.
In all, it's a useful application that can jump into settings to change the brightness on your computer instantly or relax settings to make the viewing experience more comfortable.
At a given time, the number of monitors that can be shown or displayed is currently restricted to 4. Simply access it whenever you feel the need to dim your computer.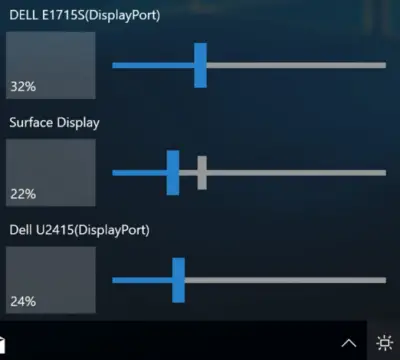 Requirements: Compatible with Windows 11/10/8/7, .NET Framework 4.6.2 and The external monitor must be DDC/CI enabled.
Monitorian for Windows PC
You can download the Monitorian app from Microsoft Store and the desktop software from Github.