At, times, when you try to download a file from the Internet, your Edge or IE browser, may stop it from being downloaded. This is the SmartScreen Filter in action, trying to protect you. SmartScreen offers protection from phishing attacks, socially engineered malware, and drive-by-download attacks too.
If you do not wish to use this feature or if you find that your SmartScreen feature is disabled, then this post will show you how to enable or disable SmartScreen Filter. It is a great feature to keep your computer protected and secure, and it is best always to keep it turned on.
Read: Windows SmartScreen filter, Download Reputation, XSS Security features.
Quickly bypass SmartScreen filter
Internet Explorer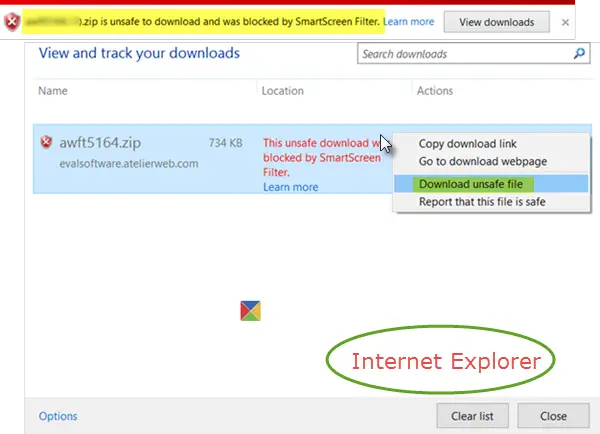 But at times, when you go on to download a file from the Internet using Internet Explorer, the SmartScreen filter will stop you from downloading or opening it. Now if you are very sure that file and the source from where you are downloading it is safe, you may want to bypass the SmartScreen filter quickly, without having to go through the detailed process to turn off or disable the SmartScreen.
Normally when you click on a link to download a file, you are asked –
Do you want to save file from website – Open | Save | Cancel.
You would normally click on Save to save the download to your Downloads folder.
But at times when you click Save to download it, you may see a message –
File is unsafe to download and was blocked by SmartScreen Filter.
Read: SmartScreen filter warning messages explained.
Now as I mentioned, if you are very sure that file and the source from where you are downloading it is safe, you can quickly bypass the SmartScreen filter as follows:
Click on the View downloads button to open the View Downloads window. Here clicking on Options will only let you change the download directory, so it is of not any use to us now.
What you should do is right-click the blocked download. This will open up a context menu that will offer you several options.
Select the one that says Download unsafe file. The download will start. If you wish, you can also report that this file is safe.
Microsoft Edge
The procedure is the same for Edge browser.
I hope this small tip makes life easier.
If as an administrator, you do not want this happening, you can prevent bypassing of SmartScreen filter warnings.