Most cyber-attacks involve downloading infected software on the system. The malware is disguised as a genuine application, and thus many internet users are deceived into downloading them. Microsoft is aware of this. Microsoft introduced a feature called Windows SmartScreen to prevent such attacks.
The Windows SmartScreen filter offers protection to Microsoft Edge users from internet-based attacks by blocking malicious websites, phishing attacks, socially engineered malware, Drive-by-download attacks as well as web-based attacks that exploit software vulnerabilities, and display warnings for Malvertising and Tech Support scam sites.


Windows SmartScreen can't be reached right now
Windows SmartScreen may block any app or link that it finds suspicious. But at times you may receive a message, Windows SmartScreen can't be reached right now. If you see this message, here is what you can do.
If you trust the website or the app, click on the Run anyway button to proceed. If in doubt, click on Don't run. If you need to troubleshoot this, follow these suggestions.
Check Internet connection
Check SmartScreen settings
Ensure that Windows Smart Screen is enabled
Scan Windows for virus
You will need admin permission for some of them.
1] Check Internet connection
Most important – ensure that your Internet or WiFi connection is working fine, for SmartScreen requires your computer to be connected to the Internet to work. If it is not connected, it will display this message.
A rare occurrence could be that Microsoft servers themselves are down as a result of which you see this message. In this case, you should try it after some time.
2] Check SmartScreen settings
On Windows 11/10, open Windows Security and navigate to App and browser control > Reputation-based protection. Here check that the SmartScreen settings are turned on.
Check apps and files
SmartScreen for Microsoft Edge
Potentially unwanted app blocking
SmartScreen for Microsoft Store apps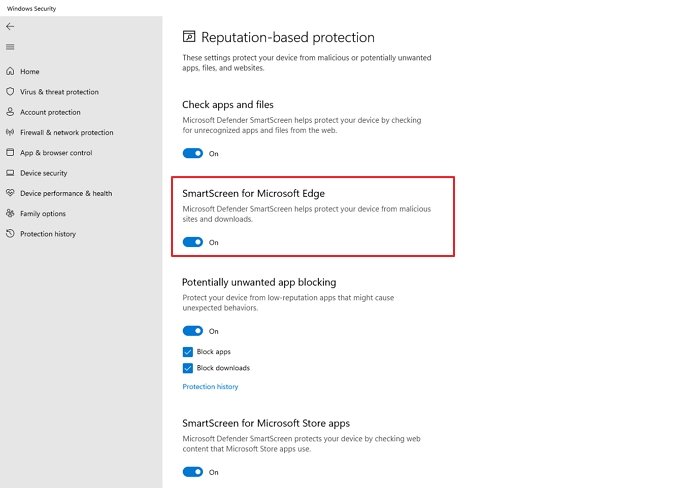 Also, make sure the option to block apps and block downloads is turned on so it can block them before they are downloaded. Further, you can check the protection history by following the link at the bottom of those options.
If you are using earlier versions of Windows, you can configure SmartScreen filter settings by typing the following in the Run box and hitting Enter:
C:\Windows\System32\SmartScreenSettings.exe
3] Ensure that Windows Smart Screen is enabled in Edge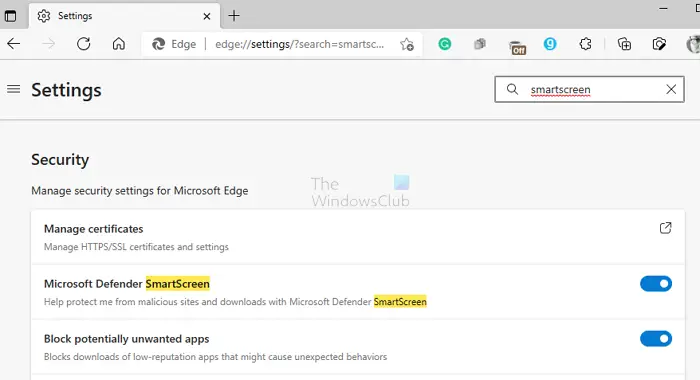 While you have enabled the setting through the Security app, ensure that it is also turned on in Microsoft Edge.
Open Edge settings, and search for SmartScreen. Once the setting is highlighted, turn it on. Along with you can also turn on Block potentially unwanted apps.
4] Scan Windows for virus
It could be that the Smart Screen filter has been disabled by malware. You should, therefore, scan your computer with Windows Security or your installed antivirus software. This malware could be disabling the SmartScreen feature from time to time to evade your PC.
Though these steps should be helpful in most cases, in case they don't fix the issue, I suggest you wait and try the next day again.
Do I need Windows SmartScreen?
It is not a compulsory feature, but a recommended one. If you are using Windows Security as your primary antivirus and security solution, then keep this on. It ensures that any file you download is safe. However, if you using another solution, you can always rely on it as long as it is working.
Can you install Windows Security for Chrome?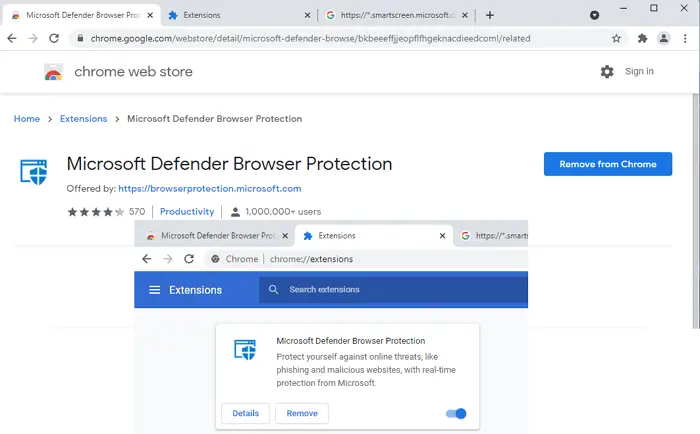 Yes, you can. Microsoft offers this in the form of an extension which you can download from here. It offers to protect yourself against online threats, like phishing and malicious websites, with real-time protection from Microsoft. Since it uses Smartscreen in the browser, it keeps you safe.
Do you need SmartScreen with Chrome?
No. Google already offers a Safe Browsing service that can block files that may contain a virus or want you when you access a website that could be a potential threat. You can always install the extension and add another layer, but it's not compulsory.
You might want to read these SmartScreen posts too: