Bugsplat.dll is a Dynamic Link Library (DLL) file. These are files that contain driver functions and instructions that are required by Windows computers to run applications properly. More so, this means that if the Bugsplat.dll file is missing, there will surely be an issue with using some programs on your computer. However, users have reported that the Bugsplat.dll was not found error pops up while trying to launch one of the most popular PC games, League of Legends.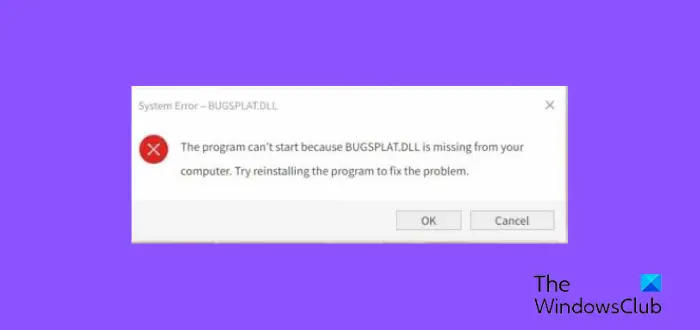 The program can't start because BUGSPLAT.DLL is missing from your computer. Try reinstalling the program to fix the problem.
Due to this error, many people have not been able to run this game and find it hard to get a working solution for the error. Hence, if you get the Bugsplag.dll error when launching Leagues of Legend on your computer, we've compiled the most effective solutions to fix it and some of the causes of the issue.
What causes the Bugsplat.dll error?
There are various error popups you can get when there is an issue with the bugsplat.dll files on your computer. However, these errors can always be traced to a few reasons. Obviously, the missing bugsplat.dll indicates the file has been removed from your computer, most probably by mistake.
But this might not always be the case as several other things cause the issue on Windows computers. Among the causes for the bugsplat.dll was not found error includes Windows registry issues, faulty or malicious software, corrupt applications, outdated DLL files, malware, and virus.
Fix BUGSPLAT.DLL was not found
Firstly, you should try to restart your computer and relaunch the League of Legends application. If the error keeps showing after doing that, you can make use of these solutions to fix any of the Bugsplat.dll errors that comes up on your computer:
Re-register the DLL file on your computer.
Reinstall League of Legends.
Run System File Checker.
Scan for Malware on your PC.
BUGSPLAT.DLL is missing in League of Legends
1] Re-register the DLL file on your computer
If the issue persists after downloading the dll file as discussed above, you may need to re-register the dll file on your PC. To do that, follow the steps below:
Search for Command Prompt in Windows Search Box and run it as administrator.
Type regsvr32 BugSplat.DLL in Command Prompt and press Enter.
2] Uninstall and reinstall League of Legends
One of the best ways to fix issues with League of Legends is by uninstalling and reinstalling the game on your computer. To do this, you simply have to Uninstall the application from the Control Panel and delete the old setup file you used to install the game.
After that, you can reinstall League of Legends by downloading the latest version of the game here from the official website.
3 Run System File Checker
Having corrupt files on your computer could also be the reason for the error message you get. Most probably, the corrupt files are blocking the dll file execution. In this case, a built-in Windows utility, System File Checker, can help fix the issue.
This is a link to an article on how to run System File Checker
4] Scan for Malware on your PC
The presence of malware and viruses on your PC sometimes hinders the dll files from working. Even if you have tried the previous methods and you still have malicious software on your computer, they will keep on corrupting the dll files, and as a result, the issue will persist. To be sure that this isn't the problem, you should run antivirus or anti-malware on your computer. This will help remove any virus or malware causing issues on your computer.
Read:
Where do I put Bugsplat.dll?
Bugsplag.dll file is meant to be installed in the Windows system folder. However, some programs, especially games, require you to put the DLL file in the application installation folder.
How do I replace corrupt DLL files?
To know if a DLL file is corrupted on your computer, simply open the command prompt, type sfc/scannow, and press Enter. This will help run the System File Checker, which will check for and replace corrupt DLL files on your computer.