Taking screenshots on a computer has become very common. Sometimes you just want to save an invoice generated, sometimes you just need to save an image, and so on. If you are looking for browser extensions to take a screenshot in Chrome and Firefox, then you are at the right place. We are listing a bunch of extensions, and add-ons which offer more than just a simple screenshot.
Before you begin, you should know that Chrome & Firefox comes with a native screenshot feature as well if you do not want to use any extension.
Screenshot Extensions for Chrome and Firefox
Most of the OS's now have the screenshot feature built-in. You honestly don't need if you just want to capture and save it. Windows comes with Snip & Sketch, while Mac even offers video recording along with the screenshot. These extensions offer extra features that can help you manage your screenshots in a better way.
Screenshot Extensions for Chrome
1] 1-Click Webpage Screenshot
Does what it says, but also adds options to upload it directly to services like Dropbox, Facebook, Evernote, Twitter and so on. You can also choose to directly generate a PDF file which comes in handy for transaction pages. If you have a printer, it can directly send a print to your printer as well.
If you have a webcam, it can take a screenshot from it. Apart from these, it offers regular screenshot features including annotations.  Overall an excellent tool one can use.
2] Full Page Screen Capture
Its the simplest screen capture tool I have seen, and also the fastest. Just press the camera icon, and it scrolls the complete page and takes a screenshot. It can even take a screenshot of complex pages—including inner scrollable elements as well as embedded iframes.
Here is the list of features:
Maintains a list of websites for which you have taken the screenshot, and also the screenshots.
Export your result to PNG, JPEG, or various PDF paper sizes. You can configure this from extension's options.
Select a default save folder.
Under screen options, we recommend you to allow it to download images to your computer, and also permission to scroll the inner contents of iframes or framesets. Download it here.
Screenshot Extensions for Firefox
1] Nimbus Screen Capture
Using this, you can take a screenshot in various ways–web pages, selected regions, delayed screenshot and whole browser window. It also offers you to take a blank screenshot, and then drop images which can be handy if you want to club images together. Post that you can use the inbuilt annotation tool to add text, mark areas and so on.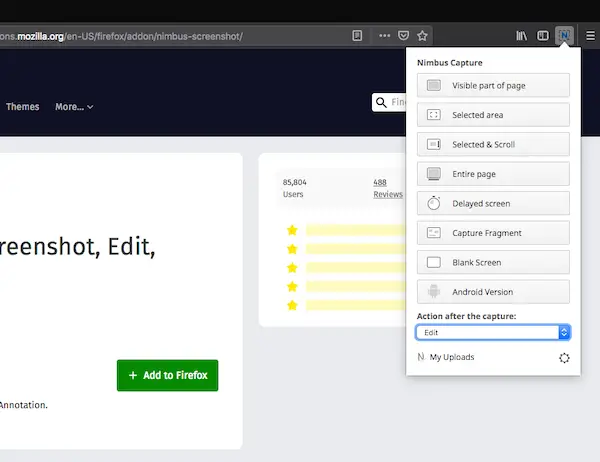 The editing tool of Nimbus is impressive. Its as good as any editing tool which allows you to resize, zoom, crop, change the background color and so many more features.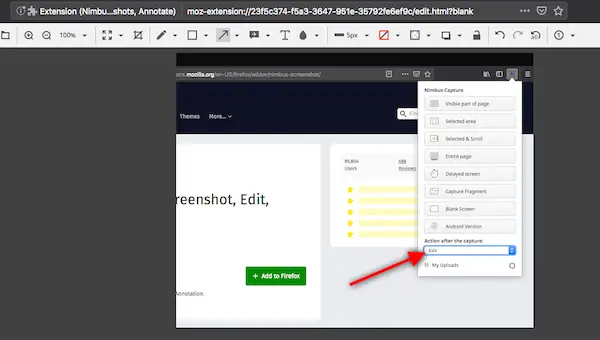 The extension also supports upload to Slack, Google Drive, Nimbus, copy to clipboard, and print options. You can also create a NIMBUS account which allows you to save images on their servers as well. Download it here.
2] FireShot ( Full Webpage Screenshot)
It offers a simple menu to take a screenshot of a webpage as you like it. You can take full scrolled screenshot or part of it. Post which you get direct options to save as an image or PDF (with links) copy to clipboard or print.
However, to enable editing or annotation, the plugin installs a small exe in Windows which then does the rest of the job. This is the reason it has full support for Windows but not on other platforms like Mac. Using the editing tool, you can edit, mark with borders, freehand drawing and so on. It also supports to upload to servers and email. Download it here.
I am sure there are tons of extensions available for taking screenshots, but these are the popular ones with a good rating and install base.
Do try, and you can always suggest the one you are using.