If you have recently installed Windows 1/110 or an update and found that your Bluetooth audio devices and wireless displays are not connecting, here are some possible solutions to fix your problem. The suggestions offered are for Miracast devices, Bluetooth audio devices, WiGig devices as well as PCs. Generally, the Connect button in Action Center should start the connecting process, but if it does not, try this troubleshooting.
Bluetooth audio devices & wireless displays not connecting
1] Miracast devices
Reboot the computer and all the other devices.
Check the Miracast support by your device. If your device doesn't support Miracast, you will not be able to use this Windows 10 feature. Therefore, check the product manual, and documentation, or contact with customer care or check the manufacturer's website to find out whether your device does support Miracast or not.
Miracast devices work on Wi-Fi – so make sure your source device is connected to the Wi-Fi network.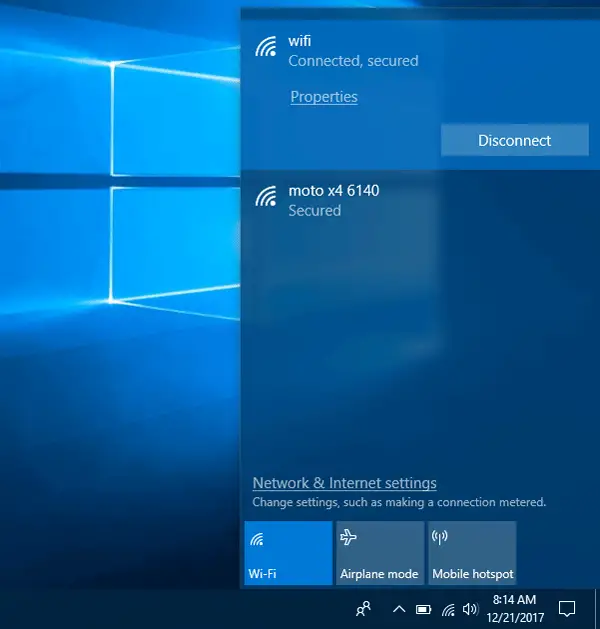 Use Miracast adapter if your destination display doesn't support Miracast. You can purchase it, and it comes with an HDMI port.
Install or update the driver of the wireless display. On the other hand, check if there is any new firmware update for the Miracast adapter or not. If yes, install that right now.
Reconnect the device. For that, press Win + I, and go to Devices > Bluetooth & other devices. On your right-hand side, you should find previously connected display or adapter under Projectors. You have to remove this device, at first and then try to reconnect the same.
Read: How to set up Miracast on Windows.
2] Bluetooth audio
Make sure your source device supports Bluetooth.
You need to confirm whether those devices are discoverable. Bluetooth-enabled devices come with such option, and it differs from device to device.
Install or update your Bluetooth driver. If you use a Bluetooth adaptor or inbuilt Bluetooth and it comes with a driver, you need to install or update it. To do this, press Win + X and select Device Manager. Right-click on the respective Bluetooth device and select Update Driver option. Following that, select Search automatically for updated driver software and follow the screen instruction to complete the process.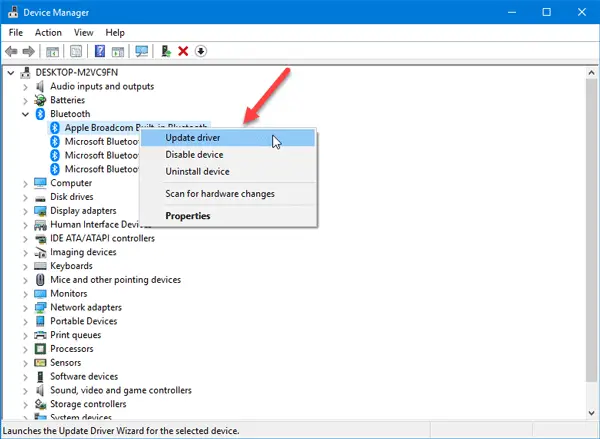 Pair the devices again. Before transferring anything over Bluetooth, you need to pair those two devices. If something goes wrong due to a system file change or anything else, you may find that problem. So, open Windows Settings panel and go to Devices > Bluetooth & other devices. After that, select the device and remove it. Then, you need to reconnect that device and check if it is working or not.
Read: Bluetooth devices not showing or connecting in Windows
3] WiGig devices
Make sure that your Windows device supports WiGig. Just like Miracast, you can check the official website, contact the manufacturer, etc. to find that out. Also, check whether the display supports the same or not. Otherwise, you have to use a WiGig dock.
Turn on Airplane mode to find out the WiGig toggle button. That way, you can disable it (if already enabled) and enable it.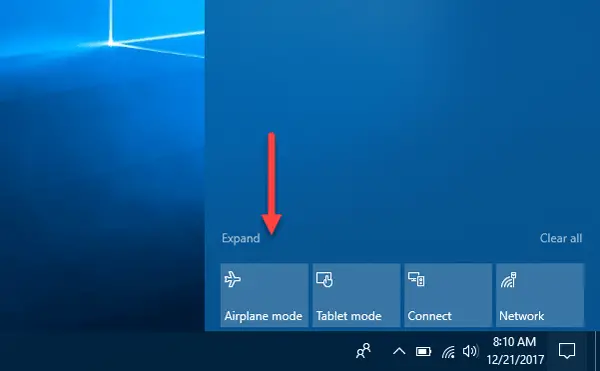 4] PCs
Make sure both devices support Miracast.
Turn on the Wi-Fi if it is not.
Restart PC as well as Wi-Fi router.
Make sure the PC is discoverable. For that, open Windows Settings, go to System > Projecting to this PC. On your right-hand side, you should find the option to make that right.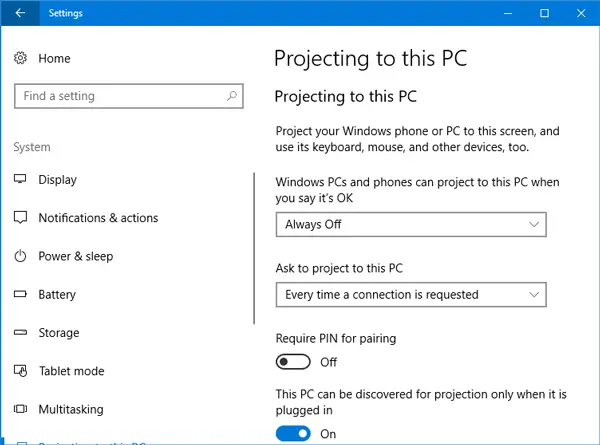 Make sure the destination display supports Miracast and is turned on. To be sure, press Win + S to open Cortana search, type Connect and open the respective app. You should find a list, and you need to click on Connect from the results list to check whether it does support it or not.
Why can't my PC connect to a wireless display?
There could be several reasons why your PC cannot connect to a wireless display. Your computer must have the support of Miracast. If it doesn't come with compatibility, you won't be able to use the Projecting to this PC option. Whether you use Windows 11 or Windows 10, the reasons could be the same.
Why are my Bluetooth devices paired but not connected?
Various things could be responsible for this error on Windows 11 and Windows 10 computers. For example, if the Bluetooth Support service is stopped due to a malware or adware attack, you cannot use Bluetooth. On the other hand, if the computer or mobile has some issues with the Bluetooth hardware, you may not be able to use it to transfer files.
We hope something here helps you.