Some Windows 11/10 users face an issue on their device where the Bluetooth "Add a device" notification keeps popping up every minute on their computer screen. If you're also facing the same problem then this article might help you fix it.
Bluetooth "Add a device" notification every minute
If you want to fix this Bluetooth notification issue, follow the below suggestions:
Restart Bluetooth User Support Service
Change Bluetooth Setting
Reinstall the Bluetooth driver
Let us now see both methods in detail:
1] Restart Bluetooth User Support Service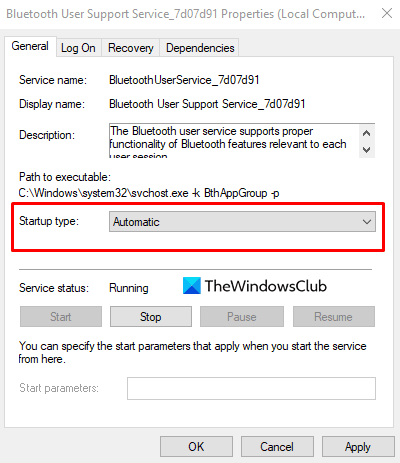 This solution requires you to restart the Bluetooth user support service through the Services and check if that helps.
To get it started, click on the Start button first, type services, and then select the same from the list. In the Services window, locate Bluetooth User Support Service.
Once you find it, right-click on it and Restart it.
After restarting the services, open the Properties window. On the General tab, set the startup type as Automatic, then click Apply > OK to save the changes.
2] Change Bluetooth Setting
Right-click on the Start button and click on the Settings option.
Inside the Windows 10 Settings app, click on the Devices category > Bluetooth and other Devices tab.
Go to the right pane and scroll down to the More Bluetooth options (under Related settings).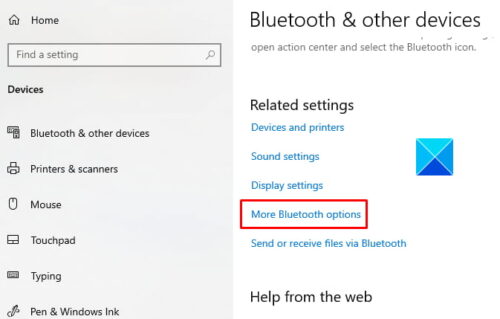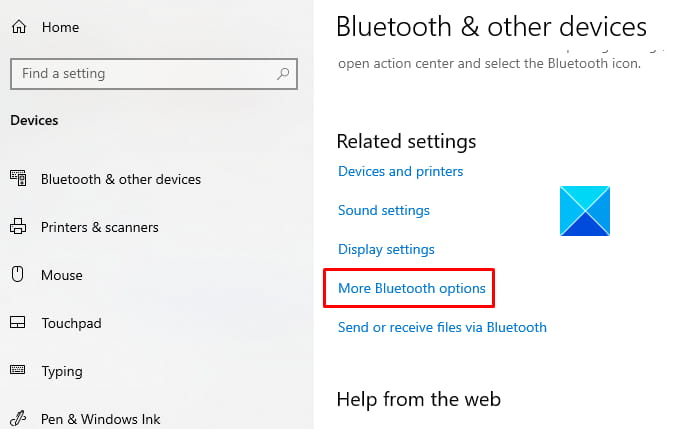 Clicking on this link, will open a Bluetooth Settings dialog box.
Under the Options tab, go to the Notifications section and uncheck the box saying Alert me when a new Bluetooth wants to connect.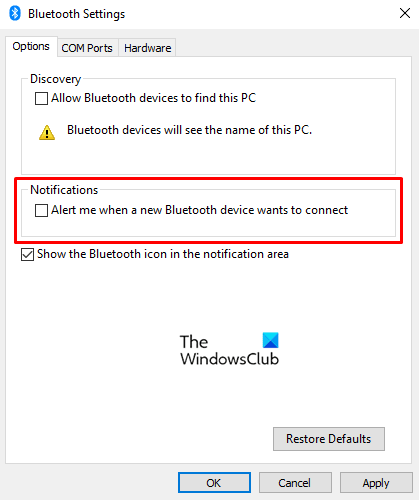 Click on Apply and then hit the OK button to apply the changes you have made.
Restart your PC and check the Bluetooth "Add a device" notification is gone now.
Read: How to turn off or disable Bluetooth in Windows.
3] Reinstall the Bluetooth driver
Alternatively, you can try reinstalling the Bluetooth driver to get this issue solved. In Windows 10 devices, drivers normally get downloaded and installed automatically through the Windows Update. But you can manually uninstall the driver as well.
So, to get it started, press the WinX keyboard shortcut to open the power user menu.
From the menu list, click on the Run option. In the Run dialog box, type devmgmt.msc and hit the Enter key.
In the Device Manager window, expand the Bluetooth section and then double-click on your Bluetooth driver.
Inside the Properties window, go to the Driver tab and then click Uninstall Device. If a warning prompts on the screen, again click on the Uninstall button to confirm it.
Restart your PC and the Bluetooth notification problem should go now. Windows will attempt to reinstall the driver automatically when you restart your PC.
Let us know if any methods explained above helped you to solve this issue.