The Wayback Machine is a popular tool that archives the website and lets users access the websites that no longer exist or see their earlier versions. If you cannot find a website on it, you can request it to be archived just by entering the domain name in the search box. It is the most popular tool available currently for free. However, the Wayback Machine can at times load slowly and may irritate you if you are in a hurry. Many great alternatives do the same, and some are even better if you can pay for the service. In this guide, we show you the best Wayback Machine alternative sites that you can use to see archived data of websites.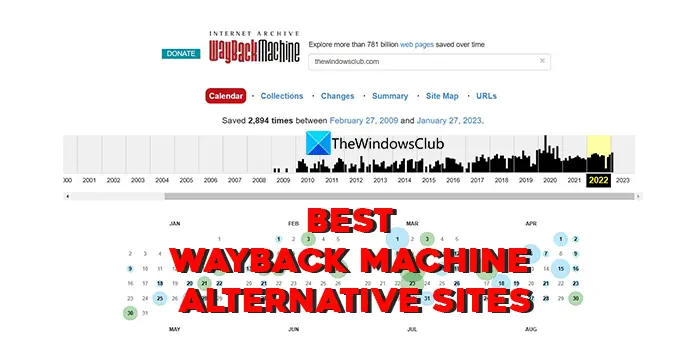 Best Wayback Machine alternative sites
If you are vexed with the slow load time of the Wayback machine and looking for an alternative, the following list can be of use to you.
CachedView.com
Stillio
archive.today
Time Travel
Visualping
Let's get into the details of each alternative to the Wayback machine.
1] CachedView.com

CachedView is considered to be one of the best alternatives to the Wayback Machine. You can view the archived websites from multiple sources that are crawled and captured by CachedView. It also lets you enable Google Cache. CachedView uses Google Cache along with the internet archive, and coral content, and merges them to give users the archived sites. You can browse any page on the internet using CachedVIew. It gives you options to view websites from Google Cache, Archive.org, or Live Version.
2] Stillio
Stillio is another great alternative to the Wayback machine that captures screenshots of the URLs you give. It is a paid tool that you can try for free. You can use it to capture screenshots of a website at regular intervals by using the Flexible screenshot scheduling. You can even make it save those screenshots automatically to your Dropbox, Google Drive, or any other drive of your choice. It is one of the great tools to track changes on a website that you can use if you are ready to shell out the subscription fees after a 14-day trial period.
3] archive.today
archive.today is a time capsule that can let you time travel with the web pages. It works similarly to the Wayback machine that captures and stores webpages even if the websites go offline or cease to exist. To give users more accurate data and images of a site, it captures and saves text and graphical copies of the pages. If you want to access a website that is long gone, you can visit the archive.today instead of the Wayback machine. It provides you links to that website captures that cannot be altered by anyone. The better part of the archive.today is that it even has data from Web 2.0 sites. You can use the archive.today as an add-on on Microsoft Edge.
4] Time Travel
Time Travel is like a search engine for web pages that existed at some time in the past. On Time Travel, you can enter a website name and find its copies by setting the date and time manually instead of browsing the calendar interface on the Wayback machine. When you search for something on Time Travel, it searches on all the publicly available archives and shows you accurate results of the websites you want to see the past versions of. It uses the data from various archives and reconstructs the web pages for you. The captured prior versions of websites are called Mementos on Time Travel. Unlike the Wayback Machine where you cannot find some sites, Time Travel will find them in different available archives including the Wayback machine, and reconstructs the site for you.
5] Visualping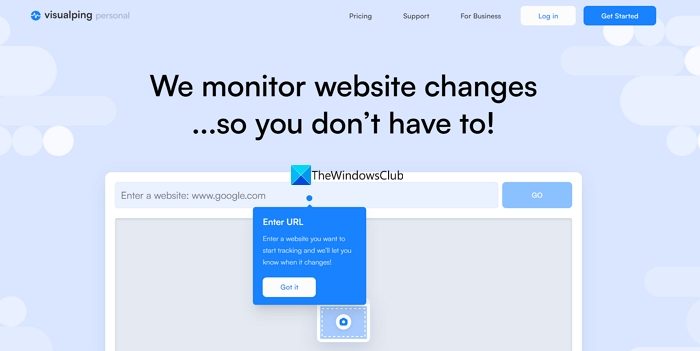 Visualping is a freemium tool and one of the best alternatives to the Wayback machine. You can use Visualping to monitor changes on a website automatically. You can use its free plan to capture pages of a website to store and archive them.
These are the best alternative websites to the Wayback machine that you can use to see previous versions of a website as well as track the changes on websites you follow using the paid tools.
Is there anything better than the Wayback Machine?
Time Travel is one of the best alternatives that you can use instead of the Wayback machine. Time Travel does not capture screenshots or save web pages. All it does is search the existing archives for different versions of the websites and reconstruct them for you to see.
How do I find old websites that no longer exist?
There are some great tools like the Wayback Machine, archive.today, and Time Travel that you can use for free and find old websites that no longer exist. If the website is less popular and has not been indexed or crawled by search engines, you may not find them on any archive.
Related read: Save a web page as proof that it appeared first on the Internet.