Opera is one of the most popular web browsers being used by more than 200 million users worldwide. The best part about the Opera web browser is that it is a lightweight program and doesn't consume much memory on your PC. It is considered extremely productive in terms of features and a good list of extensions that improve its functionality.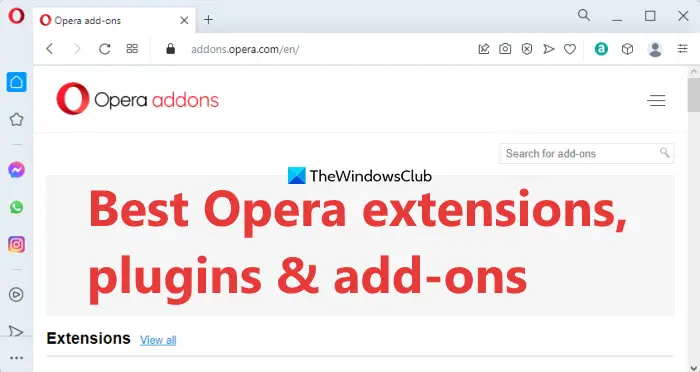 Best Opera extensions
Opera offers many extensions to make your browsing easy and fast. I have handpicked some of the best Opera extensions. Below is a rundown of the 10 useful Opera extensions.
1] Turn Off Lights
If you watch online videos frequently, this add-on is just for you. Just a click on the lamp button with bring an automatic focus on the video you are watching and the rest of the page will fade dark. Click on the lamp button again and you will return back to normal. The add-on further includes an option to turn on/off the fade-in and fade-out effects. This add-on supports various image sites and video sites like Flickr, Picasa, YouTube, HTML5 Video and many more. Get it here.
2] BugMeNot Opera Extension
This is a very useful extension which provides you usernames and passwords and allows us to bypass mandatory free registration on websites. Furthermore, the extension also encourage you to use disposable email address services to create accounts on such annoying websites. So, whenever you come across any such annoying webpage asking you to register, just click the 'BugMeNot button of this extension, and it will give you some nice free login details. Get it here.
3] Web of Trust (WOT)
The WOT extension helps you to browse the web more safely when you are browsing or searching online. It shows colored lights next to the search results which help you to make decisions about whether to trust a website or not.  Similar to the traffic light, WOT shows a green light with each trusted website, yellow light shows that you need to be cautious when using a site and the red light warns about potential threats in a web result. These ratings are powered by a global community of millions of users who rate websites based on their personal experiences.
4] Google Translate
Translating the text becomes extremely handy when you have a translate extension installed on your Opera browser. Installing the Google Translate Opera add on to make the translation process a lot easier and faster. Just install it, and the extension will recognize when a page is not in your primary language. It will then send you a request to translate and the extension will reload the page with the translated text.
TIP: These Opera browser tips and tricks are sure to interest you.
5] PDF JS – PDF Viewer
This is a simple extension that uses Mozilla's PDF.js (http://mozilla.github.io/pdf.js/) to display PDF files directly in your Opera browser. This is an HTML5 technology experiment and renders Portable Document Format (PDF) without any native code assistance.
6] Instant Dictionary
As the name suggests this is a dictionary add-on for your Opera web browser. It is a simple, fast and customizable extension. Just double-click any word or phrases on web pages and then press shift-key, the extension will give you a quick definition. Furthermore, it works as an auto-detecting language of the selected text and also translates it.
7] Gmail on Speed Dial
This extension shows you a preview of all your unread emails in Gmail. To use this extension you need to be logged in your Gmail account. Clicking on the speed dial button takes you straight to your Gmail inbox and if you are logged out it will take you to the Gmail login page.
8] Ghostery
Ghostery is a well-known web service that helps you in tracking beacons, web bugs, and cookies right from your browser. Once you install the extension, a small ghost appears on the upper right corner of your browser and detects the hidden web-scripts on a Web Page. As you open a tab, a quick a purple box appears with the details of companies tracking your information. Get it here.
9] FB Purity
This is a useful extension for you if you are an avid Facebook user. It lets you clean up and customize your Facebook by filtering out all the spam messages, spam applications, and other annoying message types. You can check out all the hidden messages just by clicking on the F.B Purity button on your web browser. Get it here.
10] Advanced Tab Killer
This extension allows you to quickly close tabs on the left or right of the current. It is a handy add-on especially designed to provide users with a means of closing all the tabs next to the active one. The pop-up slider of the extension lets you move either to the left or to the right and have all the tabs in that direction closed instantly.
Note: This extension doesn't exist anymore. In place of this, you can use a similar Opera extension named TabKiller.
Opera has quickly gained popularity because of its good response time and its extensions. These Opera extensions provide you with a speedy, clutter-free and clean experience.
Do let us know if you have some favorite Opera extensions which have not found mentioned here.
Are there Addons for Opera?
Yes, there are tons of free add-ons or extensions available for the Opera browser. Just like Google Chrome and Firefox, Opera browser also comes with its own Opera add-ons store that you can access from addons.opera.com. You can search for add-ons and browse extensions by categories which include Privacy & Security, Productivity, Sidebar, Developer Tools, Accessibility, etc. Apart from using add-ons available on the Opera add-ons store, you can also install Chrome extensions on the Opera browser so you will have endless extensions to use.
Where does Opera store extensions?
Whenever you install an extension in the Opera browser on Windows 11/10, it stores it under the Extensions folder. The path to that folder is:
C:\Users\%username%\AppData\Roaming\Opera Software\Opera Stable\Extensions
Under that folder, you will see different folders with long folder names. Each folder stores data related to extensions installed by you. Open any folder and you will see another folder containing the version number for the extension.
What are the best Opera extensions?
If you are looking for some best free Opera browser extensions, then you can check the list covered in this post above. This list includes simple productivity add-ons to privacy and security-related Opera add-ons, etc. FB Purity, Turn Off Lights, Web of Trust, etc., are some good examples of best Opera extensions. Check them out.
Which is better Opera or Opera GX?
Opera vs Opera GX- Which is the better browser? Simply put, it depends a lot on the user. The traditional Opera browser is available for regular use with some interesting and built-in features such as a built-in VPN, tracker blocker, battery saver, etc. On the other hand, the Opera GX browser is specially made for gamers and has unique features like CPU Limiter, RAM Limiter, and Network Limiter. So, if you are a gamer, you should try Opera GX. Otherwise, the traditional Opera browser is good enough for browsing and other purposes.
These posts may also interest some of you: Best Firefox addons | Best Chrome extensions.