Browsing the web with Google Chrome can both be a pain and remarkable at the same time. If you're having problems, maybe a few extensions can fix them, designed to improve the browsing experience.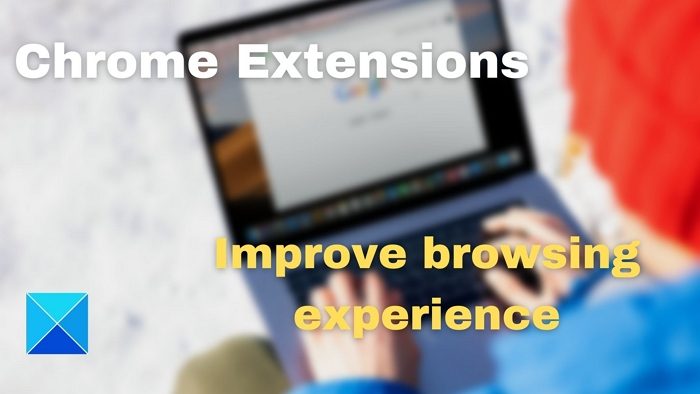 Best Extensions to speed up Chrome browsing experience
Several attachments are not needed if you're not interested in switching from Chrome. For example, Xmarks is unnecessary since Chrome has a built-in bookmark synchronization feature. With this feature, users can access their bookmarks anywhere they use Chrome. Whether on the desktop or mobile, their bookmarks will follow them.
SpeedUp: Netflix, Prime videos
The Great Suspender Original
Extension Manager
Feedly
Crowdfire
Save to Pocket
Momentum
HTTPS Everywhere
FasterWeb
User-Agent Switcher
Let's get down to business and talk about the best Google Chrome extensions to improve your life on the web:
1] SpeedUp: Netflix, Prime videos
It is an excellent extension if you need to watch videos faster than the usual speed. You can speed up or slow down any HTML5 video on any website. The list includes Netflix, Amazon Prime, Youtube, Facebook, Reddit, and other websites. Since none of these sites offer custom support video speed modifications, this extension can help you optimize the time you spend by controlling the speed of videos on the websites. You can adjust the videos in all the available tabs where a video is available. Download.
2] The Great Suspender Original
Tab suspender is the perfect tool for managing open tabs and sessions. With its flexible settings, you can customize shortcuts, set a suspension period, and take advantage of many other features. It makes it easy to find the tabs you need, saving you time and optimizing your browsing experience.
The extension allows you to save memory by suspending open tabs either on a schedule or with a single click. You can restore all tabs at once or only as needed. In addition, you can create groups of tabs and save them for later use. Finally, you can suspend and unsuspend the selected tab or all tabs at once. Download.
3] Extension Manager
Extension Manager can manage your extensions quickly and easily with our efficient and straightforward interface. You can enable or disable extensions with just a few clicks and enjoy peace of mind knowing your extensions are securely sorted. Here are some of the features:
One Key fast enable/disable extensions
Lightning Group: Quickly enable/disable extension groups according to the scene
Smart Sort: intelligent sorting according to your frequency of use
The right-click menu provides shortcuts to functions such as locking, uninstalling, configuring options, setting the home page, running apps, etc.
Read more and download it here.
4] Feedly
Feedly became an advantageous alternative after Google reader was retired. This extension is all about having your feed under a single roof where it can be accessed quite easily. The icon shows the number of unread stories in the feed, so users will always be kept updated.
Add pages to read it later.
Emai, Tweet, Share pages.
Save pages to Evernote.
Curate and tag pages
5] Crowdfire
If you're reading this, you're a regular web user and must love to share things on social networks. If you're genuinely that type of person, then Crowdfire is the extension for you. When it comes down to posting to Twitter and Instagram, this extension is the boss. Users can post whatever they want simultaneously, and they can even set a timeframe. It's pretty impressive and intuitive too. Download.
6] Save to Pocket
You're browsing the web and came across an interesting article on The Windows Club. However, you do not have much time to waste because your robot date is waiting outside on its fire-breathing DragonShark. Not to worry, it is possible to save the article for reading later with Save to Pocket. The extension is now an essential aspect of Firefox, so you know it is worth the ride. Download
7] Momentum
It is a decent extension for Google Chrome. It is all about giving folks the momentum to get things done, so share this extension a spin if you're one. With this extension, users can track their to-do lists and get inspired by a daily image and quote. It can also remind you about stuff you should be focusing on. Download.
8] HTTPS Everywhere
This extension is super helpful if you want to encrypt the web for greater security against surveillance and account hijacking. HTTPS Everywhere is an extension created by EFF and the Tor Project, which automatically switches thousands of sites from insecure "HTTP" to secure "HTTPS". Download.
9] FasterWeb
FasterWeb's just-in-time preloading ensures that pages are loaded right before clicking on them. This extension works best on pages that are on the same sites. It can also load the external sites faster but not as fast as the same sites. The technical part of the extension is that as you mouse-hover a link for a few milliseconds, it will load the link in the background and load it faster if you click on it. Download.
Let us have your recommendations too.
10] User-Agent Switcher
User-Agent Switcher is an incredibly useful extension – it makes it so much easier to use the internet, no matter what browser or operating system you prefer. With just a click of a button, you can toggle between different user-agent strings, making your web browsing experience smoother than ever.
It's useful when a service or download is restricted by the platform or browser type. If you want to download the Windows ISO and use Windows as a platform, Microsoft will ask you to download the media creation tool. By switching to Apple as an OS platform, you will receive a download link. Download.
Also, read the 10 best Chrome extensions to install.
Do more extensions slow down Chrome?
Yes, they do. Each extension has its way of providing features. If they are interrupting or connecting to the internet often when you load the page, it will eventually slow down the experience. The best way to avoid Chrome extension slowing down the experience will be to install only whatever is required and download them from a trusted source. Rough extensions are known to slow down the browser.
How do I add extensions to Chrome Without the Web store?
You can enable it through the extension section by enabling the developer mode and then allowing it to load unpacked extension or from a third-party store. Make sure to download or install from trusted sources only.