Twitter is clearly the most important social media website after Facebook. It helps us stay updated with the statements of celebrities and politicians. Imagine how wonderful an experience it would be to be able to use Twitter as a client application on your system.
Free Twitter clients & apps for Windows PC
Twitter's strict API restrictions have left very few third-party Twitter clients in the game. But that is a blessing in disguise. Quality triumphs over quantity. Only the best apps from the most dedicated developers thrived.
Twitter
Tweeten
Fenice
TwitDuck
Tweetz.
Let's take a look at the best Twitter clients and apps currently available for Windows.
1] Twitter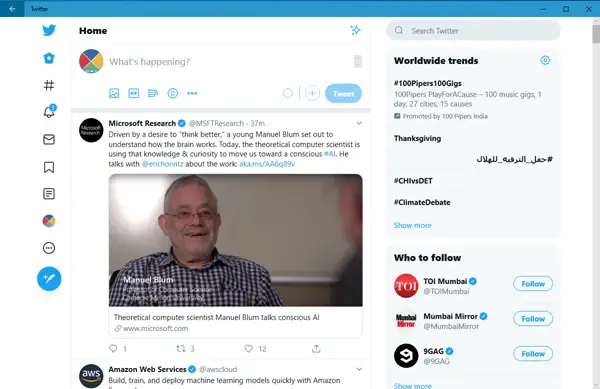 This is Twitter's own application for Windows 10 users. There will be some restrictions though. You cannot access trending topics or hashtags at one glance. You cannot filter your search either. Also, you cannot schedule your tweets.
Why use this client anyway? You can search and embed GIFs in your Tweets. You can also give feedback to Microsoft regarding the changes you need in the app. Click on the Smiley at the top of the Window to let Microsoft know how you feel about the app.
Read more about the official Twitter app here.
2] Tweeten

Tweeten is arguably the best Twitter client for Windows. This app enriches the Twitter experience by several degrees. You can manage multiple Twitter accounts on the same device. You can schedule tweets, apply GIFs, track your DMs, and manage lists. Download the Tweeten app from the Microsoft Store and enjoy a multi-column user interface.
3] Fenice

This is the only premium Twitter client on this list. Considering the features you get, the price is nominal at less than $2. You get premium level customization options, spellcheck, retweet formatting, and link shortening. Download this Winuser app right here. You can drag and drop images into your tweet and even queue your tweets.
4] TwitDuck

TwitDuck is a third-party Twitter client developed by Ranyart Systems. It was released in 2015 to fill the shoes of Tweet Deck. TweetDeck started as a third-party app for Twitter. It got acquired by Twitter Inc. in 2011, only to get discontinued for Windows.
Download the TwitDuck app for Windows from the Microsoft Store to avoid hidden tabs issues. Find Activity and Notifications on the same screen. You can filter out irrelevant tweets and customize your feed to prioritize mentions, direct messages, or trending topics.
5] Tweetz
Tweetz is perhaps the simplest free apps available for Twitter, but is also the simplest. This easy-to-use client can be downloaded from its official website here. The best part with Tweetz is that it simply replicates the Twitter data on the desktop app and allows you to tag and post from the computer itself. It doesn't utilize the system much beyond that.
These are the most popular Twitter apps for Windows 10 that are currently available. Try them all to find the perfect fit.
Read next: Useful free Twitter bots to follow.