Looking for free stock analysis software for Windows 11/10 PC? Here are the best free stock analysis software for Windows 11/10. A stock analysis software enables you to evaluate a specific trading instrument, an investment sector, or a stock market. It helps investors to analyze and determine the future activity of a stock market. Now, if you want to perform a stock market analysis, you need a dedicated tool. There are multiple stock analysis software available, but most are paid. In case you are looking for a free alternative, this list will help you out. So, check out!
Best Free Stock Analysis Software for Windows 11/10
Here is a list of the best free stock analysis software for Windows 11/10:
StockwareLite
myTrades
JStock
Incredible Charts
moneycontrol.com
Let us discuss the above software in detail now!
1] StockwareLite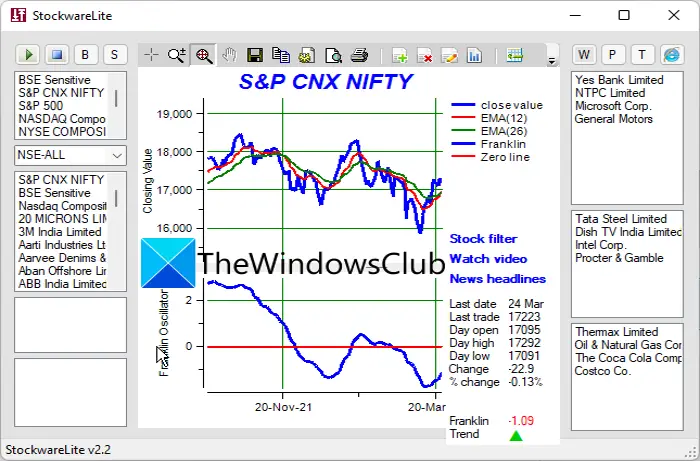 StockwareLite is a free stock analysis software for Windows 11/10. This software is used for technical analysis of the stock market as well as for portfolio management. For performing the stock market analysis, it uses Franklin Oscillator as a technical indicator tool. All the essential tools and features that you need to perform in-depth stock market analysis are provided by this free software.
It provides a large database of stock exchanges to perform technical analysis. These stock exchanges include NYSE US, NSE-ALL, OSLO Norway, AMEX US, ASX Australia, KLS Malaysia, and many more stock exchanges. You can select a database from the index list like NYSE Composite, Euronext 100, BSE Sensitive, FTSE 100, etc. After that, choose a respective stock exchange and then select a stock market to perform analysis.
When you select a stock market, you are shown a graph with wave patterns including Close Value, Exponential Moving Average (EMA), Zero Line, and more. These parameters are highlighted in different color schemes. Additionally, it also shows Franklin's trend, last date, last trade, day open, day high, and more information.
You can customize the time period for stock data you want to view. For example, if you want to view data for the last 1 month, you can right-click on the chart and then select the Change Plot > Change Period option. You can also modify the plot to Price Rate of Change, Stochastic Oscillator, Aroon Oscillator, etc.
It also provides you a feature to create a watchlist with your favorite stocks with the date and latest price. Besides that, you can even add a stock to the portfolio with its stock's date, purchase price, and purchase quantity. You can easily edit and manage your stock watchlist and portfolio.
This free stock analysis software is great with all the necessary tools and features. However, some advanced features like Start Stock Filter, Intraday Charts, and more are only available in its paid version i.e., StockwarePro.
You can download it from stockwarepro.com.
2] myTrades
myTrades is a free stock analysis app for Windows 11. It is a great app that shows you live news and updates on global stock markets. To use this app, you need to sign up with an account and then log in with the registered account.
You can view a stock market graph with date and value on its main screen. It also shows some useful news and information such as top oversold stocks based on 14 days RSI, top overbought stocks based on 14 days RSI, simulated portfolio, triggered notifications, and more. You can select a stock market and then view related trends and other information.
It comes with a separate module called Markets where you can fetch information on a specific stock market. It also has information on the stock market in different regions that include Americas (Dow Jones Industrial Average, S & P 500, Nasdaq Composite), Asia-Pacific Economic Cooperation (Hang Seng Index), and European, Middle Eastern & African (ATX, CAC, FTSE, DAX).
You can click on a stock market and view the respective information. For example, if you select Nasdaq Composite, you can see information like AAON, Axcelis Technologies, Amazon.com, BroadSoft, Advanced Accelerator Application, etc. It also shows a graphical report with values like open, close, high, low, date, volume, p/e ratio, etc.
The good thing is that it allows you to customize the stock market graph as per your requirements. You can select a time range to view and analyze stock market information. You can also view some technical indicators at the bottom of the screen such as Average True Range, Simple Moving Average, Exponential Moving Average, Ultimate Oscillators, Relative Strength Index, etc.
Get it from microsoft.com.
3] JStock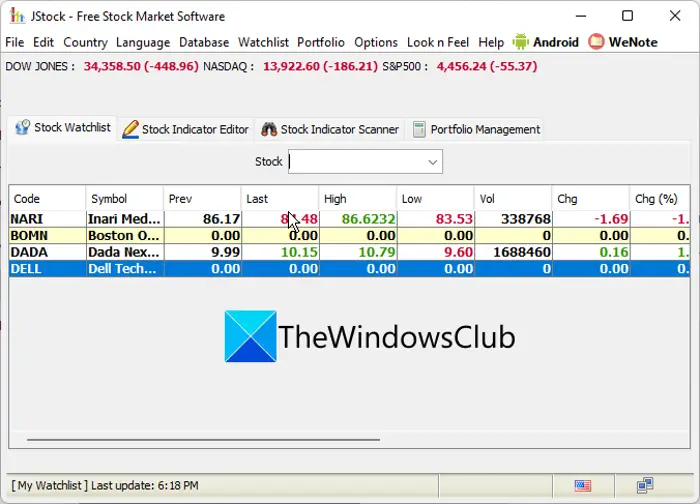 Another good free stock analysis software that you can try is JStock. It provides different tabs including Stock Watchlist, Stock Indicator Scanner, Stock Indicator Editor, and Portfolio Management to perform in-depth analysis on stock markets.
In its Stock Watchlist tab, you can search and add a specific stock market that you want to keep an eye on. It contains about 36 stock markets from different continents including America, Africa, Asia, Australia, and Europe. You can type the initials of a stock exchange in the search box and it will display all the related stock exchanges to choose from.
When you add a stock exchange, it shows real-time information e.g., Code, Symbol, Buy, Buyer Quantity, Sell, Seller Quantity, High, Low, Change, % Change, Fall Below, Rise Above, and more. You can double-click on a stock market and it will show you a graphical representation with date, price, and volume. If you hover the mouse on the graph, you can view information like Open, High, Low, Volume, Close, 14w CCI, etc.
It also contains a Technical Analysis menu which contains several indicators to choose from, such as indicators include EMA, SMA, RSI, MFI, and CCI. You can also switch the chart type between Price Volume and Candlestick. Additionally, you can save the graph data in a CSV or XLS file.
All in all, it is a great free stock analysis software that supports a multi-lingual interface. Apart from Windows, it is also available on Android.
Read: How to perform Regression Analysis in Windows 11/10?
4] Incredible Charts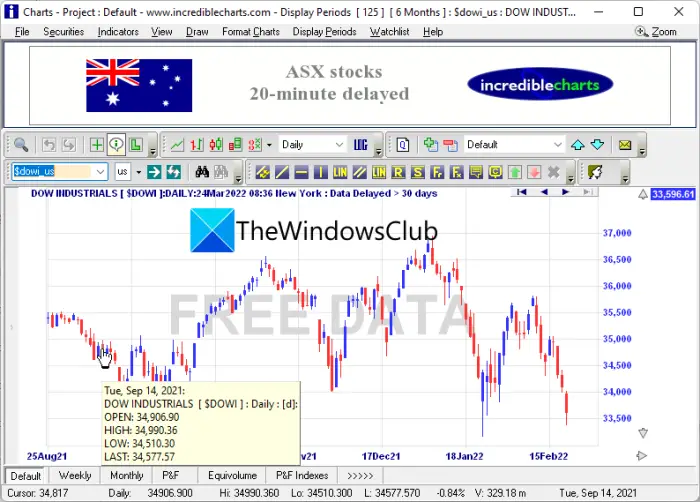 Incredible Charts is another free stock analysis software for Windows 11/10. It lets you perform stock analysis on all the major stock markets and exchanges. To use this free software, you need to register a free account and then sign in with the registered account. Also, do note that the free version of this software contains a 5-day free trial of premium data. When the trial ends, you will have access to free features and data only.
You can choose a stock market like Indian BSE, Germany DAX, Madrid General Index, FTSE, Singapore Straits Times Index, Japan Nikkei Index, etc., by going to the Securities > World Indexes option. It shows a chart (Candlestick, Point & Figure, or Equivolume) with the graphical representation of fetched data.
It provides over 100 technical indicators to perform stock market analysis. These indicators include Proprietary Twiggs® Money Flow and Twiggs® Momentum, ATR, Chandelier, Parabolic, Bollinger Bands, Keltner Channels and Multiple MAs, Ichimoku Cloud and Heikin-Ashi Candlesticks, etc.
Some more analysis tools provided in it include Auto-fit trendlines, Fibonacci tools, Raff, Linear, Regression, and Standard Deviation trend channels, and powerful stock screens. In it, you can also save charts as BMP or PNG images.
Get it from incrediblecharts.com.
See: RedCrab is a Statistical and Scientific Calculator for Windows 11/10.
5] moneycontrol.com
moneycontrol.com is a free stock analysis app for Windows 11. It is primarily an app that provides real-time news on the Indian stock market. However, you also get stock market information on markets from the US, European, and Asian regions. You can get information on global stock markets including Nasdaq, FTSE, CAC, DAX, Straits Times, Hang Seng, etc.
It shows live updates on values like Opening Price, Today's High/Low, Previous Close, and more with a graph. You can also fetch information like Currency, Mutual Funds, and Commodities. It offers a Market Movers module that shows information like top losers, top gainers, 52w high/low, and active by volume/value for NSE and BSE.
You also get a dedicated Portfolio Manager feature in it. However, to use it, you need to register a free account.
You can download and install it from microsoft.com.
Which software is best for stock analysis?
There are many software available for stock analysis. However, if you want to use a free one, I would recommend you use JStock or StockwareLite. These are really good stock analysis software that come with a great number of tools and features. You can fetch real-time information on various global markets using them. You can also manage your portfolio using these software.
Is there a free version of StockCharts?
StockCharts service provides investors with technical charts for funds, stocks, and indexes from UK, US, India, and Canada. It comes with a free plan that offers real-time data for the US (and delayed data for other markets) but it is limited to only 3 technical overlays and technical indicators per chart. Also, the Max SharpChart Width is 900px.
Hope this article helps you find suitable stock analysis software for free.
Now read: