This post covers a list of some best free Start menu alternatives for Windows 11/10 computers. The native Start menu of Windows 11 and Windows 10 is pretty good to access installed apps and programs, pinning favorite apps to Start for quick access, switching to another account, etc. Moreover, it is also very easy to customize the Start menu of Windows 10 and Windows 11 OS. But for those who are looking for a change and need some alternative to Windows 11/10 Start menu, the tools covered in this list are good to try.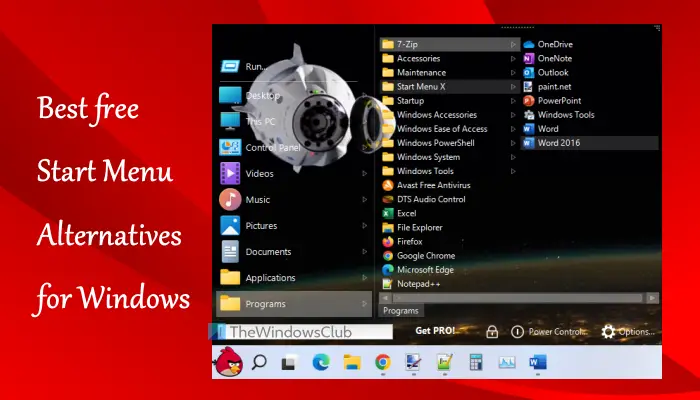 The best part is these tools won't stop you from using the Windows Start menu. Using most of these tools, you will have two Start menus (including the Windows Start menu) and two Start buttons that can be used separately. Apart from that, these Start menu alternatives work for as long as you are running a particular tool. When you exit or close a tool, you can continue using the native Start menu as usual. So, the control will remain in your hands.
Start Menu Alternatives for Windows 11/10
In this post, we have covered 5 free tools that can be used as a replacement for Windows 11/10 Start menu. The tools are:
Start Menu X
Start Menu Reviver
Open Shell
Spencer
Start Everywhere.
Before you try any of these tools, we suggest you create a system restore point. Also, some tools are added to the Windows Startup list automatically which you might not like or find annoying. So, you need to remove such options from their Settings or manually remove them if you don't want those tools to run automatically after every startup.
Now let's check these Start menu alternative tools one by one.
1] Start Menu X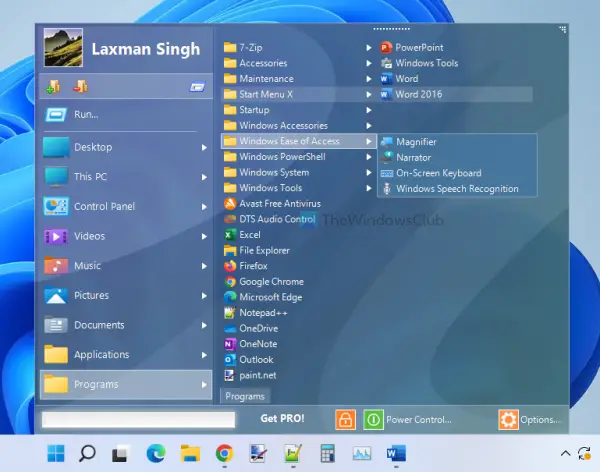 Start Menu X (free version) supports different languages and has some really interesting features or options that easily catch the attention and make it a better replacement for Windows 11/10 Start menu. You just need to access the Options box of this tool to set and use the available features present in different categories. Some of those features are:
Different skins or themes (including a Space X theme with animation) can be applied to the Start menu
Change the Windows Start button with any one of the pre-added buttons (such as angry bird, Pikachu, etc.). You can also add an image of your choice for the Start button
Add buttons that you want to see in the Start menu such as Log Off, Hibernate, User Account, Switch User, etc.
Change Start menu layout. Available layouts or styles are:

Switch between Start Menu X
Classic Start Menu, and
Start Menu 10.
You can grab its setup file from startmenux.com. During the installation, select the free version option, and complete the installation. Launch the tool and it will start running in the system tray.
Now when you will click on the Start button of Windows 11/10, it will show its Start menu, and pressing the Shift+Win hotkey will show the native Start menu. You can also reverse this action from the Settings of this tool.
The Start menu layout of this tool is user-friendly where you can access installed apps and programs in separate sections, use power options, and access This PC, Desktop, and other items easily.
While the default layout and settings are good enough, you can do the customization by accessing the Options box of this tool. To open that box, right-click its tray icon and select the Options. Set the options as per your needs and enjoy a customized Start menu on your Windows 11/10 computer.
2] Start Menu Reviver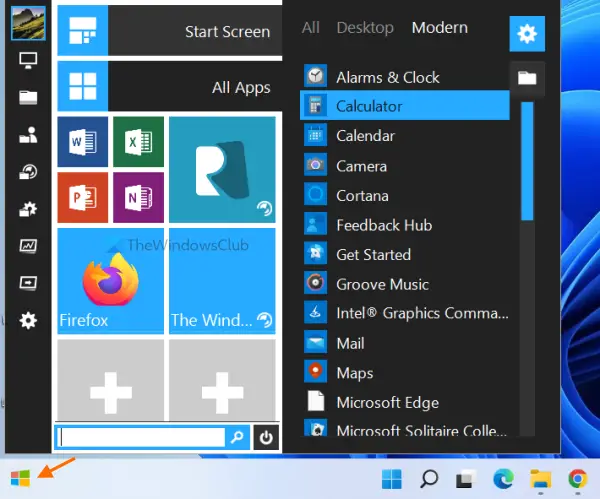 Start Menu Reviver is another interesting tool on this list. Like Start Menu X, this tool can also be used separately. This tool also comes with some useful features. It lets you:
Add up to 64 tiles in the Start menu to add and access favorite or frequently used items
Change the Start button: 11 different Start buttons are available to choose from
Set Start menu size to medium, large, or small
Change the Start menu theme to day or night mode. You can also set a custom color for background, background text, tile text, empty tiles, Start screen tile, etc.
To use this Start menu tool, download its setup file from reviversoft.com. After installation, launch the tool and its Start button will be visible on the bottom left corner of your Windows 11/10 taskbar. Clicking on the Start button will show its Start menu with the default layout and options.
The Start menu of this tool has three sections that cover everything:
Left section: It helps to access user accounts, This PC, Settings app, Task Manager, Run Command box, user folder, etc.
Middle section: It contains a tiles menu to use pre-added tiles, add more tiles, edit and reset a tile, etc.
Right section: This section shows an expanded menu to access all programs, only programs, or apps separately. By default, the expanded menu is set to expand automatically to view programs and apps, but you can change its view mode from the Settings of this tool.
If you want to change the style and set other options of this Start menu tool, then simply access Settings of this tool (using right-click menu of its Start button) and use the available options. Once changes are made, press the tick mark icon to save them.
Also read: Start menu does not open or Start button not working.
3] Open Shell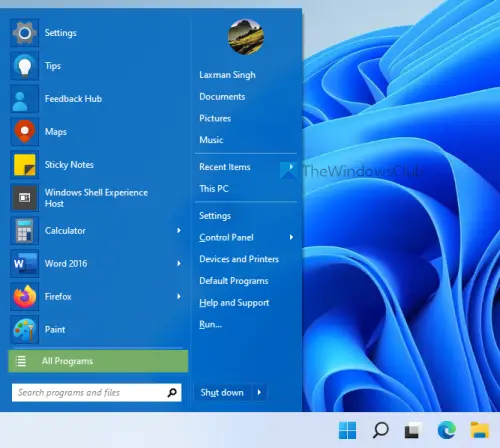 Open Shell (originally known as Classic Shell) is one of the best Start menu alternatives for Windows 11/10 OS. This tool came into existence when the developer of the very famous tool named Classic Shell discontinued its development a long time ago. The tool became open-source and that Classic Shell tool was forked and updated by volunteer developers. Most of the options, Start menu style, etc., are the same as the original, only the name is changed.
Using this Open Shell tool, you can use a Windows 7 style Start menu, a classic with two columns style or a classic style Start menu where you will access all the programs, Microsoft Store apps, etc. For each Start menu type, you can also select a skin type (or theme), show/hide the user account picture, use small icons, and set items that you want to display on the Start menu. Thus, you can customize the Start menu as per your requirements.
There are many other useful features provided by this tool. These are:
Replace the Start button with Aero, Classic, or a custom image
Set actions for the left mouse click, Win key, Shift+Win key, Shift+left mouse button, etc. For example, you can set the Win key to open the Start menu of this tool, Windows Start menu, Start menu in desktop and Start screen in Metro, or do nothing
Customize the taskbar to set taskbar opacity, taskbar look, color, text color, etc.
Enable/disable right-click context menu of this tool for Start menu items
Show/hide the Search box in the Start menu
Change language for the user interface. 40+ languages are supported by this tool.
All such features or options can be accessed from the Settings window of this tool. You can also save or backup all the changes or settings as an XML file so that you can load or restore them later whenever needed.
For using this Start menu alternative tool, install it, and then press the Win key. Its Start button and Start menu will visible on the bottom left part of your computer screen. Like other Start menu alternatives present on this list, it doesn't interfere with the Windows Start menu and you can use both the Start menus separately.
If you are satisfied with the default Start menu and options, then there is no need to do anything. Or else, launch Open-Shell Menu Settings using the Windows Start menu or from the installation folder of this tool, customize the options, and use the OK button to save the changes.
4] Spencer
Spencer is a portable and the simplest tool on this list. It lets you quickly access and launch installed programs, Windows Tools, File Explorer, Settings app, System Tools (Command Prompt, Task Manager, Run Command box, etc.), Accessories (Quick Assist, Steps Recorder, etc.), and more.
This tool doesn't come with any interface or let you customize any type of settings. It only lets you access those items that are stored in the Programs folder (under the Start Menu folder) available in two different locations of your Windows 11/10 computer. The path or location of those folders are:
C:\ProgramData\Microsoft\Windows\Start Menu\Programs
C:\Users\%username%\AppData\Roaming\Microsoft\Windows\Start Menu\Programs
So, if you want to access more items, say Desktop, some folder containing your favorite videos, or important documents, then all you need to do is copy and paste those items to the Programs folder and access them quickly using this tool.
The benefit of this tool is you can launch it from any location say desktop, a particular folder, taskbar, etc. If you want to use it from the taskbar, then simply pin its application file there and click that file to use it.
To use this simple Start menu alternative, get its ZIP file from the-sz.com. Extract that ZIP archive and execute its application file to open its menu or launcher. The launcher of this tool is a bit similar to the Windows XP style Start menu where you can expand folders and launch a particular item from that folder.
5] Start Everywhere
Another Start menu alternative on this list to quickly access Store apps, installed programs, Desktop items, user profile files and folders, power options, recent items, most used items, Microsoft Store apps, system tools, etc., is Start Everywhere. It provides a launcher that lets you expand available menus by just mouse hovering so that you can see the available items and use or launch them.
By default, this tool runs in the system tray, and clicking its icon lets you access and expand available menus. But you can also place its icon or launcher anywhere on your desktop screen.
You can also access the Settings of this tool to use options like:
Set Active corner size
Maximum files and folders to show
Change theme color for background, text, image border, etc. 8 different theme colors are available to choose from. You can also create a custom theme
Show/hide Application Data, User Profile, My Documents, Programs, and other menus.
To access its settings, click on the launcher icon or system tray icon of this tool, access the Others menu, then expand Settings, and click on the Open option. There are different tabs for the available options that you can access and then adjust the options. Finally, press the Save button and use this tool.
Related: How to lock Start menu layout in Windows 11/10.
How do I get the Windows 10 Start menu back on Windows 11?
Earlier, it was possible to switch back to the classic Windows 10 Start menu in Windows 11 using a Registry tweak. But that tweak doesn't work with the latest version of Windows 11. Still, those who want to use a different Start menu on Windows 11 can try a free Start menu tool. There exist some best free Start menu alternatives for Windows 11/10 that let you use Windows 7 style Start menu, classic Start menu, or come with different Start menu layouts and interesting options. We have created a list of such tools in this post above. Try these tools and see if they fit your needs.
Can you change the Windows 11 Start menu?
Yes, it is possible to change or customize Windows 11 Start menu. Customizations like moving the Start menu from center to left, changing its color, removing apps from the recommended list, showing/hiding most-used apps, recently added apps in Start, showing/hiding Settings, Documents, Pictures, File Explorer, and other supported icons next to the power button, etc., can be done easily. For this, you can open the Personalization category available under the Settings app of Windows 11 and access the associated section or page like the taskbar, Start, and folders and use the given options.
Read next: Start menu keeps popping up randomly in Windows 11/10.