Creating YouTube videos can be a hobby and a potential source of income. Unlike making your own website, a YouTube channel does not require you to invest in it. You can create a channel for free. However, the equipment and software involved can be very expensive.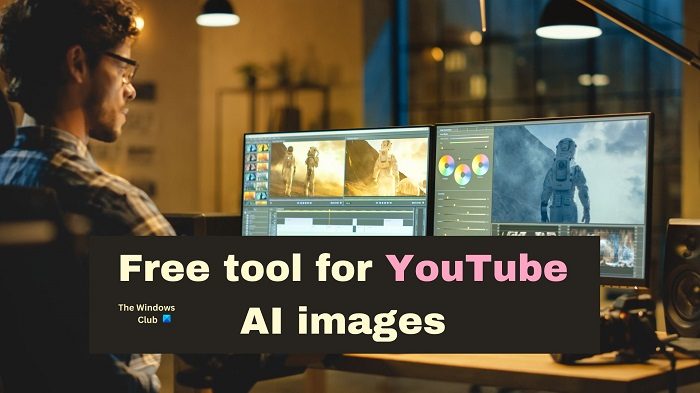 Best free software to create YouTube videos
While many free software products are available for assisting in creating YouTube videos, I have only covered the best software products here:
OBS for screencasting and camera recording
VSDC for video editing
ChatGPT for scripts
Canva free for thumbnails
Vidiq free for YouTube SEO
YouTube music library for background music
Pexels, Pixabay, Google Images for free images and videos
Voicemaker for voiceovers
Tuberanker for descriptions
Lexica for AI art
1] OBS for screencasting and camera recording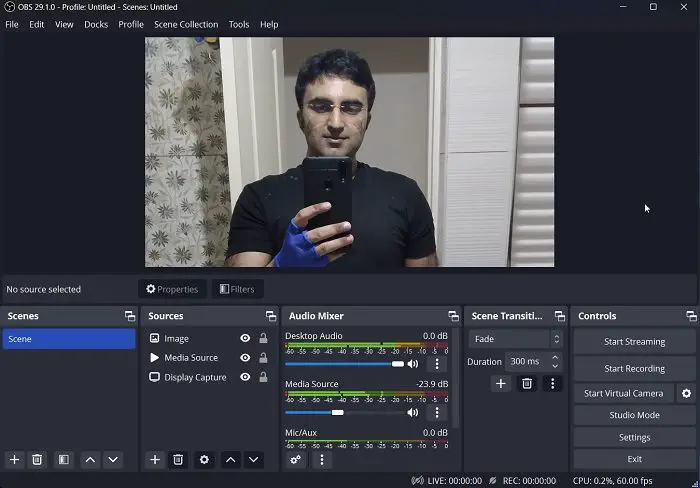 Have you ever noticed those tutorial videos in which the tutor is visible in a small frame in the bottom-right corner and an explanation is being given over a PowerPoint presentation? Or those videos in which troubleshooting is depicted through screencasting.
All this is done using a tool named OBS. This screencasting tool is free of cost and allows you to easily create many types of videos with ease. Other than this, if you are using a camera, then you can connect it to the OBS Studio software. OBS can be downloaded for free from obsproject.com.
2] VSDC for video editing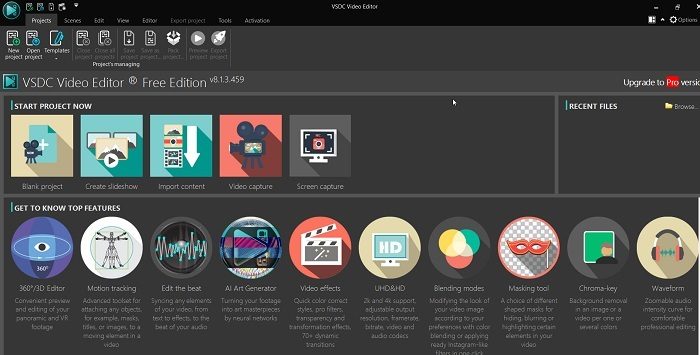 Once you have created a video either be recording through a camera or screen casting, the next stage is to cut and edit the video, add effects, and text to it. This cannot be done by OBS or other screen recording software products. A separate tool called a video editor is needed for the same.
Usually, video editors are very expensive (Adobe Premier Pro and Filmora), however, as a beginner, you can use the VSDC video editor tool. The free version of VSDC is more than sufficient for most kinds of video editing functions required by a newbie vlogger. VSDC is available for free at videosoftdev.com.
3] ChatGPT for scripts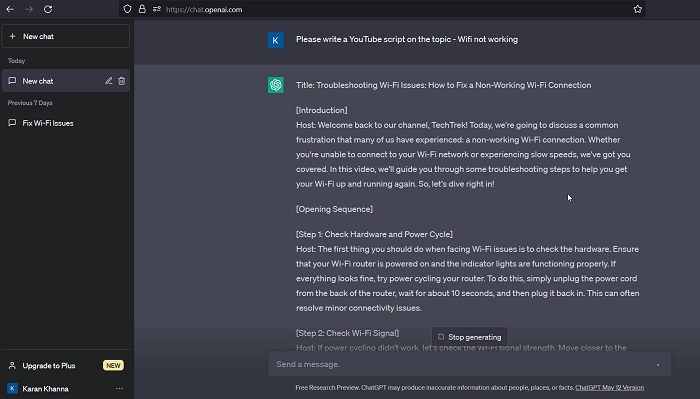 ChatGPT is a free AI tool which can help with writing articles. While I would never recommend this tool for writing articles, you can use it for creating scripts and translating YouTube scripts to different languages. Other than this, ChatGPT is very helpful in creating sensible descriptions for YouTube.
You can also use this tool for proofreading scripts. If you are using ChatGPT to write scripts, I will suggest changing the text of the scripts a little manually. Access ChatGPT at openai.com.
4] Canva free for thumbnails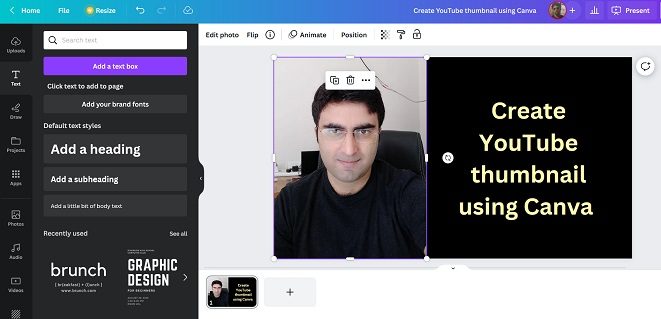 I used many free tools for designing and creating thumbnails. However, nothing surpasses Canva. Canva has both a free and paid version, but the free version is more than sufficient for creating YouTube thumbnails. The only limitation will be with premium images; however, I will explain a workaround for the same later in this article. Canva allows users to create thumbnails and add text, logos, and watermarks to the design. Canva can be accessed from canva.com.
Read: Best Stock Photography sites to download images
5] Vidiq free for YouTube SEO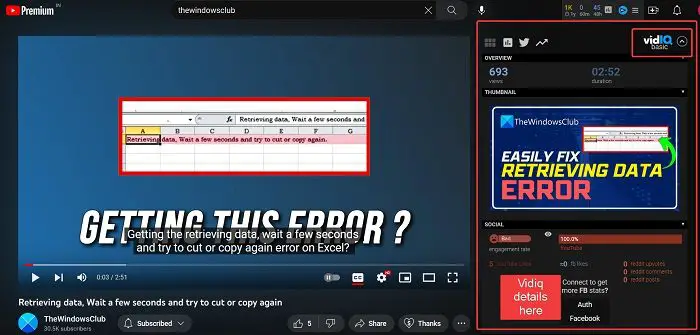 Before starting any project, planning is very important. Else you will be working hard but in the wrong direction. Thus, SEO tools for finding keywords are important. However, these tools are expensive. Even more, you would find a limited number of tools for YouTube SEO (unlike for websites).
Vidiq is the best tool for YouTube SEO. While Vidiq has a paid version, the free version is sufficient for finding keywords. All you need to do is go to the video section of your rival's YouTube channel. Then click on Trending to check for the trending keywords. Install Vidiq on your system from vidiq.com.
Read: Best Websites to download Copyright-free, Royalty-free Stock Videos
6] YouTube music library for background music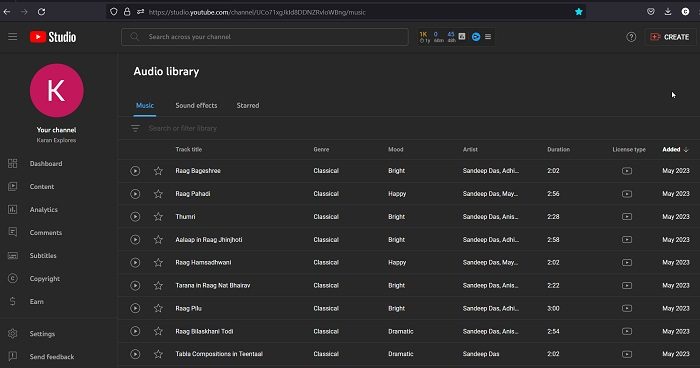 While creating YouTube videos, background music is very important. If you don't add background music to your video, the background noise will take its place and the audio will sound weird. Even more, background music adds to the emotion of the video. If you pick random background music from the internet, it will most probably be premium.
Canva's free version offers a few sounds, however, that database is very limited. Thus, you can pick background music from the YouTube music library. You can download background music from studio.youtube.com.
7] Pexels, Pixabay, Google Images for free images and videos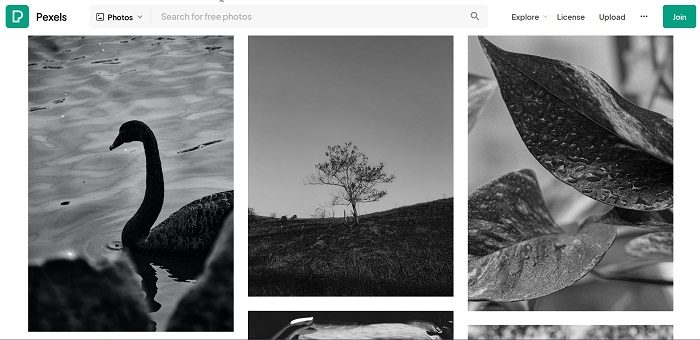 Other than creating screen-casting videos and those shot through cameras, another type of video creation involves using moving images and short videos. For such videos, you will need plenty of images and media. Most high-quality images are premium. However, you can get free images from Pexels and Pixabay. An exception is with news-based images since Pexels and Pixabay exclude those. For them, search creative commons images through Google Images. The procedure is as follows:
Open images.google.com.
Search for your image.
Click on Tools.
Select Usage rights > Creative Commons.
All images which appear will be free to use.
Read: Royalty-free Copyright free Music which you can use in your videos.
8] Voicemaker for voiceovers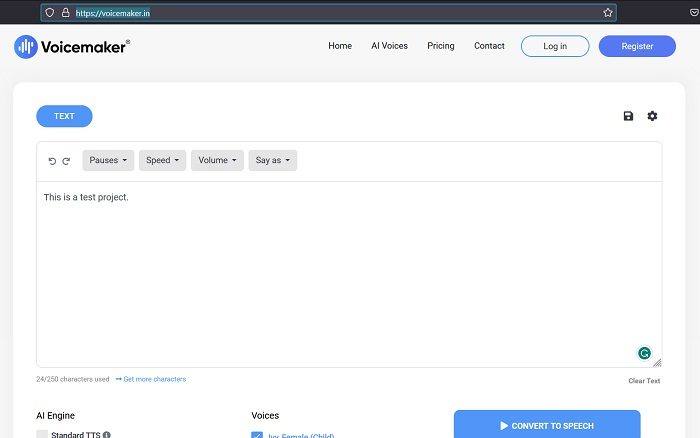 While creating YouTube videos, especially faceless ones, you would need voiceovers. Buying voiceovers from voiceover artists can be very expensive. Buying them from premium websites like Wellsaidlabs is cheaper but if you seek a free option, then try Voicemaker.
This website allows a few free voiceovers but can do the job for newbie vloggers. The voices are quite similar to real voices. You can access these voiceovers from voicemaker.in.
9] Tuberanker for descriptions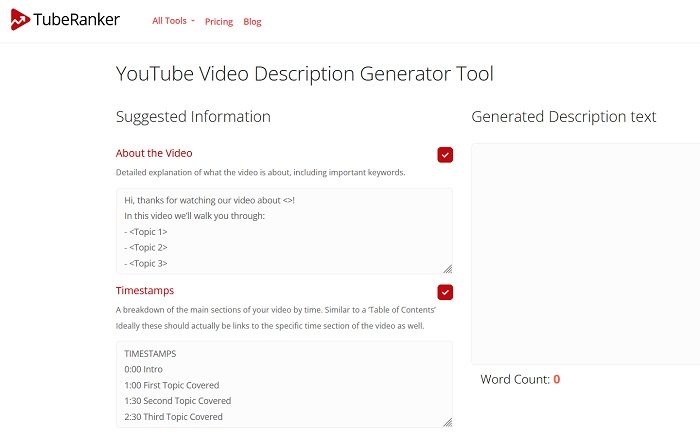 YouTube video descriptions play a critical role in the SEO of videos. They also help with promotions and presenting time tags to viewers. Many YouTubers are confused about the correct template for YouTube descriptions. It allows you to add the basic description, time tags, social media handles, and other details. The free YouTube description generator can be accessed from tuberanker.com.
10] Lexica for AI art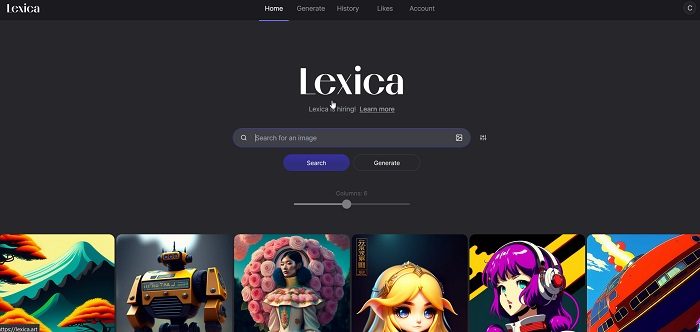 As mentioned earlier, most images on the internet are premium. If you use premium images without paying for them, then it can lead to copyright issues. Images available through all free options are limited. Thus, the best option is to create AI images and they have no limit.
While Midjourney is considered the best platform for AI images, lately they ask you to pay and subscribe because of increased traffic. Thus, Lexica is the best option available. All pre-created images are free. As for new images, they are free till a certain limit. These free AI can be accessed from lexica.art.
I hope this list was helpful. Please let us know your opinion in the comment section.
Read: Free Photo Editing Software for Windows
Can I install YouTube for free?
You can install the YouTube app for free on your phone and Windows computer. Even more, you can always stream YouTube videos for free on their website. As a creator, creating and uploading videos to YouTube is also free of cost. You will only have to pay for YouTube if you use their premium subscription for an ads-free experience.
Which software can I use to download YouTube videos for free?
You can download YouTube videos for free using third-party tools or without using third-party tools. The procedure to download YouTube videos without third-party tools is cumbersome and thus we advise using the tools. Simply search Google for YouTube downloader tools and the first few options should be helpful.