Graffiti is one of the most creative ways to write and express your views. The best part, one can draw it anywhere they want. On a wall, car, door anything which fits in your thought. However, what makes it stand out is that they are usually written in public view, and without permission. That said, if you want to generate graffiti on your computer, here is the list of best free graffiti creators and fonts to write with your won style.
Best Free Graffiti Creator & Fonts
I have listed a couple of Graffiti generators and fonts. They all are free to use:
Graffiter
Graffiti Font Generator
Graffiti Writer
Graffiti Fonts.
If you want to use it in a document or any image editing tool, make sure to use the Fonts else, you can use the creators.
1] Graffiter
If you want to create Graffiti over a real-world object, then this service is what you need to use. If offers object like Ship, Wall with tiles, open walls, shutters, and whatnot. It is the best site to create virtual graffiti.
The tool offers color selection, graffiti spray tools, smeared, or clean that mimic spray painting.  Once you are done, you can upload images to the Graffiter.com for other people to see. There is a lot of work from other people for inspiration. Make your own Graffiti on Graffiter.com
2] Graffiti Font Generator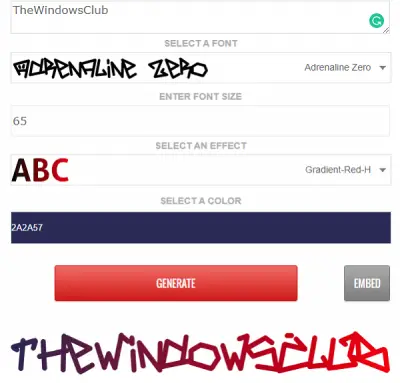 While it may look like a blog, but this site lets you generate text using Graffiti Fonts. So you dont need to install anything. Select the font,  type what you want to create, add effects, and click on create. You can then save the image and use it anywhere you want.
3] Graffiti Writer
This online Graffiti Writer offers a lot of features, effects, fonts, presets, background color, gradient, and more. While it generates some remarkable text, it does not create it in real-time. You need to click on the submit button every time you want to view the changes. It also cannot create large size graffiti, so if your size exceeds the limit, you will need to reduce the font size.
Write your own at the GraffWriter website.
4] Graffiti Fonts
Now that we are done with Graffiti Generators let's take a look at some of the best Graffiti fonts. If you want to write using Graffiti styled Fonts on your computer, here is the list of best sites from where you can download the fonts from any of the websites listed here.
They have over 2400 graffiti fonts of their 8000 fonts they offer as a free download. Type the text you want to see in graffiti font, and then you get to see a preview for each of the fonts in real-time.  Download from the Urbanfonts website.
On similar lines are – 1001 Graffiti Fonts and Dafont.com. You can download and use them as long it is for personal use and not commercial use.
Find the font you like and click on the download button. Then double click on it to install the font.
There are several other websites which offer free font downloads. This post will help you in installing the font on your Windows 10/8/7 PC.