If you want to compress animated GIF images, then this post can help you with some best free GIF compressor software and online tools available for Windows 11/10 computers. A GIF file format (Graphics Interchange Format) contains multiple images as frames that are used for creating an animation. Its size may range from a few KBs to MBs. So, if you have some large-size animated GIFs and want to optimize their size, then these GIF compressor and optimizer tools will come in handy.
These tools don't reduce the actual size (height n width) of a GIF image. Instead, these tools optimize GIF image file size to save disk space. Some of these GIF compressor tools can reduce GIF size up to 50% or more. Though there will be a difference between the input and output GIF quality, the compressed GIF looks nice and you can use it anywhere you want.
Best free GIF compressor software and online tools for Windows 11/10
In this post, we have added 2 free GIF compressor software and 3 online tools. These are:
GIF Optimizer
FileOptimizer
Compressor.io
GIFGIFs
Ezgif
iLoveIMG.
Let's check these tools to reduce the size of animated GIFs one by one.
1] GIF Optimizer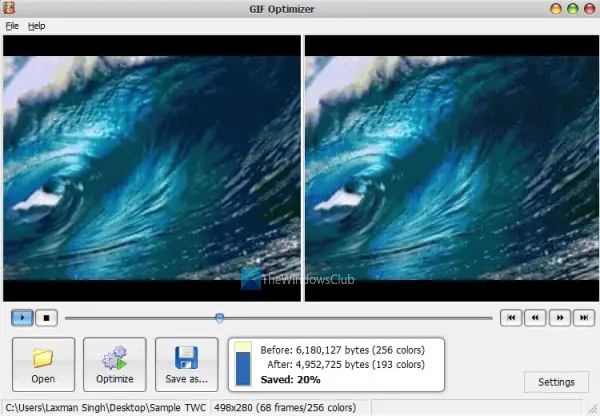 GIF Optimizer is one of the best GIF compressor tools on this list. This tool lets you play or preview the input and optimized animated GIFs side by side which is quite helpful to check how the output looks in comparison to the original file. You can also check input and output GIF frame by frame. The original and output GIF size is also displayed in a pop-up along with size reduction (in percentage).
Apart from these features, it lets you set options for optimizing the GIF or reducing its size. Preset options are present that you can use to:
Set the number of colors using auto mode or custom mode
Crop transparent images
Remove unused palette entries
Disable interlacing
Remove redundant pixels, etc.
Thus, you can either compress GIF with default settings or play with available options, see the preview and then save the compressed GIF.
To use this tool, you can download it from leapic.com. Open its interface and use the File menu to add the input GIF image. Now, you can either press the Optimize button available on the bottom section of its interface to compress an animated GIF with default options or use the Settings button to set options.
Once done, you can play input and output GIF images. If the output looks good, use the Save as button to store the compressed GIF in a folder of your choice.
2] FileOptimizer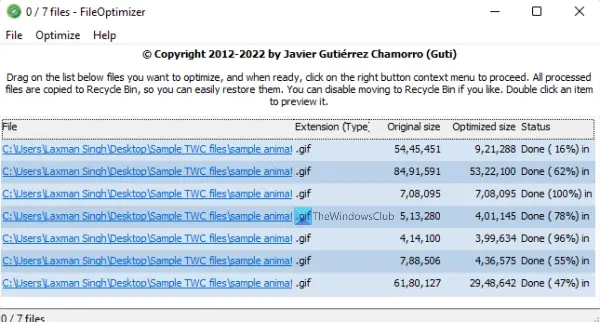 FileOptimizer is another helpful tool that can greatly reduce the size of animated GIF images. It lets you batch compress GIF images and original file size and the optimized file size for each file is also visible on its interface. You can also set the optimization level (fast, better, good, best, etc.), keep/remove file attributes, set process priority, etc., for compression.
Apart from optimizing GIF images, you can also use this tool to optimize BMP, DOCX, DOC, ODB, BAR, EPUB, FLAC, MTV, PDF, PNG, XPS, TIFF, DWF, MKV, MP4 format files, and more. This tool supports a lossless file size reduction method and hundreds of formats are supported by it.
Now, let's see how this tool can help you compress GIF images. Before that, you should keep a backup of your original GIF images as it overrides the input GIF images with compressed GIFs. Once it is done, follow these steps:
Download this FileOptimizer tool from sourceforge.net
Install this tool and open its interface
Use the File menu and click on Add folder option or Add files option to add the input GIF images
Access the Options window using Optimize menu if you want to set optimization level, process priority, etc., or you can skip this step to proceed with default settings
Press Ctrl+O hotkey or use Optimize all files option available in Optimize menu to begin the compression process.
When the process is completed, access the destination folder and use the compressed GIF images.
Related: Best free Image Compressor and Optimizer software for Windows 11/10.
3] Compressor.io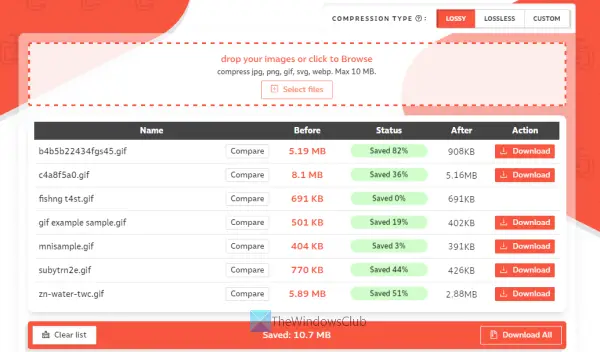 Compressor.io (free version with a 10MB size limit per input file) is an online tool that lets you compress multiple GIF images in one go. You can also compare input and output GIFs one by one by just moving a slider. A Compare button is provided after conversion for this.
It also lets you view the input image size and output image size along with the total size reduction (in percentage) for each image. Apart from compressing animated GIF images, you can also compress WebP, PNG, SVG, and JPG images using this tool.
This tool provides lossless and lossy compression types for optimizing the GIF images. While lossless compression only removes the metadata from images without affecting image quality, lossy compression greatly reduces animated GIF image size by removing unnecessary data and modifying original pixels. There is a quality reduction in lossy compression mode but still, the output GIF quality remains optimal.
To use this online GIF compressor, open its homepage, and select the compression type (lossy or lossless). An option to set custom compression is also there but that feature can be accessed with its pro plan.
After that, you can either use the Select files button or simply drop GIF images from your computer to its interface. The input files are automatically compressed by this tool. So, you just need to sit back and relax. Once the process is completed, use Download All button to save all the compressed GIFs or save them one by one.
4] GIFGIFs
GIFGIFs service also comes with a useful online GIF optimizer tool that has interesting features. This tool lets you preview the input GIF as well as the output GIF. Also, you can select an optimization method to reduce the size of the GIF image. Available optimization methods are:
Color reduction
Color reduction and dither
Remove every 4th, 3rd, or 2nd frame from the GIF image
Use lossy GIF level 140 (heavy), medium (80), or small (30).
So, you can try different optimization methods, preview the output, and then download it if you find the output satisfactory.
To use this tool, open its homepage from gifgifs.com. Now use the UPLOAD GIF button and add the input file from your computer. When it is done, select an optimization method, and press the OPTIMIZE button. Compare the input and output files and finally save the compressed GIF using the Download the result option.
Also read: Best free Video to GIF maker software for Windows 11/10.
5] Ezgif
Ezgif service brings more than 20 tools which include GIF Maker, WebP optimizer, GIF frame extractor, Reverse GIF, Video to GIF, etc. A GIF optimizer tool is also there. Using this tool, you can compress a maximum 50MB GIF image stored on your computer or optimize an online GIF image. It also lets you preview the input GIF image and compressed GIF image within the same page which helps in comparison. In addition to that, you can also check size reduction (in percentage), the number of frames available in compressed GIF, and then save the final output.
For compressing an animated GIF, it provides different optimization methods such as:
Color Reduction: Using this method, you can compress GIF by reducing colors (by setting color range between 1-256) and/or dither, or using a single color table for all the frames
Drop frames: This method lets you remove duplicate frames or remove every 3rd, 4th, or 2nd frame
Lossy GIF compression: In this method, you can set a compression level using the given slider
Optimize Transparency, etc.
You can check which method works best for you and then use that optimization method to compress your animated GIF.
To use this tool for compressing an animated GIF, open its homepage from ezgif.com. After that, use Choose File button, and add your GIF image. Press the Upload! Button. Once the GIF is uploaded, you can preview it on its interface.
Now, scroll down the page and select any of the optimization methods. Press the Optimize GIF! button. When the GIF is optimized, it will show its preview. Check how the output preview looks and compare it with the original GIF. If the output doesn't come as expected, then you can try some different optimization methods.
When the final output comes as expected, click on the save button available on the right-middle part of its interface, and download the compressed GIF.
6] iLoveIMG
iLoveIMG service comes with multiple free tools to resize images, convert PNG, SVG, WebP, and HEIC images to JPG, add watermark to images, crop images, etc. There is a Compress IMAGE tool also available for optimizing the size of multiple GIF images at once.
In the free plan, this Compress IMAGE tool lets you process 30 GIF images together, and the file size is limited to 200 MB, which is satisfactory for normal usage. The interesting part is you can also rotate the input GIFs before generating the compressed output GIF images.
Open this tool from iloveimg.com. Press the Select images button to add GIF images from the PC. The options to add images from Dropbox and Google Drive are also available to use. After adding the GIF images, you can preview them on its interface.
For each input GIF, a Rotate option (or icon) is visible when you hover the mouse cursor over it. Use that icon to rotate GIF in the clockwise direction.
Press the Compress IMAGES button available on the bottom right section. It doesn't let you set the compression level or quality and automatically compresses the GIF images based on the best quality and file size ratio. So, sometimes, you may not see a lot of difference between the original and compressed images. When images are compressed, you can download all of them in a ZIP archive.
That's all! Hope these GIF compressor and optimizer tools are helpful.
What is the best GIF Compressor?
Choosing the best one among different GIF compressor tools is quite a difficult task. It is so because it depends on different aspects such as output GIF quality, reduction in colors, compression mode (lossy or lossless), and more. While some tools provide smaller GIF images after compression but the quality looks bad, other tools compress a GIF with optimal quality but the file size is not reduced to that extent. So, reducing the file size is not the only factor. Keeping that in mind, we have created a list of some best free GIF compressor tools in this post that you can try and decide which one is the best in your opinion.
How can I compress a GIF online?
If you want to compress an animated GIF online, then you can use a free online GIF compressor and optimizer tool. Some good free online tools are available over the internet for this purpose. We have also added some best free online GIF compressor tools as well as GIF compressor software in this post above. You can check those tools and also try GIF compressor software that you may find more useful.
What is the best free GIF maker?
Ezgif is one of the best online GIF maker tools that you should use. This tool lets you generate animated GIFs from the video as well as image files (JPG, PNG, etc.). In addition to that, other online GIF makers and editor tools like ImgFlip and Gifs.com are also good options.
Read next: How to extract frames from animated GIF images.