An animated GIF is a combination of multiple frames or still images which play in a sequence. If you want to extract frames from animated GIF images, then this post can be helpful. You can save the extracted frames as separate JPG, BMP, or PNG images and then use any image viewer or image editor software or other tools to view those images. Most of the free options covered in this post can also play GIF images.
Extract frames from animated GIF
In this post, we show you how to easily split GIF into frames. using two free software and two services. The added options are:
GIF Viewer
GifSplitter
Online Image Tools
GIF frame extractor (splitter).
Let's check these tools to split GIF frames and save those frames as images.
1] GIF Viewer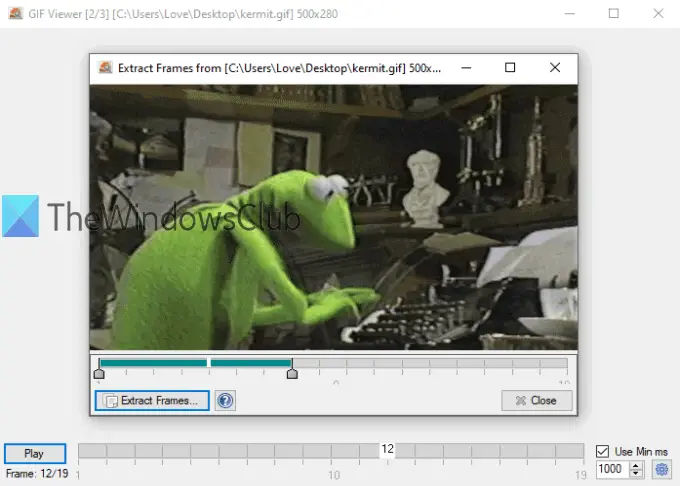 GIF Viewer software has a couple of unique options. You can set range (like 3-10 or 5-8) to extract frames for GIF image or save all frames. Another option is it automatically plays GIF as soon as you add it. It also supports EMF, BMP, GIF, TIFF, PNG, and JPG formats to save the images.
Download this GIF splitter software with this link. When you will launch the software, it will automatically open a window to add a GIF image. After that, it will start playing GIF. The option to adjust playing speed is also there.
To extract the frames, right-click on the GIF image, and select Extract Frames option. A new window will open. There, use the slider to set a range for frames. Finally, use the Extract Frames button, and then you can select the output folder and format to save frames as images.
2] GifSplitter
GifSplitter is a tiny and portable software. It has one special feature that you might like. If the input GIF has a transparent background, then it lets you select the background color for output images.
Download it from here. Launch the software and add the input file in the given field. After that, it will show the number of frames available in that GIF file. Provide the output folder.
Now, if your GIF file has a transparent background, then select Use single background color for Gif… option and use a color of your choice to fill background color for output images. Press Split Now button and it will save images one after another. The images are saved in BMP format.
TIP: You can also read our tutorial to extract frames from video using free software.
3] Online Image Tools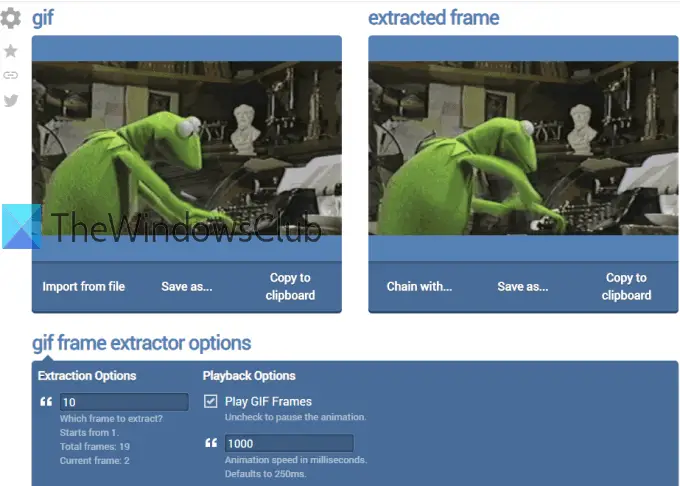 Online Image Tools service comes with image flip, image resizer, image converter, and other tools. GIF frame extractor is also available. The benefit of using this tool is you can extract only those frames that you need and leave the rest of the frames. You can preview the input GIF, select the frame that you want, and download that frame as a PNG image.
Here is the link to its GIF frame extractor tool. You can either use Import from file option or directly drop an animated GIF on the left box. After that, it will start playing that GIF. To extract a frame, add frame number in the given field, and it will show that frame on the right box. Use Save as.. option to download that frame. The next time, you can add some other frame number to download that frame.
You can also use extra options like play/stop animated GIF and set animated speed.
4] GIF frame extractor (splitter) by Ezgif.com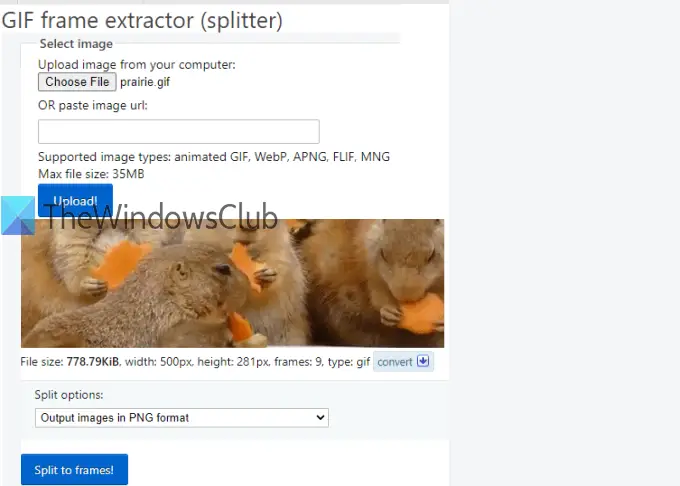 GIF frame extractor (splitter) tool comes with a popular Ezgif.com service. This tool lets you split and download GIF frames in JPG or PNG format. You can also preview input GIF and output frames.
The link to access this tool is here. You can either provide the URL of an online GIF or add a GIF image (up to 35 MB) from your desktop. Use an option and press Upload! button. When the preview is visible, select Output images in PNG format or Output images in JPG format option using the drop-down menu. Press Split to frames! button.
Now you can preview all the output images. It is your choice if you want to download one image at a time or all the images. To save an image, use the right-click menu or save all images using Download frames as ZIP button.
This list ends here. GIF Viewer software is definitely more useful because of two unique options, but the other tools are also good.