You can find tons of DJ software for Windows 11/10 on the Internet but most of them are paid and it is not easy to find free DJ mixing software. So, we did the job for you and accumulate a list of the best free DJ Software for Windows 11/10.
DJ Mixing Software for Windows PC
All the software on this list are good, some are packed with features, while others just do basic stuff, but they all have one thing in common is ease-of-use. These are some of the best free DJ Software:
Mixxx
PartyCloud
Zulu
VirtualDJ
TacTile MP3 DJ
Let us talk about them in detail.
1] Mixxx
The first app on our list is a veteran. Mixxx is one of the best free DJ applications on the market. As the name suggests, Mixxx allows you to mix and match audio and is not only a great learning tool but can also give serviceable output for beginners and the quality of music can improve as you start using and learning this tool more and more.
If you are a beginner you should check Mixxx User Manual to get to know more about the software and get started with it. You can download Mixxx for Windows, Linux, and macOS from its official website.
2] PartyCloud
As the Internet became more accessible, using cloud software is just as convenient as easy as using downloadable software, sometimes even more. PartyCloud is one such online service to mix and match the music.
It has a simple UI and an enormous song database consisting of almost 20 million songs. However, there are disadvantages of using cloud-based software for live shows as the network can not be trusted, for this very reason we won't recommend you use this in live shows, but for everything else, it is an excellent choice.
You can access PartyCloud from their official website.
3] Zulu
Zulu is one of the best DJ software for Windows users. Most of the software on this list supports 4 decks, Zulu, on the other hand, supports 6 decks.
You can insert an mp3 file and the software will assign a beat to you. You can change the pace of that beet by increasing and decreasing beats per minute and add effects to make your music more appealing.
One of the most underrated things about Zulu is its UI. The app has a simple and intuitive User Interface. You can drag and drop audio and preview it before getting the final output.
Zulu can be downloaded from its official website.
4] VirtualDJ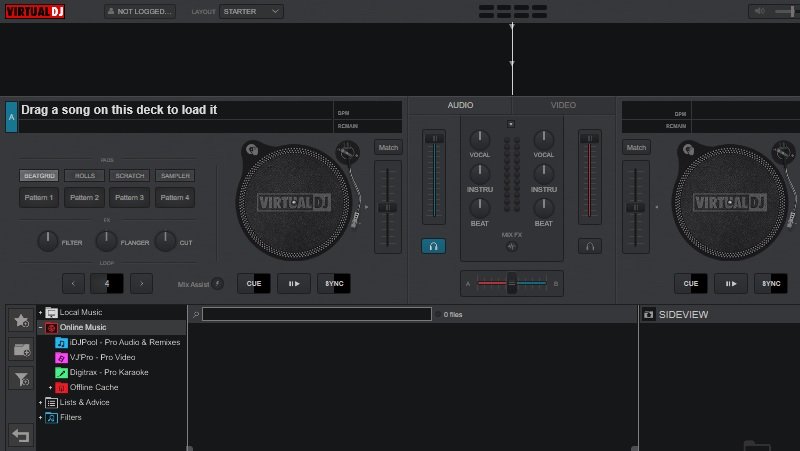 VirtualDJ is a simple music matching and mixing software. If you just want reliable DJ Software with a simple UI then you should download VirtualDJ.
One of its useful features is NetSearch that lets you search the web for music and add it to your project. The best part is that you don't have to download the music but just add it to your work.
Another feature of VirtualDJ, Sandbox allows you to mix music during the live stream.
Read: Until AM is an online cloud-based music system for disc jockeys.
5] TacTile MP3 DJ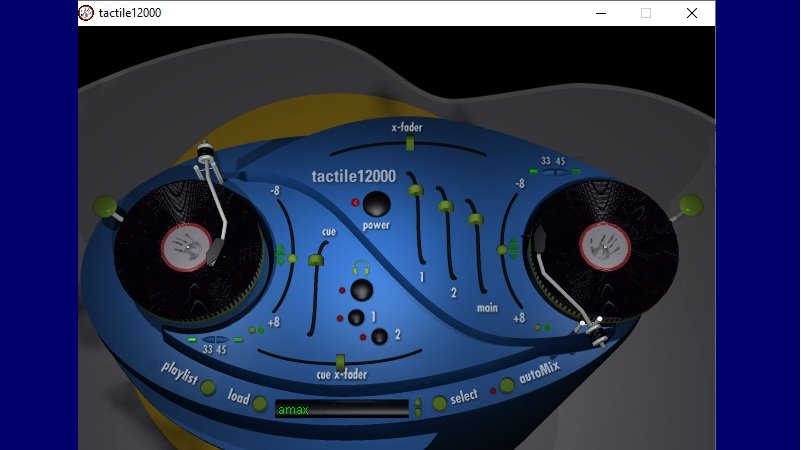 Finally, we have TacTile MP3 DJ software. There is a reason why it is on the bottom of the list, it eliminates tons of features that other software on this list have but retains one thing that is a simple UI to mix and match the music.
This is for a small niche that doesn't want any bells and whistles in an application but wants something to mix music. The software might not look the prettiest but gets the job done.
TacTile MP3 is built with Macromedia Directors and C++ plugins and can be downloaded from here.
Hopefully, this list has helped in finding the best free DJ Software for Windows 11/10.
You might want to also take a look at this list of some of the best Free Software Downloads for Windows PC.