Do you want to play DJ software on your computer? If yes, then why don't you play it online, without installing any software on your system? Until AM is an online cloud-based DJ application, which has the required amount of features and abilities to transform your web browser into a full-fledged DJ system.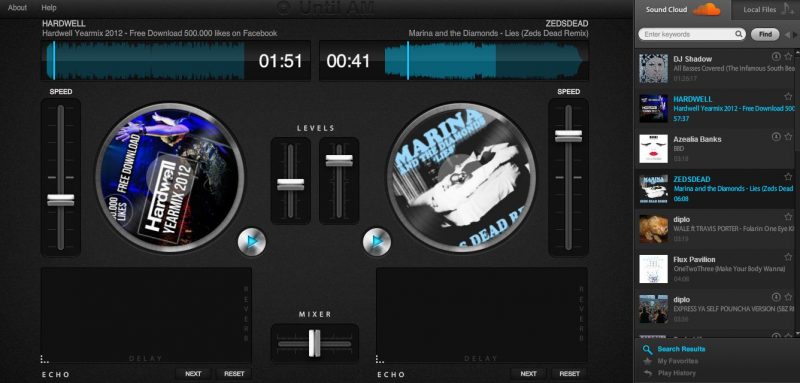 Until AM Online DJ Tool
With its easy-to-use and straightforward user interface, users of any level of experience will be able to work on their Audio masterpiece. It provides you with efficient controls and includes features like integration with SoundCloud, realistic vinyl scratching, real-time effects pad, intuitive interface, waveform visualization and preloading of songs with drag & drop features.
To use Until AM, there is no need to install any other software on your system. It just requires an updated web browser and a working internet connection. Hence, it is not just an ordinary DJ application. You might find this application strangely familiar and no wonder! The interface of this app is similar to AudioSauna – as the same development team is responsible for both apps.
By using Until AM, building your own DJ set will become easy for you. You can choose different songs either from your SoundCloud account or your computer's hard drive. You can choose up to two songs simultaneously. It features a realistic vinyl scratching, turntable simulation and real-time effects pad. You can discover song playback and recognize perfect mixing points without any difficulty.
Features of Until AM
Access songs directly from SoundCloud, or PC's hard drive.
Download songs on to your hard drive as MP3 files.
Search for your favorite artists or find out "what's hot".
Load your own audio files from the local hard drive.
Search and preload songs while playing other ones.
A simple list of songs, and drag and drop on to the turntables.
Accurate effect control with an "XY" controller pad.
Echo, chorus, filter, bit rate and distortion effects.
Combine multiple effects for advanced crookedness.
So, if you want to have some fun, head over to the mix.until.am website.