This post lists the best free Church Presentation software available for Windows 11/10 PC. These free software let you make and demonstrate sacred songs, lyrics, and verses on the screen during religious gatherings in Chruch or other religious places. You can create your own religious songs or use existing songs available in the database of these software. You can even add background images and templates to decorate your presentation and make it more appealing. After that, simply present the songs over a connected projector that worshippers can recite along. Let us now have a look at this list of free church presentation software.
Best free Church Presentation software for Windows 11/10
Here is a list of the best free Church Presentation software available for Windows 11/10 PC:
OpenLP
PraiseBase-Presenter
Datasoul
Quelea
Holyrics
1] OpenLP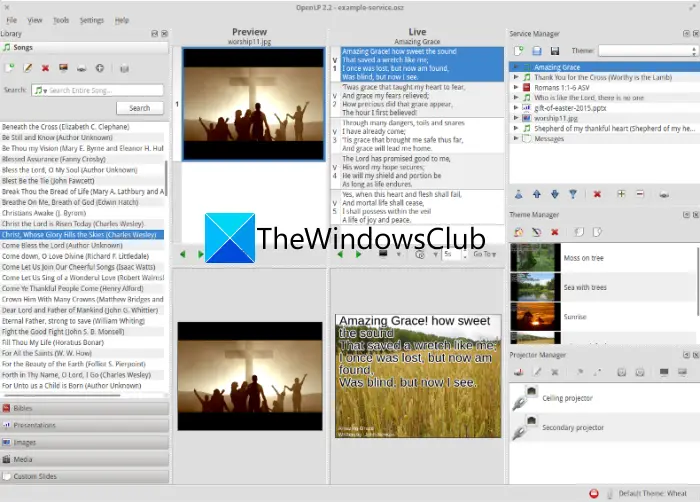 OpenLP is a free open source church presentation software for Windows 11/10. It is quite a popular software and offers various handy tools and features. The good thing is that this software comes in both installer and portable (travel-friendly) versions. So, you can try whichever version you want as per your need.
You can easily present Bible verses as well as songs on the projector screen for Church worshiping. On its main GUI, you can view different sections that allow you to control and manage the church presentations. These sections include Song Library, Theme Manager, Preview, Live, and more. The presenter is allowed to choose the song that will be played. Besides that, you can also customize the background and overall theme of the presentation, and then start projecting the songs and lyrics on the big screen.
This software comes with multiple tools that help you enjoy a smooth experience of church presentations. You can find various inbuilt songs that are available for use in church presentations. It even lets you create new songs or edit existing songs as per your need. For that, it comes with a full-fledged Song Editor where you can add, edit, and manage lyrics, verses order, metadata, audio, and more content. Additionally, you can also find a dedicated feature to directly import songs from different sources including DreamBeam, Foilpresenter, LyriX, SongSelect, Words of Worship, etc. Great, isn't it?
In it, you are allowed to import existing presentations or you can even create new presentations with verses, lyrics, songs, etc. It offers a dedicated Projector Manager that allows you to configure projection options e.g., connect to a selected projector, add a new projector, power on selected projector, etc. If needed, you can use images and media files to display in the presentations.
Some more handy tools to look forward to in this software include Find Duplicate Songs, Song Usage Tracking, Alert Message, Re-Index Songs, Update Theme Images, and more.
OpenLP is one of the best free open source church presentation software using which you can create, edit, and manage church song databases and show religious presentations.
You can download it from openlp.org.
2] PraiseBase-Presenter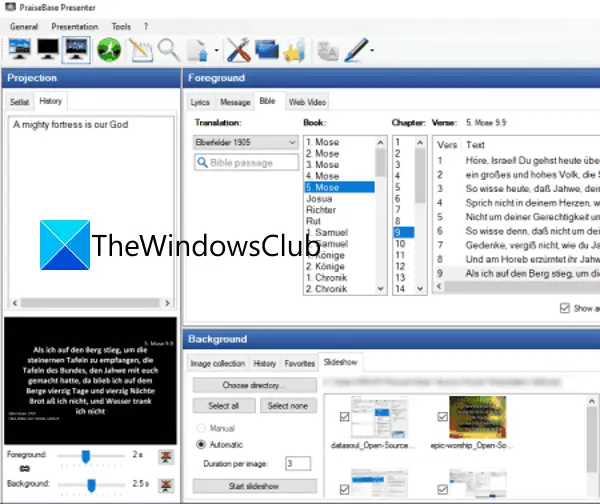 PraiseBase-Presenter is another free church presentation software for Windows 11/10. It is a good and open source software where you can find all the necessary tools to display church presentations. The software contains different versions of the Bible including King James Version, Luther 1545, Luther 1912, and Elberfelder 1905. So, you can display verses from any of the bibles in the presentation.
It contains a dedicated Song Editor that helps you create a new song or modify the existing ones. Using it, you can write lyrics with respective translations in your presentation slides. In addition, you can import song files, songtext, WorshipSystem database, and more. Also, you can find the options to customize song defaults and master formatting options.
You can present the songs with customized background color, slideshow images, chroma-keying, and other customizations. It also provides a Multi-screen setup using which you can configure multiple screen settings for projection that include PC Screen, Second Screen, Extended Screen, etc.
This software also contains various other features that enhance your overall experience. These features include Song Statistics, Song Browser, Search Song, Metadata Editor, Browser Directories, and many more.
It is another good church presentation software that you can use for free. Get it from here.
Read: How to make Video Presentation with Audio Narration in Windows 11?
3] Datasoul
You can also use Datasoul for showing church presentations. It is a nice and free church presentation software available for Windows 11/10. It lets you generate and display religious songs and verses on the projector. You can find a library in it that contains several religious songs. You can easily manage the song library and create your own new songs as per your requirements.
It provides options like transpositions, guitar tabs, split options, and more to create or edit your songs. Furthermore, you can export the songs in PDF or RTF format. Additionally, it also provides you the flexibility to import presentation slides from files including ODP, PPT, and PPTX to present on the screen. To enhance your presentation, you can also add beautiful background and template to show in the background of the presentation. It also lets you add text, images, a list of verses, video, attachment, and more services into your presentation.
You can also find various display control options that allow you to set up a projector as needed. It lets you configure options like speed controls, output screen, etc. Also, it allows you to connect to a remote display using the remote host address. You can also publish the presentation on the web.
Overall, it is a good free open source church presentation software using which you can show church presentations in religious events.
4] Quelea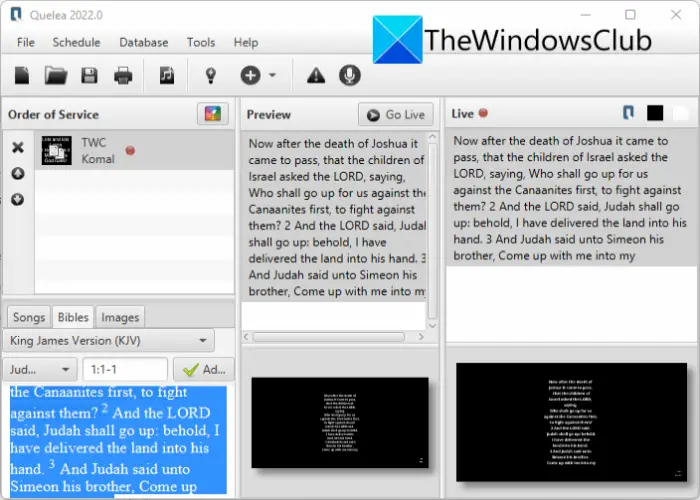 Quelea is also a free open source church presentation software for Windows 11/10. It lets you display lyrics, bible verses, prayers, religious songs, and more in your presentations. This software has different versions of the Bible from where you can use the verses to display in your presentations. It also lets you add customized text, video, website, PDF, and more or church presentation.
It allows you to generate a schedule with the religious content that you can show on the screen. It can include a PPT or PPTX presentation, images, countdown timer, website, PDF, DVD, video, and other content.
You can make a new song that you want to present live or upload songs from several sources including EasyWorship, OpenLP, OpenLyrics, ProPresenter, Elevanto, MediaShout, SongPro, etc. It lets you preview the created songs and then you can make them live on the projector.
Some additional features in this software include Bible Searcher, Bible Browser, Export Schedule as PDF, Print, etc. You can also find a handy Test Patterns feature in it that lets you calibrate display focus and color settings.
If you need simple yet effective church presentation software, go for this one. You can get it from quelea.org.
See: Best free software to draw on screen in Windows 11/10 PC.
5] Holyrics
Holyrics is a feature-rich church presentation software that comes for free. It lets you create and show presentations with Song Lyrics, Religious Songs, Bible Verses, Animated Backgrounds, and more. It also lets you import existing presentations with religious content like songs, song lyrics, bible verse font, custom theme, animated background, and more. You can also directly import and show PowerPoint presentations in this software.
To make your presentation beautiful, it lets you use a presentation theme from its themes' collections. You can also customize display options including transition effect, the delay between transitions, display elements, and more.
It offers a nice feature that allows you to connect it with your smartphones and manage the live church presentation. It comes with a VLC Player Integration feature that lets you listen to and preview church presentations within the application itself.
One advanced feature that this software offers is the Chat feature. It lets you communicate with other users having this software via text messages. Another useful feature you can use is the feature to connect your MIDI musical instruments and record the sound. Other than that, you can also find features like Web Search (search lyrics and more on online services like holylyrics.com, vagalume, etc.) and Schedule (create a schedule for members for a specific date).
All in all, it is a great church presentation software that you can use for religious presentations for free.
Read: Best free Slide Presentation Maker software for Windows PC.
Is there a free version of EasyWorship?
EasyWorship church presentation software doesn't come with a free version. Even the basic version (EasyWorship Basic) is paid. You can download the software and get a free demo, but you need to purchase it later. Or else, you can give a try to some other good free church presentation tools like OpenLP, Holyrics, etc.
What is the best software to project Bible verses quickly while the pastor is preaching?
OpenLP and Holyrics are two good software for this purpose. These are advanced software to project Bible verses on the projector screen with customized background themes, videos, and more. EasySlides is another handy option for Christian Worship that you can use to project Bible text and lyrics on a huge screen. The multimedia support in this software lets you play audio and video in the background.
Now read: Spice up your Church worship with Songview for Windows PC