A Bitcoin Wallet is like a bank account for bitcoins. Some crypto wallets are exclusive to bitcoins, and some are more comprehensive by supporting various kinds of digital currencies. A bitcoin wallet helps receive, store, and send bitcoins via a secure system with varying levels of privacy including anonymity.
Best Bitcoin Wallets
Bitcoin is the first ever cryptocurrency. One bitcoin is equivalent to $15,000 approximately, though the value fluctuates and is highly speculative. Instead of making conventional transactions with a huge amount of money, it is more convenient to use digital currency. But be sure to use a strongly encrypted password for your bitcoin wallet and use a premium hardware wallet for huge amounts of money. Store your wallet details offline and make sure you monitor transactions regularly. If used right and no information is diverted to unreliab le sources, your money will be safer in the form of bitcoins than in a traditional bank.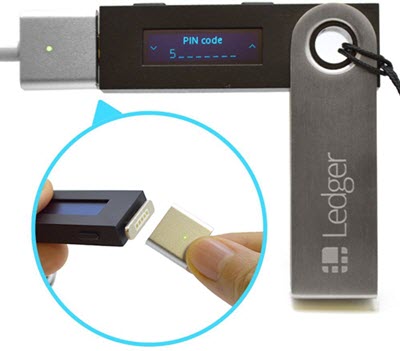 Types of Bitcoin Wallets
The two most important types of bitcoin wallets are software and hardware wallets, but there are other types as well. Here is a brief account of all the types of bitcoin wallets:
Software wallets: These function like mobile or PC apps. They are mostly free.
Hardware wallets: These are pen-drive like premium wallets which provide the best security by controlling access to bulk amounts of bitcoin.
Paper wallets: These are private keys printed off of an offline computer.
Online wallets: You operate these via the internet. Since you can't take it offline, these are less secure than software wallets. For example, Blockchain.info and Coinbase.
Bitcoin wallets are available for desktop, mobile, web, and on hardware.
Top hardware Bitcoin wallets
Hardware wallets don't store the bitcoins but give you secure access to managing your bitcoin software wallets. Here are 5 of the best hardware wallets for bitcoin.
Ledger Nano S: This one is a very affordable hardware wallet for bitcoin. It costs only $65. But don't worry about security, there is no compromise on that. Ledger Nano S is just a little over a year in business, and it has already grabbed a spot in the top 5 list of hardware wallets for bitcoin.
TREZOR: Trezor is the best for storing a huge amount of bitcoins safely. This one came on the market in August 2014 and is still on the top spot in the market. The high security of this hardware wallet does not tamper with the usability, therefore becoming the best option for those who want a secure yet user-friendly hardware wallet. This one is a bit expensive but the best for both, beginners and expert bitcoin wallet handlers.
KeepKey: KeepKey comes with a screen that is larger than that in the Ledger Nano S. It came on the market in September 2015 with more security features than that in both, Trezor and Ledger. Apart from sporting a very intuitive platform, KeepKey also has a very sleek design.
Opendime: This is the first Bitcoin Stick. It is a USB stick that enables easy transactions with bitcoins. You just need to connect it to a USB port to make it functional. Opendime is compatible with any OS on PC and mobile. The privacy and security features in Opendime are reliable and easy to use.
Ledger Unplugged: Ledger Unplugged looks somewhat like a credit card. It is a wireless device that generates private keys offline. Transactions are done with your mobile via NFC. You can carry it around anywhere, and you don't even need an OTG to use it.
You can buy these hardware Bitcoin Wallets on Amazon at great prices.
Now let's take a look at how we could make our bitcoin wallet experience better after choosing one of the above-mentioned software wallets.
Top software Bitcoin wallets
There are a plethora of software wallets for various OS and platforms on desktop and mobile. Here is a list of the five most popular software wallets for bitcoin.
Exodus: Exodus bitcoin wallet software has the easiest user interface and is available over multiple digital currencies like Bitcoin, Litecoin, Aragon, Civic, Ethereum, and more. This software provides a comprehensive chart to help you manage every cryptocurrency you deal with. It also comes with an inbuilt exchange to help instant trade among these cryptocurrencies. This software is however only available on the desktop.
Electrum: Electrum bitcoin software wallet has a simple installation procedure that incorporates a reliable security system. This software is best for people who know how to handle external servers. It is available for OSX, Windows, and Linux. The interface is light and fast thereby being the best choice for older versions of computers
Green Address: Green Address is one of the most popular bitcoin software wallets among both, new and old users. It helps with online transactions, in-app management, and also helps deal with desktop clients. Green Address has the most user-friendly and flexible interface. The wallet functions with third-party approval for security. It is best for beginners.
Airbitz: Airbitz is a decentralized and secured bitcoin software wallet. It has a secure backup and the assurance of security against third parties because it is an independent app. The app comes with a list of businesses where bitcoins are accepted. Airbitz has no web interface yet. It is a growingly popular app.
MyCelium: MyCelium is a mobile app with exclusive privacy and security features. It is a little complex for beginners but perfect for safe transactions. This app too does not have a web interface so you have to have the app with you and it is constantly getting upgraded, so you need to keep updating to the latest version in order to avail all the features.
You can get more information on bitcoin.org.