Amazon Firestick enables users to convert their TV into a smart TV via a USB device. Streaming on a big screen with snacks is one of the best ways to spend the day, however, it getting hacked makes it anything but good. Therefore, in this article, we are going to see some of the best antivirus for Fire TV.
What is antivirus?
To ward off potential viruses, ransomware, and malware attack, developers created a software or tool called Antivirus. When a system gets corrupted, confidential data, and social sites are put at risk, therefore to prevent this from happening, we use antivirus software like McAfee, BitDefender, Kaspersky, and so on.
Best antivirus for Fire TV
Antivirus programs are not built into Fire TV, one needs to sideload the application's APK using the Downloader.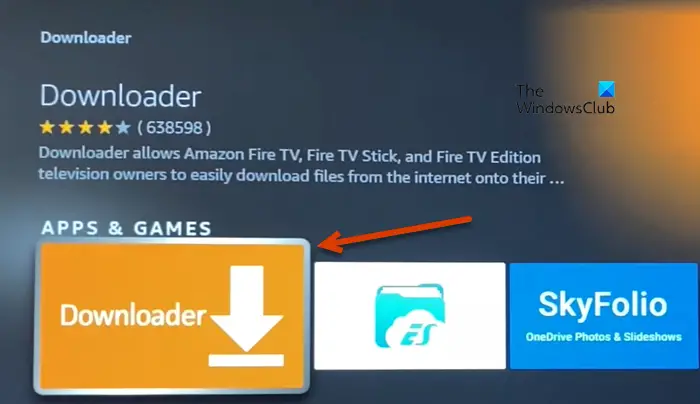 However, we first need to install Downloader on your Fire TV. Follow the steps mentioned below to download and install Downloader on a Firestick and get your TV ready to install third-party antiviruses.
When you are on the home screen of your TV, click on Find.
Go to search and type "Downloader".
Click on the Downloader icon and once open, click on Download or Get.
Go back to the home screen, click on the cog button to go to Settings.
Navigate to My Fire TV > Developer Options > Install unknown apps.
Trun on Apps from Unknown Sources and Downloader.
After making the changes, let's see some of the best antiviruses for Fire TV.
Web Root
Malwarebytes
BitDefender
VirusTotal
Let's get started.
1] WebRoot
WebRoot is known for the fact that it consumes very little storage and packs user-friendly interface. Webroot Installation can not only help you protect the device from incoming malware attacks but also help inspect the installed apps. This way, it decreases the chance of alerts and prompts thus optimizing the PC for better performance.
The antivirus packs a Two-Factor authentication. So, to set it, you need to scan a QR code with the help of Google Authenticator or Microsoft Authenticator or a similar app. To download the tool, follow the instructions given below.
Launch the Downloader app, it can be found in the View all apps options.
Type https://bit.ly/2SDLeVa in the Enter a URL or Search Term field.
Click on the Install button.
Once done, you can use the antivirus without any issues.
2] Malwarebytes
Malwarebytes needs no introduction when there's a discussion about some of the best antivirus software. However, its recent premium version promises a better security experience than its previous ones.
Now, you can have behavioral detection that inspects the software's behaviors. This way even the slightest minor change in the program's behavior will be detected that generally gets past standard antivirus software. This Katana-powered Engine also claims to reduce the usage of system resources by approximately 50% during the whole process.
To download the app, use this URL- https://bit.ly/35VTDGf. The process to download the app will be same as that of WebRoot, that's mentioned earlier.
3] BitDefender
A pocket-friendly alternative that has all the features of good antivirus software is Bitdefender. You can easily set up this antivirus software as it works smoothly on all devices and Operating systems at a much lower price than the above-mentioned antivirus software. If you want to download BitDefender, use the URL – https://bit.ly/35VTDGf.
4] VirusTotal
VirusTotal is one of the free antivirus programs that anyone with such a need can grab. It has all the features, from malware detection to removing things, that one may need to protect the PC. It also safeguards the PC from any dubious URLs on the Internet. This way you can surf the web without any worry. However, it doesn't have the exclusive features that some of the contenders in this list do, such as 2 factors authentication, and so on. If you still like the application, do install it using https://bit.ly/3y15r65.
Hopefully, now you know which antivirus is right for you and how to install it.
Read: Fix Amazon Fire Stick not working
Is there an antivirus for FireStick?
Even though there are not a lot of antivirus for FireStick, one can easily sideload them using the Download application that can installed from the store. Once we have the Downloader app, we can just use the respective links to install the antivirus.
Read: Amazon Fire TV does not open browser links.
Can my Fire TV be hacked?
Yes, Fire TV can be hacked, especially if you are sideloading the app. That is why, we only recommend installing apps from trusted sources and after installing the app, disable Install unknown apps . Also, you need to scan with the help of your antivirus regularly.