A Base System Device can range from a card reader to a chipset device on your motherboard. In some cases, after re-installing Windows or after attaching a new component, the driver installation is a miss. You may see it under Device Manager > Other devices. You will find an entry by the name of Base System Device – and these may show as Not Installed. Sometimes, you will see it listed but with a yellow exclamation mark. In this post, we will share about  Base System Device, and how to fix the Base System Device error.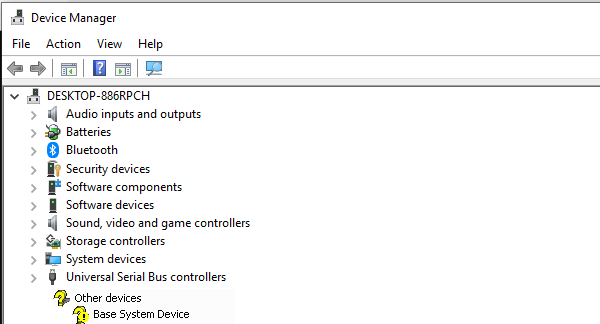 How to fix Base System Device error
Base System Device is a technical term for a device like a card reader, the chipset on the motherboard, network devices, and so on. When installing, and reinstalling Windows, you may see a list of such Base System Devices with yellow exclamation marks or with no driver installed.
To fix the error related to Base System Device you need to:
Install drivers directly from OEM websites
Install drivers using Windows Update
1] Install Drivers from OEM Websites
The error occurs if the drivers for hardware on your computer are not installed correctly. These drivers are related to the motherboard, processor, and other chipsets. To rectify this situation, you should try and locate & download the drivers for it. You can either use the OEM DVD if you have one or visit the official website to download the drivers. You can also use the Windows Update to download the latest drivers if they are available with the system.
Example for Intell Chipset Driver:
Intel recommends downloading the latest chipset driver  Onboard Network Driver for Microsoft Windows, unzipping the file, and running it:
\apps\PROSETDX\<OS version>\DxSetup.EXE
You may also install the driver without installing any software by running:
\apps\setup\SETUPBD<OS version>\SetupBD.EXE
2] Install drivers using Windows Update
Right-click on the listing, and click on Update driver software
The update wizard will start searching for an update in Windows Update catalog or let you select a driver to update.
Restart the computer once the installation is complete.
We hope these steps were easy to follow and helped you to fix the Base System Device error and get an understanding of it.