Using a Wi-Fi connection is one of the easiest ways to connect to the web. No matter where you are in your house, you won't be free from using Facebook or whatever else you do online. But what happens when you plug an Ethernet cable into your computer?
Usually, the computer will automatically connect to the Ethernet network instead of the wifi network. This makes perfect sense since a wired connection is always better than a wireless one. However, Windows does not automatically turn off the wifi connection, so it's left open. Some folks do not wish to have the Ethernet connection and wifi network opened simultaneously.
It's very much possible to automatically turn off wifi when the Ethernet cable is plugged in, but it all depends on the Network Adapter installed on your computer hardware.
How to automatically turn off Wi-Fi when Ethernet cable is plugged in
Considering you have a supported wireless network card installed, ensure your Wi-Fi is connected.
Now, right-click on the wifi icon in the system tray and click on Open Network and Sharing Center.
The next step is to click on Wireless Network Connection or the name of your wifi SSID. A small window should pop up.
Just click on the button that says Properties and move on from there.
You should see Networking and Sharing, along with the name of your wifi adapter.
Ignore those options and click on Configure to make it to the next step.
Again, a small window will reveal itself. From this window, you should see several tabs.
Be sure to focus on the one that says Advanced because it's the most important. OK, so click on the Advanced tab, and seek out the option Disabled Upon Wired Connect from the Properties box.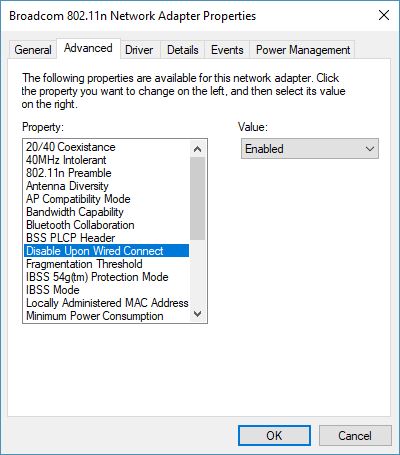 The value here should be Disabled, but you'll want to change it to Enabled, then click OK, and that's it. From now on, whenever you plug in your Ethernet cable, the wifi connection will automatically disconnect itself without your interference.
All-in-all, this is the best way to automatically turn wifi off when an Ethernet cable is connected to your computer. Yes, some applications and scripts can do the job, but they are not perfect.
Read next: How to allow or block wifi network using Command Prompt.
Why should wifi not be turned off?
Since wifi can automatically connect with any device with which it has connected once, it is better to keep it on. It is beneficial when you move between offices and need to stay connected. On top of this, wifi adaptors do not consume a lot of battery, so keeping it on is not an issue.
Why can't I enable wifi on my laptop?
Either your wifi is disabled on the hardware level, or it is disabled from the device manager. Look for a hardware switch on the keyboard or the side of the laptop to enable it. If you don't see anything there, open Device Manager and enable Wifi adaptor.