The Settings app and Control Panel are the two go-to destinations for Windows customizations and settings. However, the Local Group Policy Editor is probably home to some of the most advanced user settings on your machine.
Group Policy is a Windows feature from which system and network administrators can control the security of computer users' working environment in the Active Directory. Although Group Policy modifications are mostly used for user groups, Windows 11/10 lets you create a User-Specific Local Group Policy (LGPO) snap-in to applying Group Policy settings to individual users on shared systems.
Apply Local Group Policy settings to specific users
To apply Local Group Policy settings to users logged into the system with a specific user account, follow the steps below:
Launch Microsoft Management Console.
Add the Group Policy Object Editor snap-in.
Choose the user for whom you want to apply the Local Group Policy.
Save the new snap-in.
Configure policies in the new console.
Read this guide to the end for an explanation of the steps outlined above.
First, you must open the Microsoft Management Console (MMC). You can do this by simply searching for MMC in the Start menu and selecting it from the search results. If the MMC fails to load, fix it with these solutions.
In the Microsoft Management Console window, click on the File menu and choose the Add/Remove Snap-in option.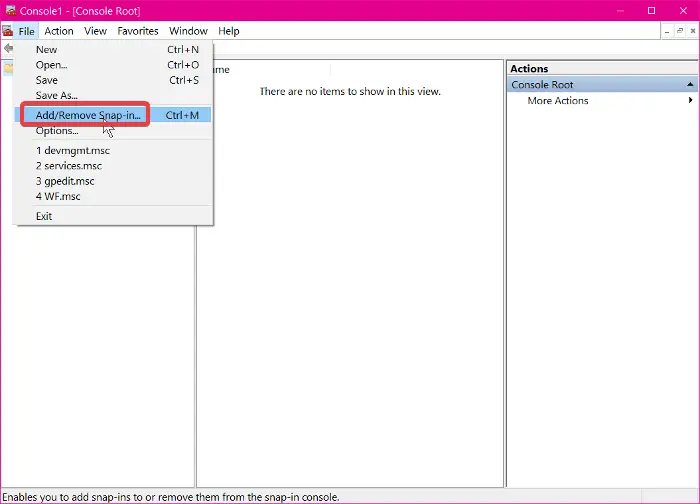 Find Group Policy Object Editor from the Available snap-ins section of the new window that opens and hit the Add button to select the snap-in.
Click on the Browse button in the Select Group Policy Object window and switch to the Users tab on the new window. Here, select the user you want the Group Policy settings to apply to and hit the OK button.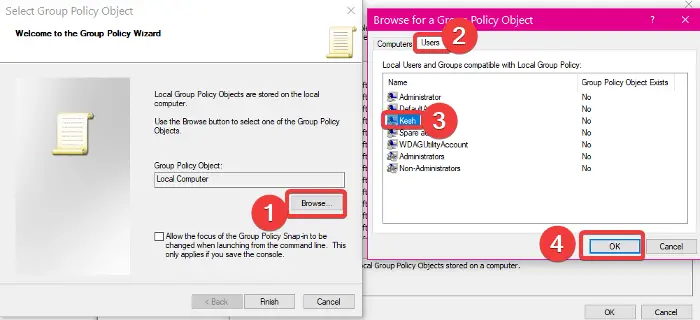 Click on Finish in the previous window, and the user will be selected.
Finally, go to the File menu on the MMC window and click Save As. Name the snap-in, select the location you want to store the console, and click Save.
At this point, you can now configure the new console with group policies that apply only when you log in to specific user accounts on the computer.
In the same way, you have set the Local Group Policy settings to apply for only specific users, you can also apply it to general groups of users.
We have also published another detailed guide that shows you how to apply Local Group Policy settings to all non-administrators.