This post will help you if you receive the following error message when playing media in your Windows Media Player or the Film & TV app in Windows 11/10:
Can't play. Another app is controlling your sound at the moment. To listen here, close that app and try again. Error 0xc101009b (0xc00d4e85)

The reason this occurs is apparent from the message. Some other app is exclusively using your system's Sound, and therefore your app of choice is unable to play sound. If you receive this message, here are a few things you need to take a look at to be able to address the issue.
Error 0xc101009b (0xc00d4e85), Another app is controlling your sound at the moment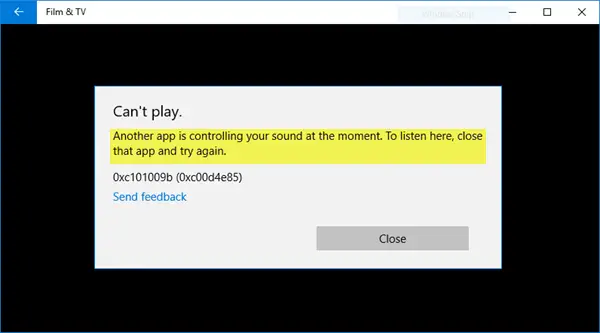 1] Restart the Audio device
From the WinX Menu, open Device Manager, expand Sound, video and game controllers and right-click on your Audio Driver – which in my case is Realtek High Definition Audio and choose Disable.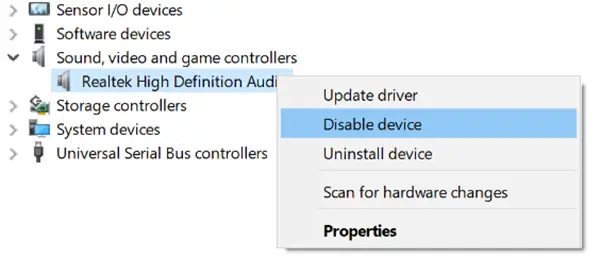 Wait for a few seconds and then select Enable. Check if this helps.
2] Restart the Audio Service
In the Start Search, type services.msc to open the Windows Service Manager. Now ensure that the following Services are Running and their Startup type is set as Automatic:
Remote Procedure Call (RPC)
Windows Audio Endpoint Builder
Windows Audio Service
Having done this, right-click on Windows Audio Service and select Restart.
Check if this helps.
3] Run the Audio Troubleshooter
Type the following command and hit Enter to open the built-in Audio Troubleshooter
msdt.exe /id AudioPlaybackDiagnostic
Run it and let it fix the issues automatically.
4] Change the Speaker setting
Open Control Panel > Sound > Playback tab. Select the Speakers and click on Properties. Under the Advanced tab, uncheck Allow applications to take exclusive control of this device and click Apply. See if this helps.
If this does not help, press the Restore defaults button and see if that helps.
5] Troubleshoot in Clean Boot State
If nothing helps, you need to perform a Clean Boot and run the app again. If it runs fine, then you need to troubleshoot manually in this state.
Hope something helps!