If your Windows File Explorer has stopped working and you see an error while trying to open it – An attempt was made to reference a token that does not exist, then this post may be able to help you. This issue has been reported with utilities like the Microsoft Management Console (MMC), Visual Studio, Printer, Task Manager, Recycle Bin, etc. too.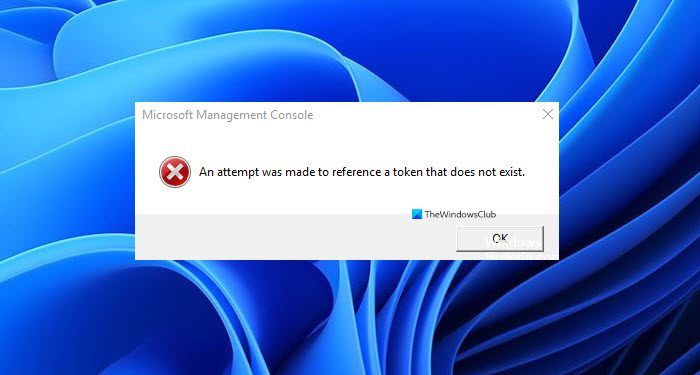 An attempt was made to reference a token that does not exist
The most probable cause of this issue is a troublesome Windows Update. It could also be caused by a corrupted system file. We could proceed with the troubleshooting as follows:
1] Re-register the required DLL file

Search for Command Prompt in the Windows search bar. Right-click on the option and select Run as administrator.
In the elevated Command Prompt window, execute the following command:
for /f %s in ('dir /b *.dll') do regsvr32 /s %s
Restart the system and see.
2] Run an SFC scan
An SFC scan allows users to scan for and restore corrupt Windows system files. If the error in discussion is caused by missing files, an SFC scan could be helpful in resolving it.
3] Revert to the previous build of Windows
If a Feature Update caused this issue, reverting to a previous build of Windows could be helpful. In such a situation, it would be helpful to avoid updating till the problem is resolved by Microsoft officially.
What does Token does not exist mean?
Generally speaking, Token does not exist error means that the operating system is unable to recognize the file that it is trying to access. This can happen if the system file has got corrupted or a DLL file has got unregistered.
What causes Token that does not exist error?
A Windows Update had caused this issue. It caused system inconsistencies and corrupted some files. Generally speaking, if a DLL file gets unregistered or corrupted, such an error can occur in Windows OS.
All the best!