Using Windows gets much more convenient with the help of keyboard shortcuts. One such popular keyboard shortcut is ALT+TAB. It allows you to jump from one Window to another quickly and conveniently. Also, it comes in handy for applications that run in full-screen modes, such as games. But what if the Alt+Tab is not working? Well, that can be a serious issue. But not to worry, here are some quick fixes you can try.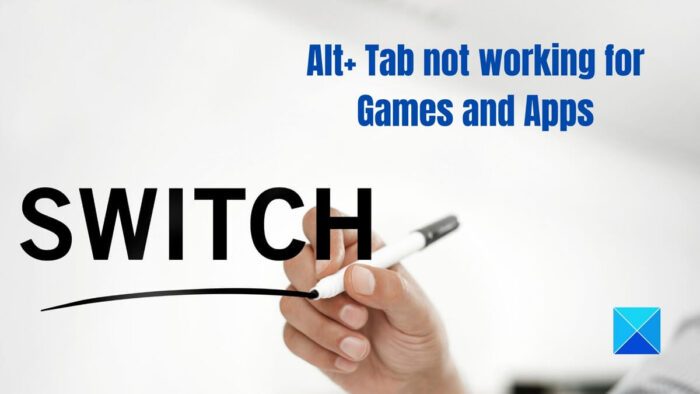 Alt+Tab not working for Games and Apps
Alt + Tab is an essential feature that might not work for various reasons like registry changes, shortcuts overrides, etc. However, here are some quick methods that you can use to get rid of the problem:
Run the game in window mode or Borderless window mode

Change ALT+Tab Settings

Change Method to Switch

Check if another program is causing the issue

Check if App or Game is moved to a Virtual Desktop
Now let's talk about these solutions one by one below:
1] Run the game in window mode or Borderless window mode
You can try running the game in Window mode or Borderless window mode. This way, your game will not take the entire screen, and you will be able to interact with your desktop. You can also adjust the Window size as per your convenience.
To run games in Window mode, follow the below steps:
Launch Steam and go to your Game Library.

Right-click on the game title and select Properties.

Click on Set Launch options.

Over here, paste the following command: -popupwindow

Click OK, then Close to save changes.

Finally, launch the game and see if it opens in the window mode or not.
If you are not using Steam for your games, then you can follow these steps:
Right-click on Start Menu and select Windows Terminal.

Navigate to the folder containing the game exe file.

Finally, run this command: game.exe  -popupwindow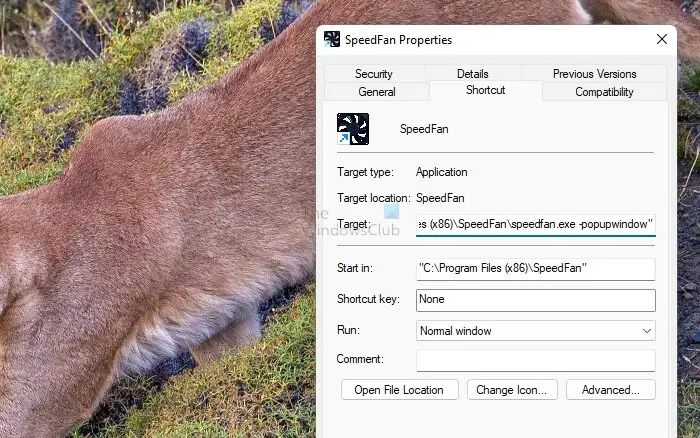 You can also create a shortcut to the game on the Desktop and then add the option, in the end, in the Target or the Start in option. Ensure to launch the game using that shortcut.
2] Change ALT + Tab Settings
Next, you can try changing Alt + Tab settings. For this, follow the below steps:
Go to Windows Settings > System > Multi-tasking.

Over here, you will see the Alt + Tab section.

Use the dropdown menu and select Open Windows Only.
Now see if Alt + Tab is working for you or not. If not, move to the other fixes.
3] Change Method to Switch
If the Alt + Tab is not working, you can use Win + Tab. The same feature lets you navigate through Windows on your desktop.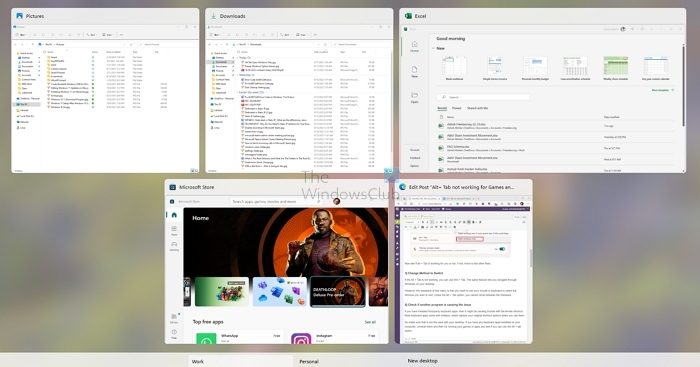 However, the drawback of this menu is that you need to use your mouse or keyboard to select the Window you wish to visit. Unlike the Alt + Tab option, you cannot circle between the Windows.
4] Check if another program is causing the issue
If you have installed third-party keyboard apps, then it might be causing trouble with the Alt-tab shortcut. Most keyboard apps come with hotkeys, which replace your original shortcut options when you use them.
So make sure that is not the case with your desktop. If you have any keyboard apps installed on your computer, uninstall them and then try running your games or apps and see if you can use the Alt + tab option.
5] Check if App or Game is moved to a Virtual Desktop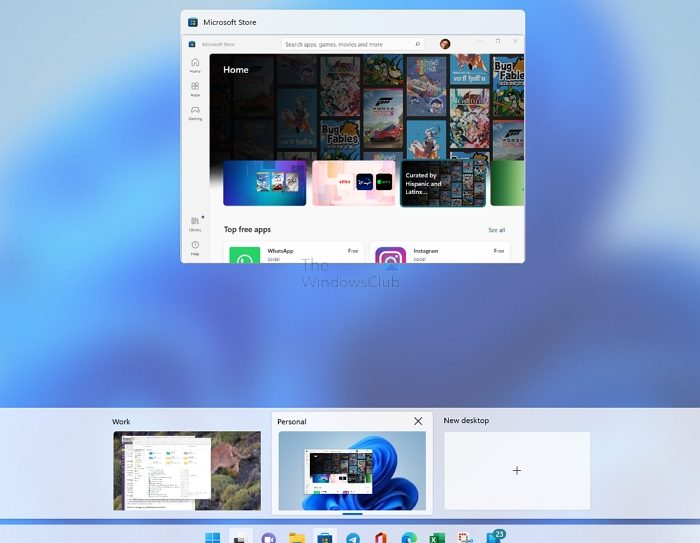 Windows Offers a virtual desktop where you can choose to place apps on different desktops, so they don't mix, especially when using Alt + Tab. It also helps to categorize. That said, check if you have moved the game or app to another virtual desktop. You can use the Win + Tab shortcut (Task View) to view and then move back to your primary desktop quickly.  Instead, you can keep them anywhere, use Win + Tab to find them, and then switch.
More suggestions here: Alt Tab shortcut key not working in Windows
So those were all the fixes for the automatic Alt-Tab not working. Apart from this, you can also reset your keyboard settings and see if that is any help. If nothing works out for you, running your games in the Window mode would be the best solution.
How do I change my alt-tab back to normal?
You can try resetting your Alt tab settings from the registry. For this, go to Windows search, type Regedit, and launch Registry Editor. Then go to the following path:
Computer\HKEY_CURRENT_USER\Software\Microsoft\Windows\CurrentVersion\Explorer
Over here, look for AltTabSetings and double-click on it. Finally, change the value to  1 and save it. If you don't see the file, you must create a DWORD (32-bit) Value, name it AltTabSetings, and set the value to 1.
How to Enable Windows Key when playing a game?
No built-in feature lets you enable the Windows key while playing games. However, if your keyboard has an Fn key, you can simultaneously press the Fn key + Windows Key to access the menu.