AltPlusTab is a portable freeware that lets you modify some appearance settings related to the Alt+Tab functionality in Windows 11/10. It can dim the Background, background opacity of the strip & display an image in the background. Alt + Tab shortcut is widely used to switch between open windows on the go and the tool 'AltPlusTab' lets you customize the feel and appearance of that menu by tweaking a few basic settings.
AltPlusTab for Windows 11/10
AltPlusTab is a portable freeware and that means you do not have to install it. Simply extract the contents of the zip file and click on the .exe file to open the following window.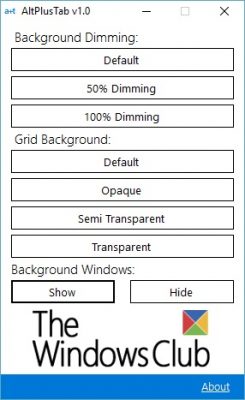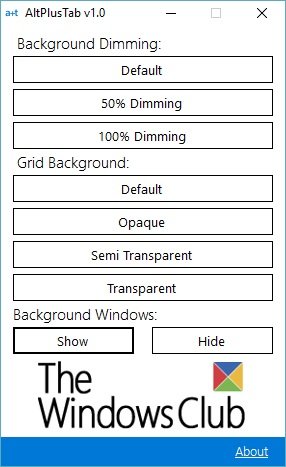 Change Transpetrancy of Alt+Tab Menu in Windows
There are particularly three appearance settings that can be changed and modified using this tool. All of them are discussed below in detail.
1] Background Dimming
The option comes with three different modes:
Default
50% dimming.
100% dimming.
You can choose a relevant mode to adjust the dimming of the background of the 'Alt + Tab' functionality, and you can easily revert back changes by selecting the default option.
2] Grid Background
Grid Background refers to the background opacity of the strip that contains the live miniatures of the active windows. There are four options to choose from:
Default
Opaque
Semi-Transparent
Transparent.
If you've unknowingly made any changes, you can always revert back using the default option. The changes made are real-time, no restarts are required. Just select an appropriate option and then hit 'Alt+Tab' from your keyboard to see the changes.
3] Background window
You must have noticed the background window while you use the 'Alt+Tab' feature on your PC, the background windows can be made hidden and the desktop wallpaper will be displayed instead in the background.
Although the application enables you to revert back the changes by selecting the default option, it is still advisable to create a system restore point or backup your registry before proceeding with the tool.
AltPlusTab has been developed by Lavish Thakkar, for TheWindowsClub.com. It supports Windows 11/10, 32-bit & 64-bit. If you wish to give feedback or have questions, its developer will happy to answer your questions here. So please keep the discussion to AltPlusTab software only. This post will show you how to manually change the Transparency Level of Alt-Tab Grid Box in Windows