The utility of the File Explorer in Windows 11/10 can be enhanced furthermore by installing a simple freeware program Altap Salamander. It is a customizable file manager that splits the virtual workspace into two sections with a toolbar residing on top, giving access to most functions. It is a dual-pane free File Manager for Windows PC that offers viewers for all file formats & archives and includes built-in FTP and SFTP clients.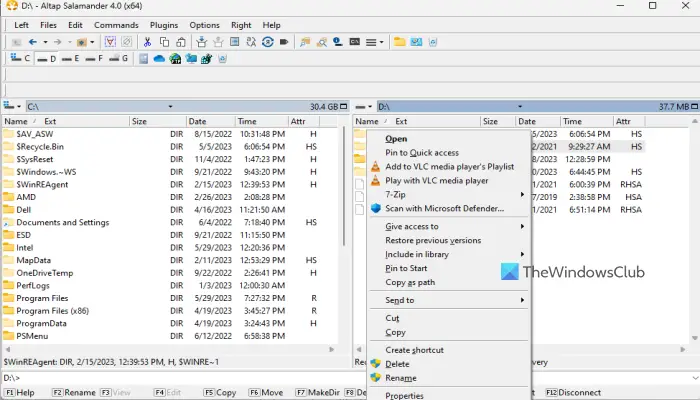 Altap Salamander File Manager Freeware
Let us take a look at some of its features.
1] Basic Operations
When you first download and install it, Atlap Salamander will offer you a clean and sleek interface. Right-clicking on any element in the main window brings up the default context menu. The menu offers full control over files and folders. Additionally, you can drag elements from one side to another.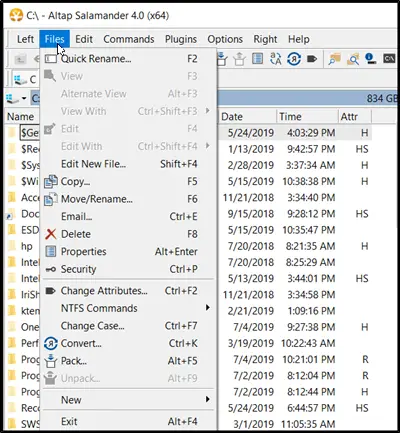 If required, you can configure the program, to support basic file manager operations such as
Rename
View
Edit
Copy
Move
Delete
Create a file or directory
Simply, click on the 'File' menu and choose any of the above options. When initiated, the operations will run in the background. You can also choose to process these operations in a queue or pause them.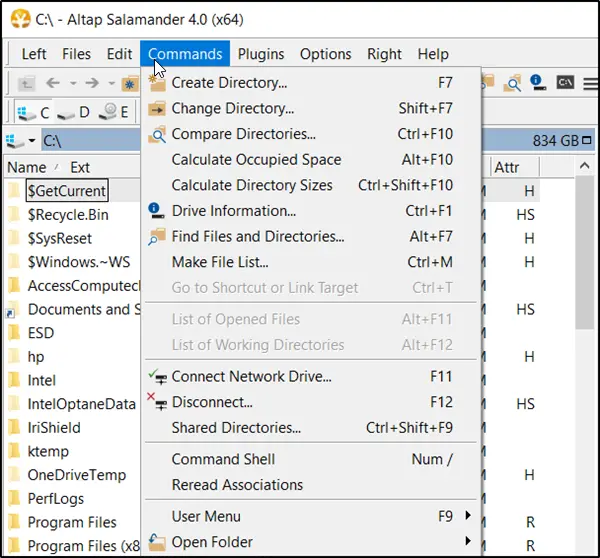 The included keyboard navigation options under the 'Commands' menu will let you control the software without using the mouse, offering ease of use and convenience. You can use this menu to
Create Directory
Change Directories
Compare Directories
Calculate Occupied Space
Calculate Directory Size and get the Drive Information
2] Advanced Operations
Beyond basic operations, advanced processes like comparing directories, changing the case of names, Attributes, date, and time can also be performed via Salamander. All the necessary instructions for performing these actions and other shortcuts are described in the 'Help' section. These can be accessed readily by simply pressing the F1 key.
A good feature of this free File Manager software is that it can be used to guard your safety and Privacy. For instance, it can clear browsing history or list of files you viewed or edited. It also supports the Native Windows Encrypting File System (EFS). This makes it is possible to encrypt or decrypt files, preserve Encrypted attributes, owners, and permissions while copying files and directories.
Other important features of this Dual-pane File Manager Software
You can convert end-of-lines or file encoding
Pre-installed plugins are present to capture the screen (including the mouse cursor), compare files, calculate checksums, verify checksums for file integrity, count the total number of files, lines in selected files (say TXT files), batch rename files and folders, etc. Access the Plugins menu to use all the available plugins
Customize Top Toolbar, Plugin Bar, User Menu Bar, Left Panel Toolbar, etc., to have only important options in these toolbars
Change the left pane and right pane view menu to Brief, Detailed, Icons, thumbnails, etc.
Check drive information to see the used space, free space, bytes per sector, bytes per cluster, long names support, and more
Set User's Skill Level to Advanced, Beginning, or Intermediate. Based on the set level, the software menus are either slightly reduced or the menu contains only the most important commands. This is helpful if you find the interface a bit complicated.
In all, Atlap Salamander can be trusted as a reliable tool to perform daily operations. Download this tool from the Altap Salamander homepage.
How to enable Altap Salamander Dark Mode?
Altap Salamander software doesn't come with a dedicated dark mode theme. But, you can change the text color, background color, etc., with a custom color and that can be helpful to have a dark mode interface for this software. To do this, access the Options menu, and select the Configuration option. In the Configuration box, select the Colors option from the left section. Now you can change the color of normal text, background, focused text, etc.
Is there a good Altap Salamander alternative software?
Yes, there exist some best free file manager software that can be a good alternative to Altap Salamander software. Unreal Commander, FreeCommander, One Commander, etc., are some of those free file manager tools. These come with dual-pane, multi-pane view modes, integrated DOS Command Prompt, drag-and-drop support, and many other interesting features.
Read next: Best free Portable Explorer alternative File Manager programs for Windows PC.