Yammer and Microsoft Teams are both, a part of Office 365. Several new capabilities can be advanced to make it easier for Office 365 users to connect and engage in private communication within organizations or collaborate across various departments. To enables this, Office 365 allows adding a tab for a Yammer group in Microsoft Teams. The process is simple and does not take more than a few minutes. Here's a way to get started!
Add Yammer group tab for Microsoft Teams
In this post, we will walk you through the process of connecting Yammer to Microsoft Teams so that Yammer posts will be sent to a Microsoft Teams and members of the team can interact and take necessary action. The team members can join the Yammer conversation, right from Teams, or discuss a Yammer conversation in Teams before posting a reply to the wider Yammer group.
You need to do the following things to add the tab:
Get a subscription to Yammer Enterprise.
Enable Team members to add tabs (If you find it difficult to add a tab, raise the issue with your team owner).
Once, you have things set up, go to your Teams channel and choose the '+' icon on the tab bar.
Select the Yammer tab from the list of tabs.
After that, select the Yammer group to show on the tab, and then click Install.
Once you have installed the app, its time to configure it. So, go to the 'Content Type' section, hit the down-arrow and select one of the following:
Yammer Group: all messages visible to the user in the selected group.
Topic Feed: all messages visible to the user with the selected topic hashtag, for example, #NewEmployee.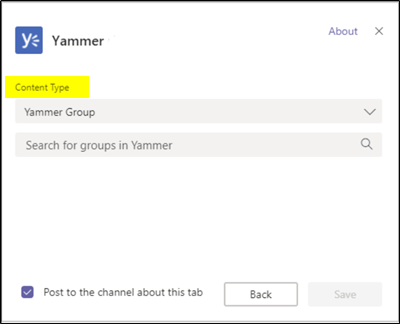 Then, enter the group name or topic you would like to include in the Search box visible there.
When done, hit the 'Save' button. The new Yammer tab should appear in the tab bar for all team members. This way you can add Yammer page or group to Microsoft Teams in Office 365.
It is important to mention here that at a given time, you can select only one Yammer group or topic per tab. To add tabs for more Yammer groups, repeat this procedure. Also, the Yammer tab is not automatically refreshed. In order to load new conversations or replies, you will need to reload the tab.
I hope this helps!
Read more: Yammer Features | Yammer Tips and Tricks.