For users who find visual elements more appealing, Windows 11/10 has made it easier to identify files and folders by adding Emojis to their names. Yes, Microsoft has made it possible for Windows users to use Emojis in the names of a drive, file, or folder. All you need to do is access the built-in Emoji Panel feature, which allows picking any emoji you want.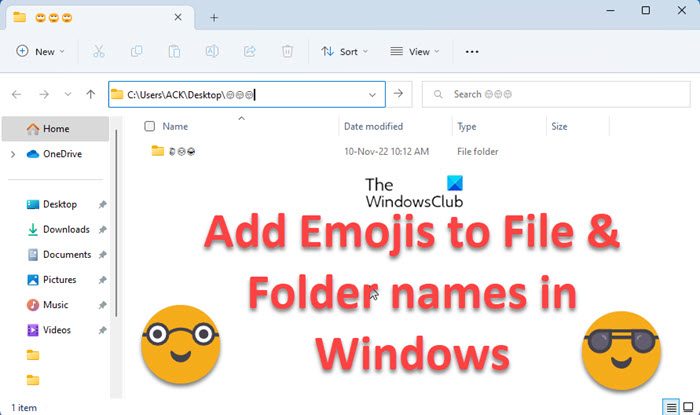 Add Emojis to File & Folder names in Windows 11/10 😊
Normally, when you try to rename a drive, file, and folder in Windows, you get a message saying 'A file can't contain any of the following characters: \ / : * ? " < > |'.
But Windows 11/10 will now let you include an Emoji in the name of a drive, file, and folder via Emoji Panel.
You can choose to add emoji to a file/folder in Windows 11/10 by following these steps:
Open the Explorer Location where you want to create the folder
Right-click and select New > Folder
Once the folder (or file) is created and the cursor is in the naming field, press Win + period (.) or Win + semicolon (;) keys
The Emoji Panel will open
Select the emoji/s you want and that's it!
You can use a combination of letters, numbers, and emoji. When done, simply press Enter to save the new name.
You can thus easily create a file or folder name with one or more emojis or even a mixed name.
You will also see the emojis in the Explorer address bar.
English is one of the most commonly spoken languages, but that's not what unites us all. Rather, it's the universal language of the emojis that binds us together.  These picture characters appear more vibrant in their expression. As such, they've readily become popular worldwide.
Read:
How do I put emojis in a folder in Windows?
As described in detail in this post, while renaming, press Win+; keyboard shortcut to open the Emoji Panel, and simply select one or more emojis that you want to use in the file or folder name. Press Enter and that's it!
How do I put symbols in a folder name?
Windows will not allow you to use special characters like \ / : * ? " < > | in file or folder names, but you can use emojis, and the steps are described in this post.
Related reads: