No chat conversation is complete without colorful and interesting Emojis or Emoticons. While almost every platform and device has its own set of funny and exciting emojis, Windows users are still using the keyboard keys Colon ':' and simple bracket ')' to make emoticons like :), :(, :P, :D and a few more.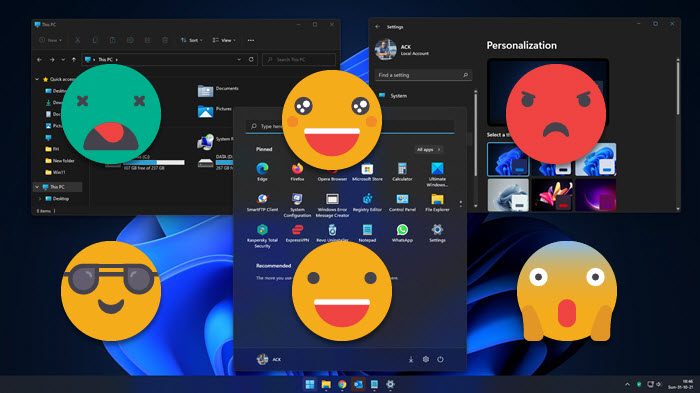 Most of the Windows 11/10 users are unaware of the fact that they can actually use funny emoticons like the middle finger, a receptionist, a dancing girl, a fairy, a Santa Claus, an angel, and so on. Yes, now that almost every Windows PC is running the latest Windows 10 operating system, you can spruce up your chat conversations, your status updates on a social networking website, your emails, or any other documents with these tiny comical characters. In this post, we will learn about how to use Emojis in Windows 11 and Windows 10.
Microsoft has refurbished its Emoji panel for Windows 11 PCs. Emojis, we all know is the best way to express your emotions and feelings. A simple and boring conversation can be made interesting with the use of correct Emojis but yeah, if not used correctly or if you are not really aware of what each Emoji actually means, it could lead to an argument too. Well, we are not here to discuss the meanings of the Emojis but to learn how to use the new set of Emojis just released by Microsoft on your Windows 11 PC.
How to get new Emojis in Windows 11
Before we proceed on how to use the Emojis, let me first tell you how to get these Emojis on your PC. Many people I know are still unaware of the fact that we can actually use Emojis on our Windows PC.
To get the Emojis panel on your PC, press the Win+Period key on your keyboard. By period key, I mean the 'full-stop' key placed just before the question mark key on your keyboard. If you still can't see the updated panel, you must have not downloaded and installed the latest update for Windows 11.
Press Win+I to open the Settings, go to Windows Update, and see if your PC is up to date or not. The new Emoji panel comes with an optional update.
What's New in Emojis in Windows 11?
This is how the new Emoji Panel looks in Windows 11 PCs. There are four different sections, Emojis, GIFs, Kamojis, and Symbols. To use these emojis, open any text command, like the Notepad, Email, Blogpost, a Word Document, etc, and press Win+Period keys on your keyboard. The new Emoji Panel in Windows 11 looks modern and goes well with the modern design of the latest operating system. The emojis are fluent and 2D for Windows 11 and 3D for the apps like Skype and Microsoft Teams.  Microsoft has made it clear that Windows 10 PCs will not be getting these new emojis.
As you open the Emojis panel, you will first see the recently used Emojis. There is a small arrow in the right corner which takes you to a whole lot of Emojis available in the panel. It's a long list including, emojis, faces, animals, etc.
                                                              🌺💕🎶🤷‍♀️🤑😭🥶🥸☠️🙉🐴🦍👅👩🏽‍❤️‍👨🏿👩‍👩‍👦👩🏻‍🤝‍👨🏻🧑🏿‍🤝‍🧑🏿
You will almost every emojis available on your Smartphones and various chatting applications.
GIFs in Emojis Panel
The second section contains the GIFs. You will find almost every popular GIF here in this section right from celebratory GIFs, smiling, laughing, applauding, or crying GIFs. There is also a search option in the top ribbon of this panel wherein you can search for the GIF for a particular reaction. Also, there are some trending categories like Happy Turkey Day, Happy Thanksgiving Day GIFs, etc.  You can now use these GIFs to make your conversations interesting. Needless to say that the GIFs add a humorous touch to your emotions and reactions.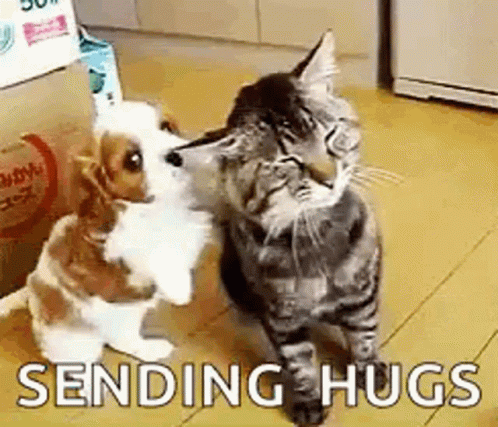 Just like the Emojis, go to the place where you want to paste the GIF, press the Win+Period key on the keyboard, and select the GIF you want. These GIFs are powered by Tenor.
Kamojis
Kamojis are Japanese text-based emojis that include various characters. There are categories like Classic Ascii Emoticons, Happy, Sad, Greetings, and more. Same as the emojis and GIFs, simply select the emoticon you want and it gets pasted.
                                                               (●'◡'●) (❁´◡`❁) (⓿_⓿) ლ(╹◡╹ლ).
Symbols
The last section includes the symbols like currency symbols, general punctuations, math symbols, Latin symbols, geometric symbols, supplemental symbols, and language symbols.
Search for Emojis in Windows 11
There is also a Search option given in the top ribbon in the Emoji Panel. You can just type in what emoticon you are looking for and the particular section and category will be opened. So, yes this new Emoji Panel in Windows 11 is pretty quick and easy to use and also has quite a lot of options to make our conversations quirky and interesting.
How to use Emojis in Windows 10
UPDATE: You can now also use the Emoji Panel in Windows 10.
To use Emojis on your Windows 10 PC, you actually have to skip your keyboard and use the on-screen touch keyboard. When we say on-screen keyboard, we are not really talking about the regular keyboard desktop app, we are talking about the touch keyboard, there is a difference. 
To enable the Touch keyboard, go to your Taskbar, right-click and select Show touch keyboard button. This will open the touch keyboard and will also add a small keyboard icon on your taskbar. 
So you can click this small keyboard icon anytime you need to add the emojis in your Word document or anywhere else. Now when the keyboard is open, click on the smiley button next to the space bar and the alphabetical keys will convert into an emojis keyboard.
These tiny comical characters are categorized into various categories like emoticons, facial emojis, party pops, eatables, symbols, love, automobiles and more.
Click on the small arrow in the most left pane to get more emojis of a selected category. Switch between the emoji categories using the category buttons at the bottom. 
You can also change the color tone of the emojis from this keyboard. Click on the small color square just beside Smiley button and select the skin tone from 6 different options. This appears to have been removed in recent Windows 10 versions.
Please note, that the emojis appear differently across programs. For example, they came up colorful in my FB status update but black-and-white in MS Word and Notepad. I don't know if there is some way out to get these colorful emojis as it is.
So, finally, Windows users now have a way to use the emojis in their Windows 10 PC. The set of emojis includes almost every popular emoticon. Now you don't need to go to the third party app or websites to copy the emoticons.
TIP: You can also make your own Emoji.
Does Windows 11 have different emojis?
A new optional update for Windows 11 has started rolling out earlier this week that brings the new set of Emojis to your Windows 11 PC. The emojis are available in 2D for Windows 11 but for the apps like Skype and MS Teams, you can use them in 3D too.
How do you type emojis on Windows 11?
Go to any of your text windows and press the Win+Period key (.) placed right before the question-mark key on your keyboard. Select the emoji you want to paste and you are done. Overall, the new Emoji Panel in Windows 11 is quite interesting and we love it. Would love to know your thoughts about the same.
Have fun! :)